FTE spoke with Joe Leader, Chief Executive Officer of the Airline Passenger Experience Association (APEX), about the latest trends in the inflight entertainment and connectivity (IFEC) market, ahead of the Connectivity & IFE Business Case Summit taking place during FTE Europe between 6-8 June.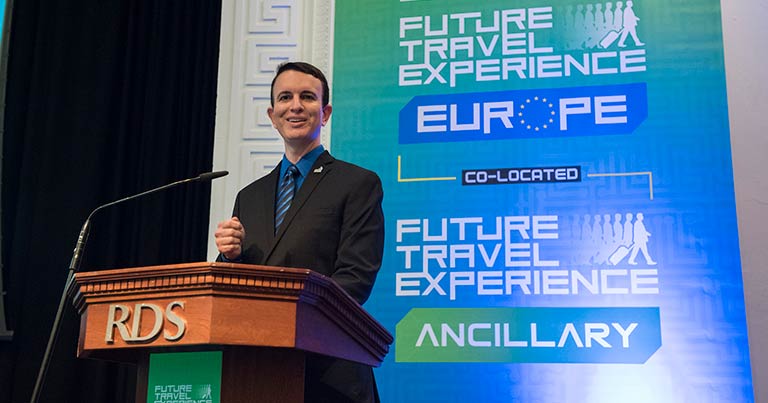 Providing an overview of the current connectivity landscape, Leader explains: "There are presently two different options for onboard connectivity, both of which can generate ancillary revenue. There are robust, fully-connected online Wi-Fi internet solutions provided by many leading APEX member companies and turnkey Near-Fi solutions provided by innovative APEX member companies, such as AirFi. Near-Fi solutions involve portable hardware units that are limited to stored content preloaded on to the aircraft prior to takeoff. Passengers connect their portable electronic devices (PEDs) via Wi-Fi connectivity to the Near-Fi transmitting server on the aircraft. Passengers may then purchase entertainment options, seat upgrades, and other services such as booking tours or trips for their upcoming vacation. Near-Fi solutions are offline. That means that purchases are made based on data cached before departure. They can permit offline duty-free sales that take place in transit before being cleared on landing when the system reconnects to a live link." Leader added that the applications for more types of added ancillary revenue via Near-Fi are just now coming online.
The other type of connectivity solutions involve fully-connected, real-time, online products. "Theoretically these can provide limitless types of valuable ancillary services to passengers," says Leader. "Some of the most lucrative ancillary revenues have come from using such solutions for last-minute inflight seat upgrades and advanced online shopping. APEX has presented that passengers are seven times more likely to make a purchase while on a trip than when at home. Other advanced services include adding a business or first-class touch to your trip by offering passengers the opportunity to upgrade their drink or meal options. Online connectivity offers real-time availability of various other services including hotels, rental cars and tours."
Room for embedded and portable solutions
As PEDs have grown in popularity, some might have been forgiven for thinking that the days of embedded IFE were numbered, particularly on short-haul flights. Leader shared APEX data that indicates continuous growth in the number of in-seat screens alongside an exponential growth of PED options for aircraft. "The number of embedded IFE solutions placed on aircraft in the global fleet will continue to increase through 2030. The answer for airlines isn't one solution or the other, it's both. Passengers tend to gravitate towards the typical habits they display at home where they would watch TV with a smartphone in their hand. On an aircraft, this might involve watching a movie on screen while interacting with a PED enabled with connectivity at the same time. Airlines offering embedded systems plus free Wi-Fi have a competitive differentiator," adds Leader. This combination of embedded and portable solutions is not-restricted to long-haul operators. "JetBlue offers embedded IFE across its fleet alongside Wi-Fi. That provides a level of passenger experience that can surpass legacy airlines," Leader points out.
The APEX CEO also highlights that there is not one particular trend for the IFEC systems being used by airlines with certain business models. He outlines how low-cost carriers such as Norwegian, JetSuite and JetBlue have been early movers in terms of live connectivity provision. "Some airlines have been very quick adopters of onboard connectivity, while others are catching up, but there has been slower take-up in certain regions, particularly in Africa," says Leader. "One challenge has been that certain governments have not implemented or permitted air-to-ground connectivity in their air space. India is an example of this, although APEX expects the government to change its inflight Wi-Fi ban this year." Regional infrastructure variation certainly has an impact on air-to-ground connectivity options, with the US having one of the most robustly established ground-based networks to complement satellite services. Europe will also have improved ground-based infrastructure coming online in the next few months via the European Aviation Network, with this development leading to a wider range of potential services.
The IFEC market is already home to a large and growing number of suppliers and Leader believes this could continue to increase in the near-term, but there will be consolidation in the long-term. "I believe we will see more solutions offered before any significant consolidation takes place. Significant consolidation is more likely to happen when the majority of aircraft have had some form of connectivity solution installed."
Connected aircraft tipping point in 2019
Leader highlights that nearly half of all available seats miles (ASMs) are currently flown on connected aircraft, according to the 2018 Routehappy connectivity report released at the last APEX TECH. "We will pass the tipping point in 2019 when connected aircraft provide more ASMs than non-connected ones," says Leader. "It will be at this point that passengers start to expect to be on a connected aircraft and wonder what is going on if they are not. When this time comes airlines that do not offer real-time, online solutions will at a bare minimum need to have Near-Fi type options to give the appearance of a certain degree of connectivity."
Moving forward, Leader believes airlines will harness the potential of online, real-time connectivity to act as turnkey travel service providers, offering multiple onboard purchase options. "The airlines that win over time will be those that think about how to connect with passengers from their spoke cities, with the ability to individually address customers from all regions and provide the right services, to the right passengers at the right time," he suggests.
In terms of the main challenge facing airlines in this market, Leader points to a hesitation when selecting IFEC solutions for fear of making the wrong choice and being stuck with it for an extended period. "APEX encourages airlines to switch from a more traditional 10-year timeframe, to a five-year plan when considering their connectivity options. In that timeframe, every major solution offered on the market today stands on excellent ground for future options."