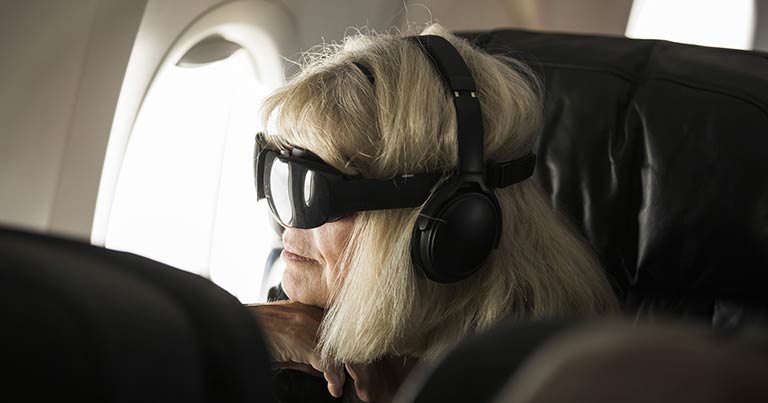 Alaska Airlines has partnered with SkyLights to offer passengers Allosky Virtual Reality (VR) headsets, becoming the first North American carrier to do so. The partnership was announced at APEX Expo in Boston.
The solution, which enables passengers to enjoy 2D, 3D and forward-facing 360° films on a full HD cinema screen, will be piloted as a First Class amenity onboard Alaska Airlines' Seattle-Boston and Boston-San Diego routes.
"Alaska Airlines is excited to be the first airline in North America to trial virtual reality headsets as an inflight entertainment device," said Brett Catlin, Alaska Airlines' Managing Director of Guest Products. "We're thrilled to partner with innovative companies like SkyLights that share our desire to enhance the guest experience."
David Dicko, SkyLights' CEO, commented: "The Allosky is now ready to deploy and we are delighted to see it take flight with an airline renowned for its customer experience. We strongly believe the Allosky marks a new age in inflight entertainment and we aim to validate this in North America with the help of Alaska's First Class passengers."
The Allosky headset is powered by the Qualcomm® Snapdragon™ platform, to deliver enhanced performance and power to inflight entertainment for passengers. "SkyLights' product design is a great example of a VR device that is easy to use, without cables, that provides an awesome user experience to passengers who can sit back and relax with a cinema view powered by our Snapdragon solution. We look forward to more airlines providing mobile XR experiences to passengers," said Hugo Swart, Head of XR, Qualcomm Technologies, Inc.
In terms of content, passengers onboard the pilot flights will be able to choose from a selection of 2D and 3D blockbusters provided by SkyLights' content partners, 20th Century Fox, Warner Brothers and EIM. Noteworthy titles include Academy Award-winning Three Billboards Outside Ebbing, Missouri, Spielberg's Ready Player One in 3D, and Ferdinand for children. The Allosky will also be preloaded with forward-facing 360° films to further differentiate the experience. Especially selected for their suitability to view inflight, the short VR films cover subjects including freediving, classical music and acrobatics.