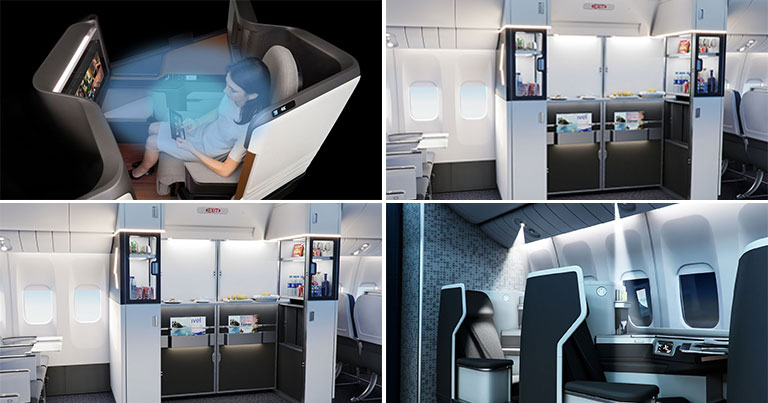 A total of 24 finalists have been selected for the 2019 Crystal Cabin Awards, for which Future Travel Experience is a Media Partner.
Airlines, manufacturers, suppliers and universities from all over the world have been selected by an international jury, from a shortlist of 94 submissions, a record high for the sixth consecutive year.
The winners in each of the eight categories will be decided on 2 April during Aircraft Interiors Expo in Hamburg.
Cabin Concepts
Airbus (in cooperation with Safran) – Lower Deck Pax Experience Modules
Emirates (in cooperation with The Boeing Company, Collins Aerospace, Jacques Pierrejean Design studio, Mercedes-Benz, Panasonic, Teague) – Emirates First Class Fully Enclosed Suites
Safran – Essential Business Class
Cabin Systems
Airbus Operations GmbH – X-Tend Seat – the new Over Wing Exit Seat
Collins Aerospace – M-Flex Duet
Diehl Aerospace GmbH – Flexible Passenger Service Unit Systems
Greener Cabin, Health, Safety & Environment
Air New Zealand – Air New Zealand Skycouch Infant and Child Improvements
Diehl Aviation Gilching GmbH – UV LED Water Disinfection Unit
Panasonic Avionics – nanoe
In-flight Entertainment and Connectivity
Collins Aerospace – Virtual Windows
Global Eagle (in cooperation with Telesat, Gilat, Qest) – Pioneering LEO Satellite Broadband
United Airlines (in cooperation with Panasonic Avionics) – "Entertainment for All"
Material & Components
Collins Aerospace – uLED Reading Light
Safran – Flexible Door
SEKISUI Polymer Innovations, LLC – KYDEX Lumina
Passenger Comfort Hardware
Panasonic Avionics – Active Noise Control and Premium Seat Lighting
RECARO Aircraft Seating ­­– Sleeping comfort above the clouds
Style&Design – Moments by STYLE&DESIGN
University
Hongik University (in cooperation with ADIENT) – Adient 1FA
TU Delft (in cooperation with Safran) – Stratus
University of Cincinnati (in cooperation with The Boeing Company & Live Well Collaborative) – SkyDining
Visionary Concepts
AIM ALTITUDE – ULTRAFLEX by AIM ALTITUDE
The Boeing Company – Boeing Smart Cabin
Paperclip Design Limited – Peacock Suites