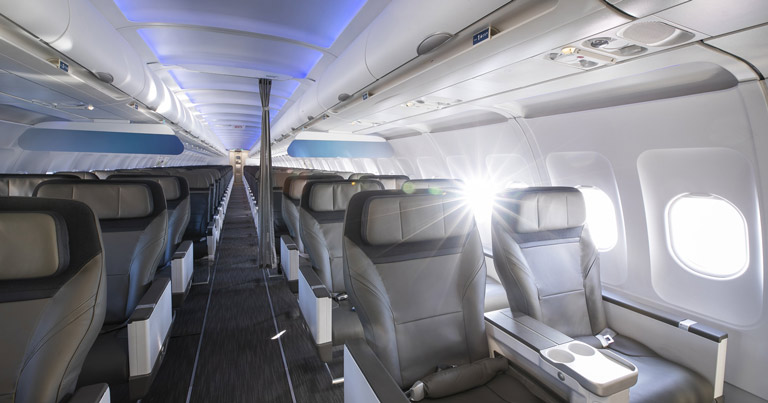 Passengers flying with Alaska Airlines are now able to experience the airline's retrofitted Airbus fleet. The upgraded cabin is the result of two years of customer research and combines the best features of Alaska Airlines and Virgin America, along with many enhancements to make the journey more comfortable and hassle-free.
"Just two years after acquiring Virgin America, we're thrilled to introduce a modern cabin that aligns the onboard experience across our fleet," commented Ben Minicucci, President and COO at Alaska Airlines.
"After extensive feedback from our guests and in collaboration with our partners, we've infused the Alaska Airlines cabin with key brand elements from Virgin America – the result is a premium experience at an affordable price."
Alaska's new cabin features include:
Refreshed colour palette from the updated bulkhead design to the carpet, bringing in neutral tones that are associated with relaxing environments against highlights of Alaska's signature blue.
Ambient mood lighting with calming, cool blue hues developed by lighting and colour experts to complement the human body's natural circadian rhythm. The result is lighting that changes throughout the flight to promote an uplifting energy during the day and calming energy into the evening.
Advanced high-speed satellite Wi-Fi by Gogo will deliver faster connection speeds, including the ability to stream content from popular services like Netflix or HBOGo.
Redesigned first class Recaro seats that evoke the feeling of both performance and comfort, like a luxury car. The sculpted design features memory foam and a 40" pitch, along with footrests to support guests of varying heights.
Ergonomically-friendly tablet holders at each seat that accommodate most tablets and smartphones. The holders free up tray table space and an added shelf keeps devices in prime viewing position. Flexible mesh pockets also allow for easy access to essentials during the flight.
Upgraded premium and main cabin seats now feature memory foam for added comfort.
Conveniently-placed and tilted power outlets at every seat (USB & 110V) that allow guests to easily locate and charge two devices at once. The electrical boxes under the middle seat have been relocated to provide more personal space for guests.
Curated, onboard music programme that complements the relaxing and modern ambiance.
Cup holders throughout first class and premium class, so that guests can enjoy a craft beer, wine, or cocktail and have full use of the tray table.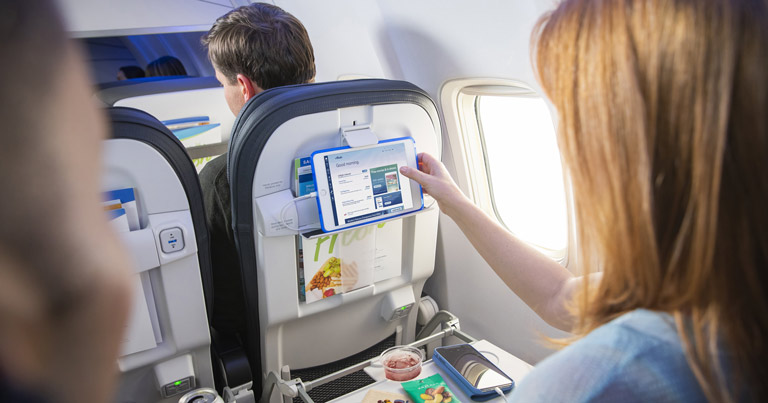 Alaska's Airbus fleet of A319, A320 and A321 aircraft is being updated in phases this year. By early 2020, 36% of the mainline fleet will feature the new cabin interior – including the entire Airbus fleet, Boeing 737-700s and three new Boeing MAX 9 aircraft. The retrofitted aircraft will bring consistency to the guest experience across the Alaska fleet and expand the First Class and Premium Class cabins with 12-seats and 24-seats respectively. Alaska will take delivery of its first MAX 9 this summer, which will feature the new cabin interiors.
"Our guests are at the centre of everything we do," said Andrew Harrison, Executive Vice President and Chief Commercial Officer. "From relaxing in our lounges to being in the air, we know travellers want more control and comfort, while also enjoying the same low fares and great service. So that's exactly what we did – we created a relaxing travel experience, so that our guests can focus on where they're going and leave the rest to us."
The new cabin is part of a series of investments Alaska has made to its onboard offering over the last 12 months, which includes advanced, high-speed satellite Wi-Fi, free chat, free movies and entertainment, and a new rotating seasonal menu. The menu offerings feature fresh, locally-sourced ingredients and snack and beverage options from West Coast brands including Salt & Straw, Luke's Organic and Fremont Brewing. By 2020, the majority of the mainline fleet will have the new satellite Wi-Fi installed.
The unveiling of the new cabin interior comes after Alaska Airlines announced plans for a new 8,500 sq ft rooftop lounge at San Francisco International Airport's Terminal 2.