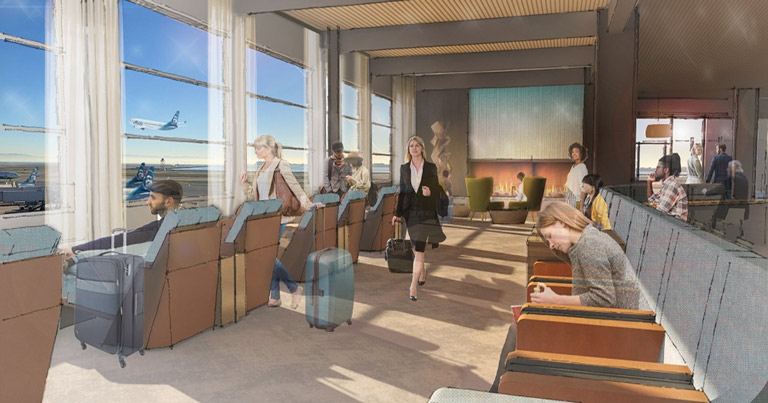 Alaska Airlines has unveiled plans to build a new 8,500 sq ft top floor lounge at San Francisco International Airport (SFO). Located in Terminal 2, guests will be treated to stunning sights of the Bay and runway.
Expected to open in 2020, the Alaska Airlines SFO lounge is the carrier's first in Terminal 2 and is part of a multi-year commitment to invest in new and existing lounges with guests' comfort in mind.
"We are thrilled to announce this landmark investment in the Bay Area that will provide guests flying through SFO with our modern and comfortable lounge experience," said Annabel Chang, Vice President of the Bay Area, Alaska Airlines. "SFO is one of our largest hubs with an average of 150,000 passengers flying on a daily basis, and we want to ensure airport visitors can rest, relax and enjoy our wide array of lounge offerings."
Featuring Bay Area brands and design elements, the lounge is tailored to make guests feel welcome and comfortable. Visitors will be able choose from a wide array of fresh and healthy food options available throughout the day, or purchase made-to-order meals.
As part of the elevated system-wide lounge programme, guests can enjoy coffee or tea, or choose from a selection of local microbrews, wines and spirits from the lounge bar.
Alaska Airlines opened its first East Coast lounge in April 2018 at JFK International Airport, while a new flagship 15,800 sq ft lounge at Seattle-Tacoma International Airport is expected to open in June.
In addition to opening a new lounge in SFO, Alaska is revitalising the look and feel and upgrading the amenities of its lounges in Portland, Anchorage, Los Angeles and Seattle.