At Aircraft Interiors Expo (AIX) 2019 in Hamburg, Future Travel Experience was on the lookout for futuristic concepts that could transform the inflight passenger experience in the years to come, and we weren't left disappointed.
Here we provide a snippet of some of the main cabin innovations that could lead the way in the cabin design and passenger comfort sector, while enhancing the passenger experience, optimising crew workload, and boosting revenue for airlines.
Making ultra-long-haul flights more appealing to passengers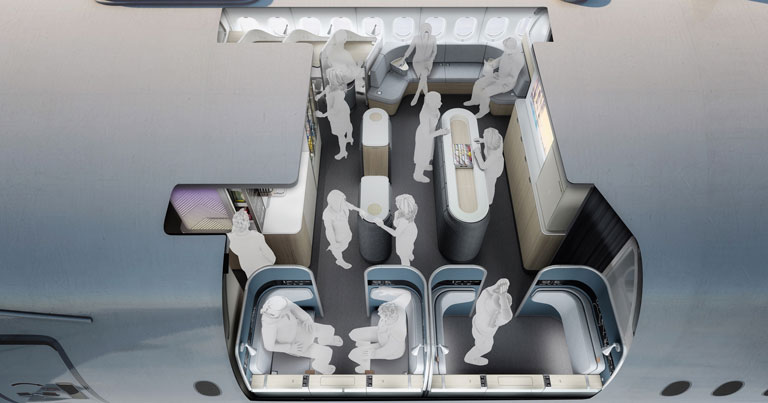 When we talk about ultra-long-haul flights, we can't ignore passenger comfort. Non-stop flights are, of course, more convenient than having to connect but being up in the air for as long as 18 hours won't be such an attractive proposition until the entire experience is appealing enough to passengers.
AIM Altitude has addressed this challenge through its latest cabin design, the ULTRAFLEX. According to the company, ULTRAFLEX is "embracing a new, empathetic environment" that caters to passengers during ultra-long-haul flights. The concept is aimed at creating a more positive experience for passengers and airlines alike.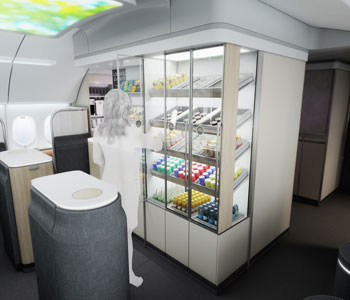 As Richard Bower, CEO, AIM Altitude explains: "We created the ULTRAFLEX concept really in response to what we see is an emerging demand for ultra-long-haul flights. And we believe that those ultra-long-haul flights will drive a change into the configuration of the cabin because we need increased focus on passenger mobility and increased focus on wellbeing."
ULTRAFLEX comprises multi-versatile booths, which give the cabin more flexibility. The cabin separates into zones where passengers can find space for relaxation, dining, wellness, exercise, entertainment and socialising. The central half-height monuments are key to the whole design, linking the floor-plan together. It is expected that their natural height would prompt more standing conversations and social interaction between travellers.
Moreover, a Deli Galley has been designed to offer a more familiar deli-style offering, typical for a café environment. The unit allows for a greater visibility of brands, which can lead to advertising and sponsorship opportunities, and potentially generating additional revenue streams for airlines.
AIM Altitude points out, however, that the ULTRAFLEX cabin is just a starting point and further solutions and refinements can be made to enhance the experience for passengers and airlines during ultra-long-haul flights.
Airbus' IoT Connected Experience for passengers and crew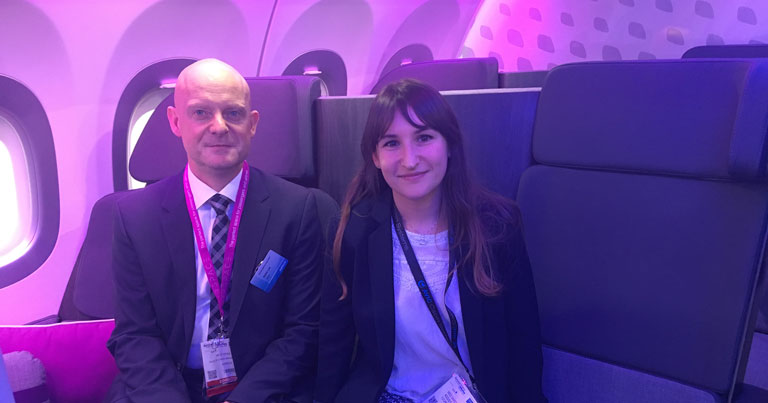 The connected cabin has been a hot topic for the past few years as it has the potential to open new doors to a more personalised passenger experience, while optimising airline crews' workload.
Airbus has revealed that it has partnered with gategroup, Stelia Aerospace and Recaro Aircraft Seating to bring its Connected Experience concept to life. The concept utilises the Internet of Things (IoT) to create a connected platform which will link in real-time interconnected core cabin components, including the galleys, meal trolleys, seats, overhead bins and other cabin elements. This would allow for a data exchange throughout the cabin for the crew, ultimately helping airlines provide a more personalised experience.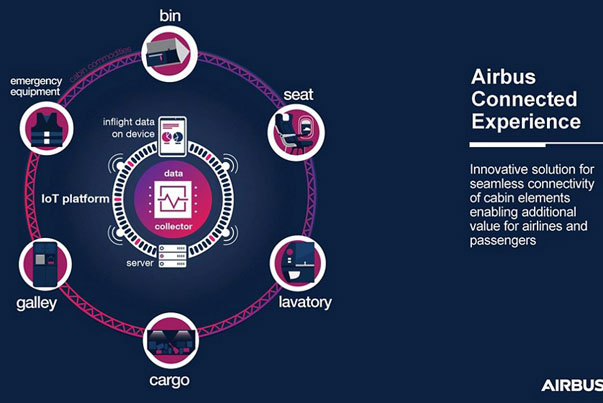 Moreover, the platform would allow airlines to use the aggregated cabin equipment usage trends to perform predictive maintenance analytics over their entire fleet, eventually improving the overall cabin service reliability, quality and performance on board all aircraft.
Soeren Scholz, SVP Cabin & Cargo Programme, Airbus, said: "As airlines drive to improve operational efficiencies and reliability, they can now look to the Connected Experience, offered by Airbus together with our industrial partners, to link different elements of the cabin, seats, galleys and trolleys into one central data system." He added: "This seamless inter-connectivity within the cabin will also be of tremendous benefit to passengers who will be able to enjoy individually tailored, personalised and high-quality inflight service."
The platform will initially be available on the Airbus A320 Family and will later be extended to other Airbus programmes. According to Airbus, the platform will also be suitable for future data analytics allowing predictive maintenance.
During the event, FTE also caught up with Stefan List, Senior Manager Product Marketing Cabin Programme, who provided more details on Airbus' Cabin 2030 vision. Stay tuned for our upcoming report on "The future of cabin design – 2035" in which we will reveal more about Airbus' vision.
F1-inspired aircraft interiors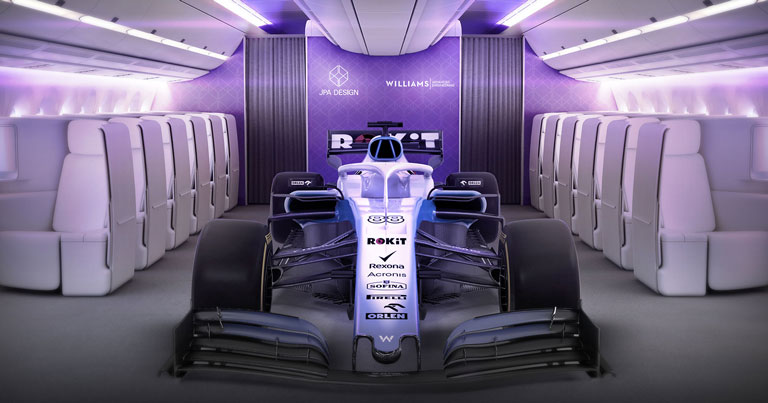 Here at FTE we have previously reported on how the industry is taking inspiration from Formula 1 to drive operational efficiencies on the ground. This time around, we discovered how F1 can serve as an inspiration for aircraft interior design through a new partnership between JPA Design and Williams Advanced Engineering. The two companies came together at last week's AIX to provide more insight into their latest collaboration, which aims to revolutionise future aircraft interiors to deliver an enhanced passenger experience and supplement the investment of airlines in new, lighter, more efficient aircraft resulting in reduced weight and more efficient interiors.
"Our motorsport heritage has given us significant expertise in the innovative use of lightweight materials and rapid product development to deliver enhanced benefits to passengers and airlines alike," said Craig Wilson, Managing Director of Williams Advanced Engineering. "The maximisation of available space and the use of lightweight materials to do more in the same amount of space on an aircraft is at the heart of the work we do commercialising Formula One-derived technology."
The two companies believe that there is still great potential to make a step-change in cabin layout, passenger comfort, fuel-saving and carbon emission reductions, compared to existing, traditional approaches, through the application of new interior design and lightweight materials.
James Park, Founder and Principal of JPA Design, added: "In spite of all the brilliant innovations that we have seen introduced onboard commercial aircraft over the last 20 years, innovations such as lie flat beds and fully integrated amenities, it has nonetheless taken a remarkably long time for the acceptance of new materials and new engineering methodologies to be adopted in the aircraft interiors industry. Recognising this point, we have joined together with Williams Advanced Engineering and their Formula One-derived technology with the intent of bringing greater improvements to onboard products. We are now more optimistic than ever that these radical new solutions that we are currently developing will soon become available for the benefit of both passengers and airlines."
LiFi – coming to a cabin near you?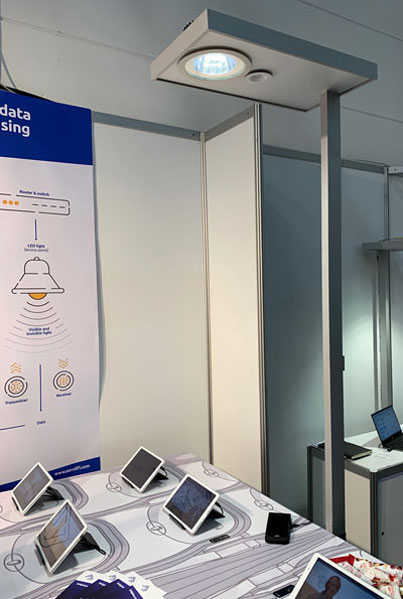 LiFi, which uses both the visible and invisible light emitted by LEDs to transmit data, could soon be coming to the aircraft cabin. During a visit to the aeroLiFi and Cadami booth, FTE learned how LiFi – or light fidelity – could benefit passengers in all cabin classes. LiFi doesn't actually require complex infrastructure: it just needs the server and backbone, with LED lights to transmit and receive data. Every LED bulb is a potential access point and LiFi can use both visible light and infrared. One potential use case is to use LiFi to provide wireless inflight entertainment (IFE) content.
Birger Timm, Managing Director of aeroLiFi, explained: "LiFi provides a stable communications link that doesn't degrade and that has enough capacity for each passenger to stream HD and 4K content. We do that by reducing the number of people using each cell, giving airlines the ability to provide a consistent data stream to a lot of people in a small area."
He explained that LiFi is both safe and secure. "It's not impossible to hack into a LiFi network, just very hard. You have to get between the light source and the receiver. In an aircraft, that effectively means you need to be sitting on someone's knee and that's very noticeable. In fact, LiFi is so secure that it is already being looked at for use in the cockpit for flight critical applications."
aeroLiFi has integrated Cadami's coded caching technology into its solution. This helps increase the stability of the solution, as well as the size of the video content library available. The caching element also means the content will not be interrupted if the light source is blocked for some reason, for example if someone puts their hand over the receiver.
Collins Aerospace transforms unused spaces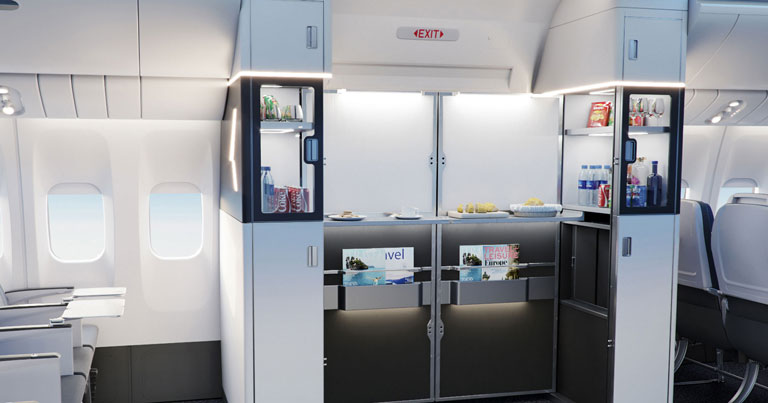 Collins Aerospace also highlighted the importance of creating a more social cabin environment for the passenger, while optimising unused space, through its M-Flex Duet cabin monument. The new design was the winner in the 2019 Crystal Cabin Awards Cabin Systems category.
With the M-Flex Duet cabin monument, Collins Aerospace has transformed the aircraft doorway – a rarely optimised area – into a self-service social zone or cabin crew working area, providing a more premium passenger service and extended galley space.
"Traditionally, the space needed to add this type of service area meant sacrificing seating for the airlines which could mean an annual revenue loss in the millions per twin-aisle aircraft," said Jefferey McKee, Director of Research & Development, Interiors for Collins Aerospace. "Our team has created a brand new concept that benefits both the passenger and the airline by offering new amenities in the cabin with minimal to no seat reductions."
During taxi, take-off and landing the compact monuments are stowed and meet all regulatory requirements. During flight, the units unfold to stretch across the doorway providing a stand-up, branded and self-serve social area for a passenger to enjoy food and drinks, and it also provides additional crew working space.
Moreover, the M-Flex Duet fits within standard monument footprints, therefore it can easily be installed as a line-fit and retrofit solution. M-Flex Duet is expected to launch later this year.
Mark your diary for FTE-APEX Asia EXPO 2019 – 12-13 November, Singapore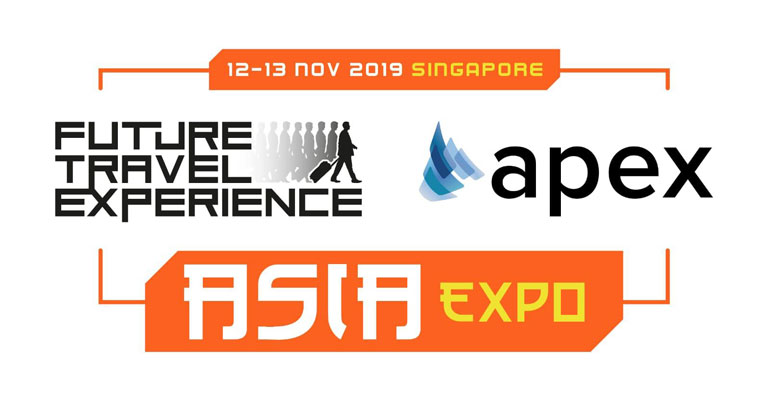 Future Travel Experience (FTE) and the Airline Passenger Experience Association (APEX) will jointly host FTE-APEX Asia EXPO 2019 in Singapore on 12-13 November 2019. The show will include a large-scale, free-to attend exhibition, four Premium Conferences, the 2nd Onboard Hospitality Forum Asia, the FTE Asia Awards ceremony, and a unique social and networking agenda.
The likes of Collins Aerospace, Butterfly Seating, Immfly, Inflight VR and SATS are already confirmed to exhibit. Register for your free pass or contact us to learn more about exhibition and sponsorship opportunities.