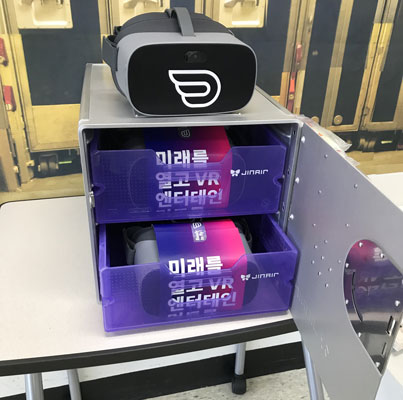 Korean low-cost carrier Jin Air has partnered with Inflight VR to offer virtual reality (VR) inflight entertainment to passengers, in a bid to appeal to its young and tech-savvy customers.
Jin Air will trial 10 devices on daily flights between Seoul and Da Nang to get additional passenger insight on usage preferences and the adequate rental price before deploying it to their whole fleet.
"VR is one of the biggest emerging technologies these days," says Mr. Lee, Jin Air's Head of IT Strategy Team. "Our increasingly technology savvy passengers expect more than the standard entertainment on most airlines. Our collaboration with Inflight VR and their thoroughly developed solution will meet our passengers' increasing demand for inflight entertainment, and help Jin Air's brand to stand out."
Inflight VR's Chief Commercial Officer Raphael Baumann adds: "We make virtual reality work… Our thorough approach addresses all technical, logistic, usability and rights management aspects to make this a seamless way for airlines to bring innovation to their passengers."
According to Inflight VR, bringing virtual reality on board an aircraft requires a high level of technology integration application efforts, such as interfacing with the cabin management system for safety measures or connectivity platforms; addressing concerns detrimental to the VR user experience; and protecting content.
As a result, passengers can explore new destinations, relax through guided meditation, watch movies in their own movie theatre or virtually upgrade themselves into business class.