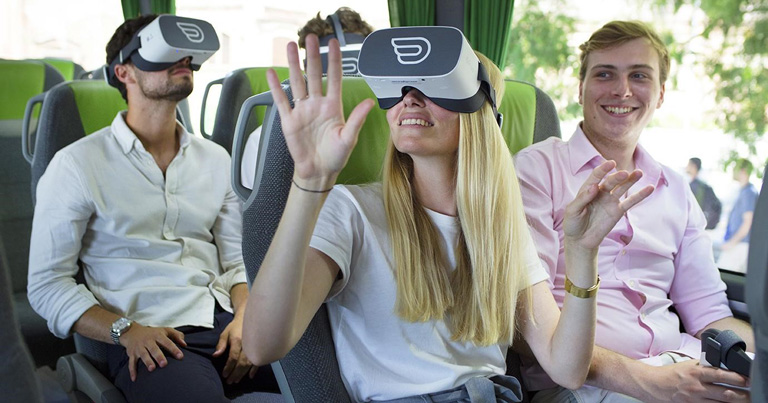 Following the success of the deployment of virtual reality (VR) headsets on bus routes in the United States, FlixBus has partnered with Inflight VR to offer immersive entertainment to its passengers on three routes in and between France and Spain.
"Virtual reality is one of the emerging technologies with the most potential at present," says Pablo Pastega, Managing Director, FlixBus Spain & Portugal. FlixBus has innovated in the world of transport from the moment it was born as a company six years ago, and offering immersive virtual reality entertainment is another step in our desire to put technology at the service of our customers. Our collaboration with Inflight VR and its customised solution will surprise our passengers and make them enjoy the trip even more."
FlixBus is providing 15 devices for free on routes between Barcelona and Montpellier, Paris and Rouen, and between Paris and Cabourg to get additional passenger insight on usage preferences before considering an expanded deployment of Inflight VR's solution.
"We believe in the tremendous opportunities VR provides for companies like FlixBus who push the envelope of their customers' travel experience," commented Moritz Engler, Co-Founder and Chief Executive Officer of Inflight VR. "Our role is to make today's most emerging technology work. Our thorough approach addresses all technical, logistic, usability and rights management aspects to make this a seamless way for FlixBus to amaze their passengers and build a closer relationship to their brand."
Using Inflight VR's headset, passengers can explore FlixBus city destinations, relax with guided meditation or watch movies in their own movie theatre.
"Having been the first company to launch a virtual reality flight entertainment solution for eight airlines, airport lounges and FlixBus US over the past year, we are very proud to see other sectors of mobility in different regions of the world beginning to adopt our services," adds Raphael Baumann, Chief Commercial Officer of Inflight VR.
Indeed, Inflight VR's solution has already been trialled or implemented by a number of airlines including the likes of Iberia, Jin Air and SunExpress. The VR-powered IFE platform allows for many different third-party application integrations ranging from VR storytelling to destination-based content, such as sightseeing tours or tourist shopping. The platform has the potential to be an entirely new form of IFE that can generate revenue for airlines.