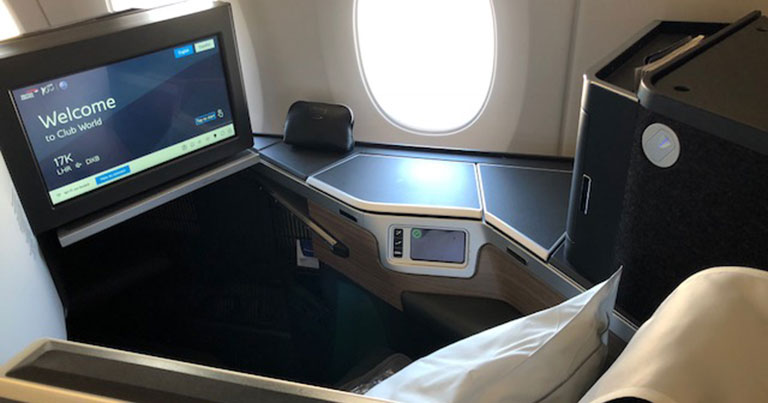 Review by Mohammad Bhimani
The arrival of British Airways' first A350-1000 was described by the airline's Chairman & CEO, Alex Cruz, as "one of the most exciting developments in our $6.5 billion investment programme". The new, much anticipated aircraft features upgraded cabin products, with a major focus placed on its business class product, known as the Club Suite.
BA's investment in customer experience is significant and comes at a time when competition has intensified and the Heathrow-based carrier has been in the spotlight for a variety of reasons. In this exclusive review, FTE's Mohammad Bhimani gives his verdict on the new Club Suite product on British Airways' first A350 routing between London Heathrow and Dubai.
It's in the detail… less is more
It is no surprise that British Airways has pushed the boat out when it comes to customer experience in its centenary year. The oneworld member has spent more than three years curating the plush Club Suite product, which is a bespoke version of the Collins Aerospace Super Diamond seat in a forward-facing herringbone layout, featuring a sliding privacy door. When onboard it is difficult to not be impressed by the redesign of business class. BA's A350 has 56 of these hotel-like capsules, which give you your own private space at 35,000 feet. The colour palate screams BA in every way and compliments the new cabin's interior. Charcoal hues of grey, sophisticated BA branding scattered across the cabin and a warm cabin crew are enough to delight you upon entering.
British Airways has a total of 18 of these shiny new A350s in the pipeline, with the Club Suite being the carrier's first major business class refresh in nearly 13 years.
The Club Suite features flat-bed seats in a 1-2-1 configuration, which means that every passenger has direct access to an aisle. In addition, an 18.5-inch high-definition inflight entertainment (IFE) screen and generous storage is available. Placed on my seat I found a plush pillow and comfortable bedding by The White Company, which I stowed away in the spacious overhead lockers above me. I definitely was not sleeping on this flight – the excitement was all too real!
Once seated in 17K, an amenity kit by The White Company was immediately provided, with some high-quality cosmetics including a eucalyptus infused lip balm and a gentle facial moisturiser, while the standard socks, eye mask, pen, toothbrush and ear plugs were also included in this leather goody bag.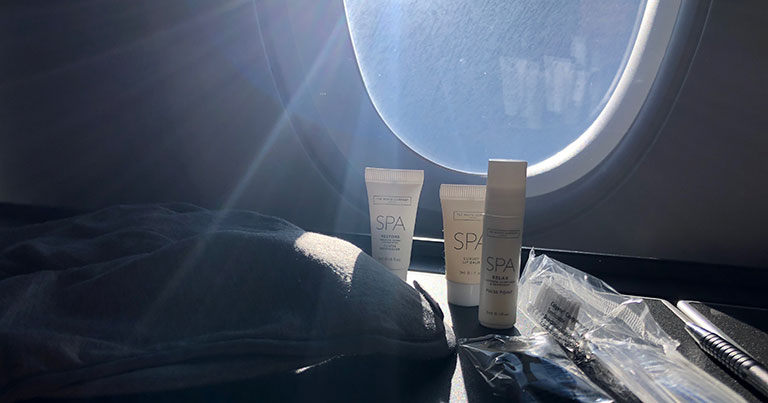 Gourmet cuisine takes flight
Inspired by some of the world's top chefs, the Club World menu combines local and international flavours to create restaurant quality meals on board. Menus were handed out shortly after take-off and I was surprised to see how extensive it was, and how it also included a halal meat option available which most airlines usually ask to be pre-booked. As a non-drinker, I was equally pleased to see that aside from the normal alcoholic beverages on offer, BA has introduced two new mocktails for their revamped Club World menu. I chose the fizzberry mocktail – a delightful mix of cranberry juice infused with Indian tonic water. This was refreshing and was served alongside an assortment of salted peanuts. A great beginning for a large meal to follow.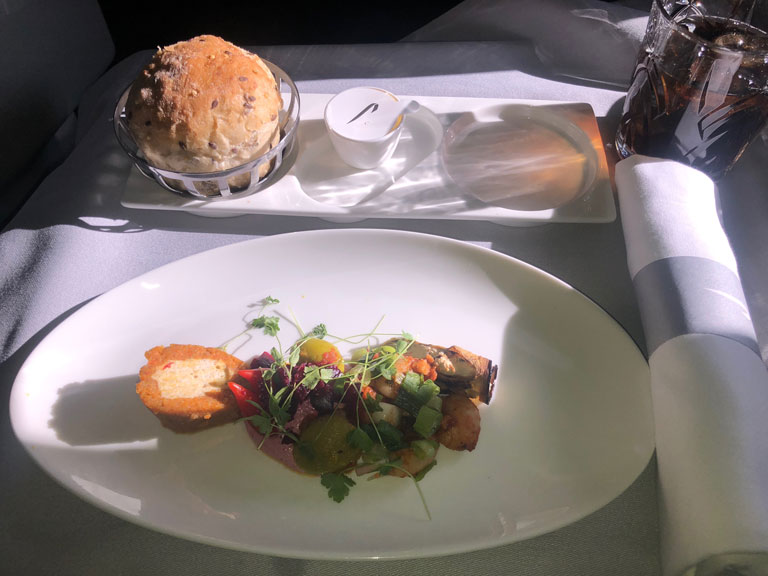 A friendly cabin crew member who addressed me by name came around shortly afterwards to take my order. I opted for the Meze Platter to begin. A Middle Eastern inspired dish featuring minted beetroot, grilled aubergine labneh and smoky salamanca olives. This colourful plate of food was bursting full of flavours and was presented perfectly. A warm seeded bun with butter accompanied the starter, which was a nice touch.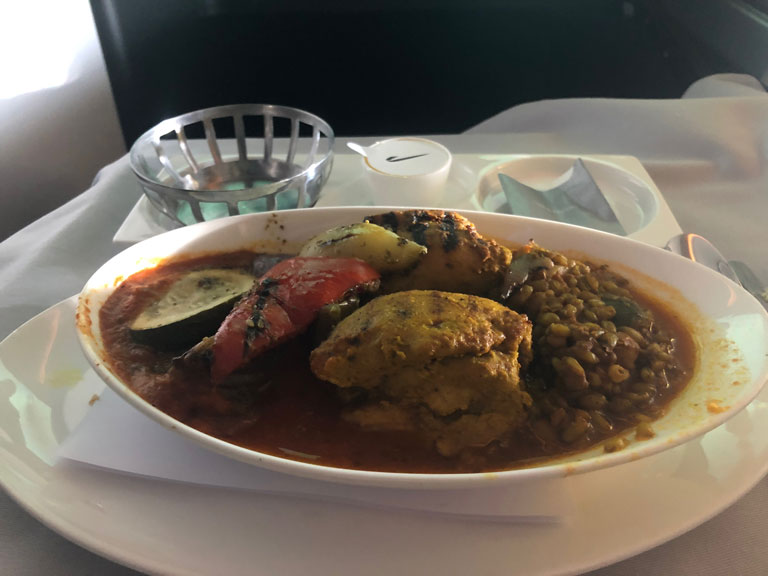 This was closely followed by my main which was grilled chicken accompanied with roasted vegetables and freekeh, all mixed in a dakkous sauce. Despite the meat being tender and a rich tomatoey sauce to compliment it, this was not my favourite dish as I felt that the textures didn't work well together on my palate, nevertheless it seemed to be a popular dish amongst my peers.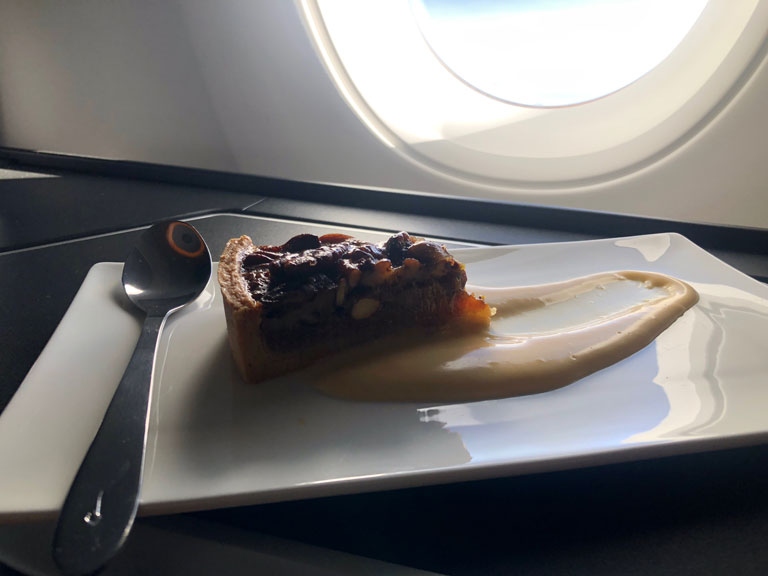 To end my meal, I opted for the Dulce de Leche flan with a smooth vanilla crème anglaise, which I was blown away by. This was a beautiful dish with a variety of different textures and had the perfect sweetness. A real treat and a clear winner for me. This was washed down with a nice cup of English tea.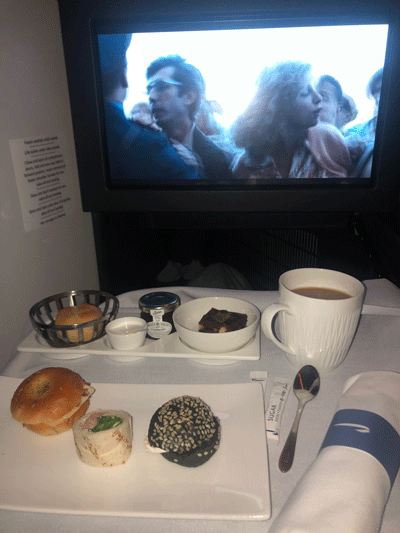 Approximately six hours into the flight we made our entry into Kuwaiti airspace which resulted in some impeccable evening views of lit up cities in neighbouring Saudi Arabia in the distance. The IFE onboard was brilliant and playing around with it I discovered a good selection of entertainment available. I did however notice that there was no tail-cam onboard the A350, something I love to view upon take-off and landing. Nevertheless, I was really impressed by the different real-time graphic views available on Flightpath 3D.
While I reclined my seat and made myself comfortable binge watching episodes of TV series Chernobyl (yes, I know I am a little late) a cabin crew member came around once again to offer me a pre-landing snack. I opted for the afternoon tea (despite it being the evening outside). I found the chocolate tiffin a little hard to break into but it tasted delicious. The scone was warm and soft and the selection of bite sized sandwiches which included chicken, salmon and cheese were perfect to end with.
Final thoughts 
Prior to my Club Suite experience with BA I met with Greg Caterer, CCO of Neutral Digital – the company behind the virtual reality rendering of the Club Suites. The detailed rendering translated well into the physical appearance of BA's new product itself and matched my onboard expectations.
Overall, it is enough to say that BA has stepped up to the mark through this major business class upgrade. Despite the Wi-Fi and pre-booked seat allocation charges (surely these should be included as standard in business class), the swanky new suites are a game-changer for the airline and a huge improvement on the existing product. The new A350 cabins are visually impressive, while "20% more fresh air" in the cabin, which is marketed by Airbus, made a notable difference and helped to leave me feeling revitalised at the end of my flight.
British Airways is back in the game when it comes to long-haul business class, but only time will tell whether the investment pays off and if the routes the new A350s have been assigned to will enhance customer satisfaction levels in the years to come.