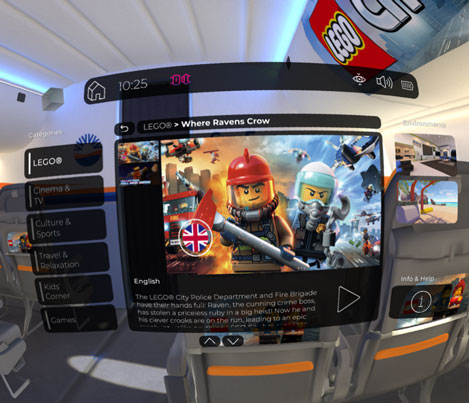 SunExpress has unveiled a new virtual reality (VR) experience in collaboration with LEGO and Inflight VR to enhance the onboard experience for passengers.
SunExpress' onboard experience consists of a branded cabin environment inside the VR experience, several LEGO City VR movies, and a magazine in each seat that folds out into a poster. Moreover, the carrier has also unveiled LEGO-branded liveries.
Inflight VR highlighted a number of benefits the collaboration has for stakeholders and passengers:
Passengers have access to an expanded content experience and get to know popular brands in a new way.
Brands like LEGO can interact with consumers in a value-added way and build closer relationships with them.
Airlines can differentiate themselves from their competition in a cost-neutral way.
Inflight VR's platform becomes more attractive and its technology partner Pico learns more about passenger interaction with the device and its unique content.
Moritz Engler, Founder and CEO of Inflight VR, commented: "Virtual reality has so many dimensions if it's done right. This collaboration will immerse passengers into some jaw-dropping or incredibly relaxing experiences and deepen their relationship with the brands of LEGO and SunExpress who truly care about them. The combination of the headset provided by our partner Pico, Lasker's cross-marketing efforts and our integration services make this a solution perfectly adapted to the aircraft environment."
Peter Glade, Chief Commercial Officer at SunExpress, added: "For SunExpress everything is about the flight and giving more choices to our passengers. Innovation is about pushing the envelope of the passenger experience and letting them explore technology and places they've never been exposed to. We love to partner with creative companies like LEGO and Inflight VR who help us make that happen."
Inflight VR has also shared that it is working with other airlines on similar projects, and is in dialogue with other major brands to utilise virtual reality technology and the airlines' onboard products to create cross-marketing initiatives.