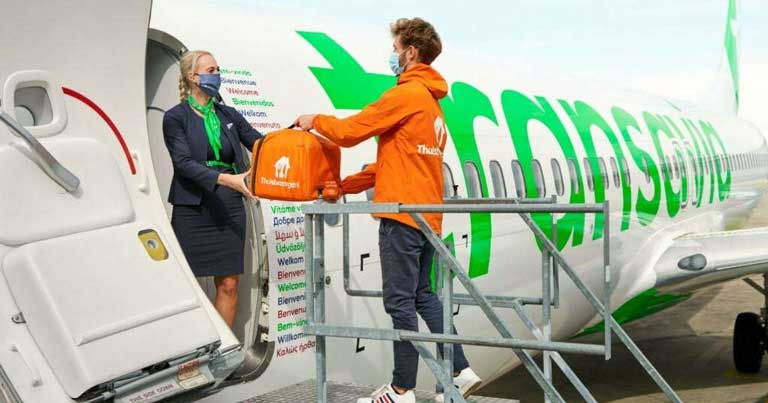 Transavia has partnered with online food ordering company Just Eat to introduce inflight delivery service, allowing passengers to order a meal of their choice for their flight.
Passengers can order a meal through Just Eat's platform up to one hour before their flight. The meal is prepared by Dutch catering company iFleat.
The pilot programme has been developed in cooperation with Amsterdam Airport Schiphol and iFleat, and is currently available on four flights from Amsterdam to destinations in Greece, Portugal and Italy.
The programme is expected to extend to more flights and airports where Transavia operates, such as Rotterdam The Hague and Eindhoven airports, depending on the travel advisories for each country.
Marcel de Nooijer, CEO of Transavia, said: "It is important to keep innovating and further improving service for our customers, especially in these unprecedented times. We're starting modestly by offering this meal service on four flights. However, we have confidence in this great concept and hope to expand it further as opportunities allow."
Passengers on selected flights will receive an email, allowing them to choose from ten different meals at the Transavia Restaurant, including vegan salads, fresh sushi and authentic Indonesian rendang, amongst others. The meals are freshly prepared and directly delivered on board by Just Eat Takeaway.com, after which the cabin crew serves the meals to the passengers.
The innovative service is also expected to minimise food waste by reducing the number of meals that are prepared and brought on board but not consumed.
With in-flight delivery, payment is settled up front, and Transavia knows which passengers pre-ordered a meal. This also reduces contact between passengers and crew and enhances Transavia's service with fresh and healthy meals while promoting safe and responsible conditions.
Silvie Cremers, Global Sales Director at Just Eat Takeaway.com, added: "We are continuously working to improve and extend our services and products. For example, we've made it possible to order food at places other than at home, such as at the office and at the train station. This special cooperation, which makes it possible to serve fresh meals on a plane, is a great step forward. We are very proud to be the first to offer this service and are confidently looking forward to the further roll-out of inflight delivery."
Irene Muysson, Head of Retail, Food & Beverage and Commercial Services at Amsterdam Airport Schiphol, also explained: "COVID-19 requires new solutions, including in the field of food and beverages. Together with our partners, we look for innovative concepts and digital services that contribute to safety, speed and convenience. We expect that the contactless onboard delivery of a fresh and healthy meal of their choice will definitely appeal to our travellers. That made us happy to facilitate this pilot programme at our airport."