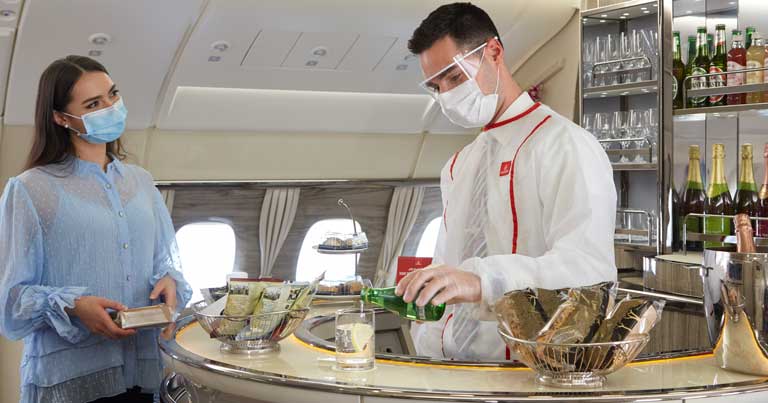 Emirates is rolling out a redesigned onboard experience, adhering to new health and safety measures.
The Onboard Lounge and Shower Spa for first class passengers have reopened and customers will be provided with individual amenity bags, a disposable bath towel and a menu to choose additional amenities.
The A380 Onboard Lounge for first and business class passengers has been transformed into a take-away bar with limited seating capacity and social distancing protocols in place.
The bar will continue to serve wines, spirits, soft drinks and pre-packaged lounge bites for customers to take and enjoy in their own seats. Customers can also make their orders from their seats. The social areas in Business Class on select Boeing 777 aircraft and in First Class also re-opened with pre-packed snacks for customers to grab and go.
From 1 November, Emirates' onboard dining experience will also resume while observing strict hygiene protocols.
Customers in all classes will enjoy multi-course meals and choose from a complimentary selection of beverages including wine and beer, as well as juices and soft drinks. Cocktails will also be served in premium classes.
The Emirates app has also been enhanced to allow customers on board to browse the menus on their personal devices both online and offline with the latest app update.
A new Vitality Boost welcome drink will also be added in business and first class, launching with an apple, ginger and hibiscus mix, and set to be refreshed periodically with different flavours.