We're yet to find out whether the COVID-19 pandemic will have long-lasting effects on the inflight experience. However, what has become apparent in recent months is that technology will help shape new onboard trends that are likely to become the new norm post-COVID-19. Here we take a look at how five recent initiatives are helping to promote safe passenger experience, reduce costs and empower crew.
Inflight food pre-ordering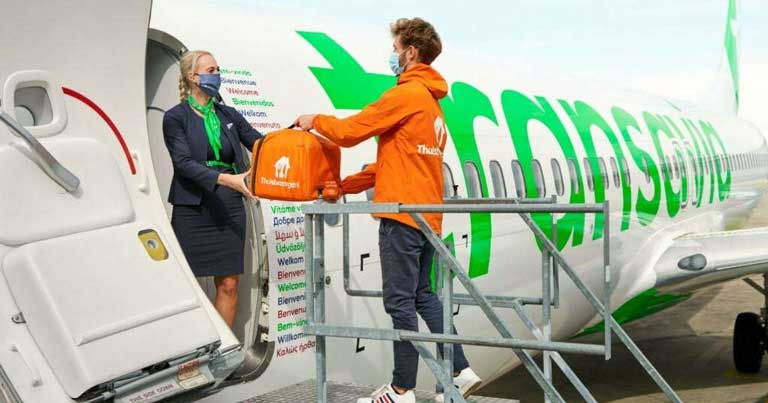 While some airlines have suspended their food and drinks service onboard, others have turned to unique partnerships with online food order and delivery service companies to allow passengers to enjoy meals inflight.
One example is the recent partnership between Transavia and food ordering company Just Eat, which allows passengers to order a meal of their choice for their flight. Passengers can order a meal through Just Eat's platform up to one hour before their flight. The meal is prepared by Dutch catering company iFleat.
The pilot programme has been developed in cooperation with Amsterdam Airport Schiphol and iFleat, and is currently available on four flights from Amsterdam to destinations in Greece, Portugal and Italy.
The meals are freshly prepared and directly delivered on board by Just Eat Takeaway.com, after which the cabin crew serves the meals to the passengers. With inflight delivery, payment is settled up front, and Transavia knows which passengers have pre-ordered a meal. This also reduces contact between passengers and crew.
The innovative service is also expected to minimise food waste by reducing the number of meals that are prepared and brought on board but not consumed.
Marcel de Nooijer, CEO of Transavia, said: "It is important to keep innovating and further improving service for our customers, especially in these unprecedented times. We're starting modestly by offering this meal service on four flights. However, we have confidence in this great concept and hope to expand it further as opportunities allow."
Robotics, computer vision and ML to reduce food waste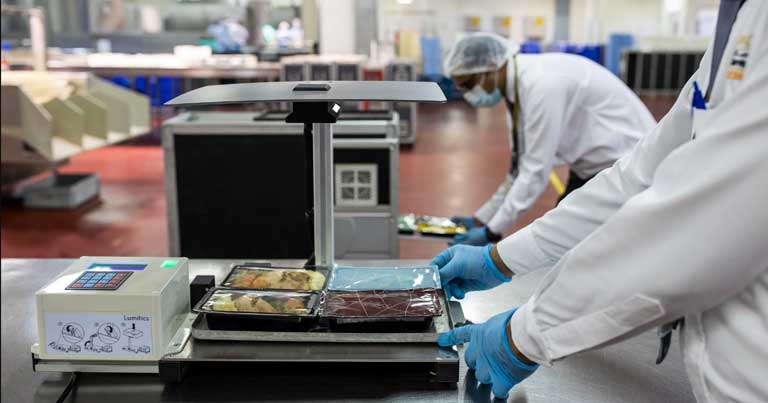 With cost-cutting becoming more important than ever, airlines are also finding new ways to reduce handling costs inflight. One example is KLM Catering Services (KCS), KLM Royal Dutch Airlines' catering services provider, which has adopted a new robot for the production of meals for economy class.
The robot will serve to reduce production costs while increasing flexibility and customer-centricity, making it easy to serve a wider array of products on different types of trays. It will also be possible to cater efficiently to diverse special requests. Pieter Elbers, President & CEO, KLM, commented: "The new robot has been taken into operation at KCS against the very real backdrop of COVID-19. We could never have imagined today's predicament at the time the decision was taken a few years ago. It embodies a great piece of innovation and investment in the future. We now only use a fraction of the capacity of 30,000 meals a day. Nonetheless, I'm pleased we've taken this step. After all, we must continue to innovate and look to the future – especially now!"
Elsewhere, Etihad Airways also started a similar initiative in partnership with Singapore-based startup Lumitics to trial the use of computer vision and machine learning in order to reduce food wastage on its flights. Lumitics' product Insight Lite will track unconsumed meals from a plane after it lands. Using artificial intelligence (AI) and image recognition, Insight Lite is able to differentiate and identify the types and quantity of unconsumed meals based on the design of the meal foils, without requiring manual intervention. The collated data will be used to highlight food consumption and wastage patterns across the network, helping to reduce food waste, improve meal planning and reduce operating costs.
Mohammad Al Bulooki, Chief Operating Officer, Etihad Aviation Group, commented: "Etihad Airways started the pilot with Lumitics earlier this year before global flying was impacted by COVID-19, and as the airline scales up the flight operations again, it is exciting to restart the project and continue the work that had begun. Etihad remains committed to driving innovation and sustainability through all aspects of the airline's operations, and we believe that this project will have the potential to support the drive to reduce food wastage and, at the same time, improve guest experience by enabling Etihad to plan inflight catering in a more relevant, effective and efficient way."
Personal tablets for crew
Condor Airlines has introduced SkyTab tablets for cabin crew. The personal devices from Retail inMotion have been designed to optimise onboard sales and communication, while also providing flight-related documents.
The SkyTabs include an inflight sales software, which is specially adapted to the needs of Condor. Guests can pay cashless with all common credit and giro cards, as well as Apple and Google Pay.
Product availability is displayed in real time through live tracking of sales on each flight. The software also optimises communication with all interfaces of the supplier process for efficient logistics.
The device can be used as a personal information hub for all cabin staff, as it allows access to all communication channels. Following the introduction of the Electronic Flight Bag for cockpit crew a few years ago, which provided flight and weather charts as well as checklists and manuals for pilots, SkyTabs now provide all the necessary information for cabin crew.
"With this we lay the foundation for further optimisation of the onboard experience. As an example, in the future our crews could receive customer information in their SkyTabs, in compliance with data protection regulations so that they can address them by name," comments Christian Schmitt, Chief Operations Officer, Condor. "This will make the onboard experience even more personal for our guests, which supports our service promise as Germany's most popular leisure airline."
Ultraviolet (UV) cabin cleaning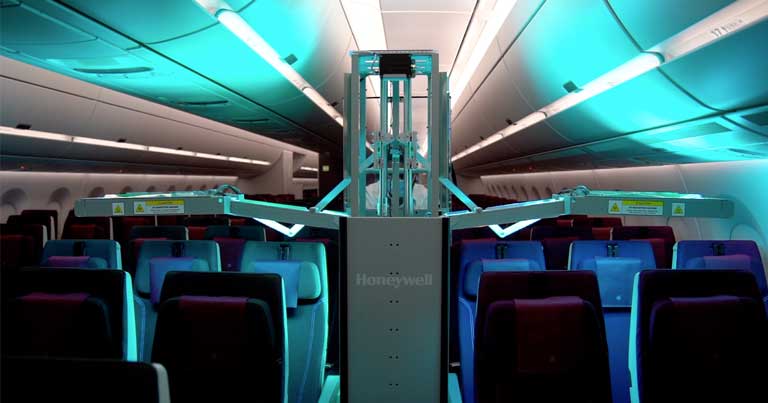 Cabin sanitisation has taken central stage in recent months. Among some of the most innovative solutions we have seen is an ultraviolet (UV) cabin cleaning system, developed by Honeywell, which has already been adopted Qatar Airways and currently being trialled by JetBlue Airways.
The solution can disinfect an entire mid-sized airline cabin in less than 10 minutes, addressing current concerns around turnaround time between flights.
The Honeywell UV Cabin System is roughly the size of an aircraft beverage cart and has UVC light arms that extend over the top of seats and sweep the cabin to treat aircraft surfaces without using cleaning chemicals.
Touchless IFE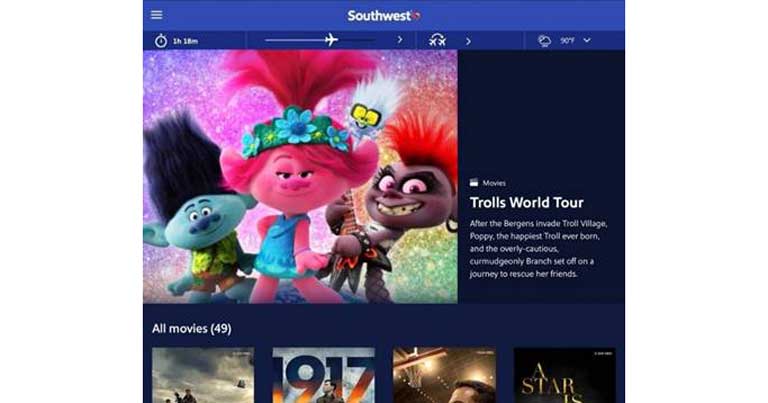 In times when passengers have become more wary of touching surfaces, some airlines have been pushing ahead with updates to their inflight entertainment (IFE) to offer a contactless experience and encourage a BYOD (bring your own device) model.
Recently Southwest Airlines launched a series of improvements across its Inflight Entertainment Portal, which allows customers to stream inflight content without having to download an app before they board. Passengers are be able to stream content directly to their smartphone, laptop or tablet, using the carrier's IFEC portal, powered by Global Eagle.