The COVID-19 pandemic has changed the way customers travel and airlines are finding new opportunities to reinvent themselves and their products. This week, FTE tuned in for a virtual thought-leadership session, hosted by the Airline Passenger Experience Association (APEX), to hear how leaders from American Airlines, Aeroméxico and Viasat are adapting their inflight propositions to match latest customer trends.
Investment in connectivity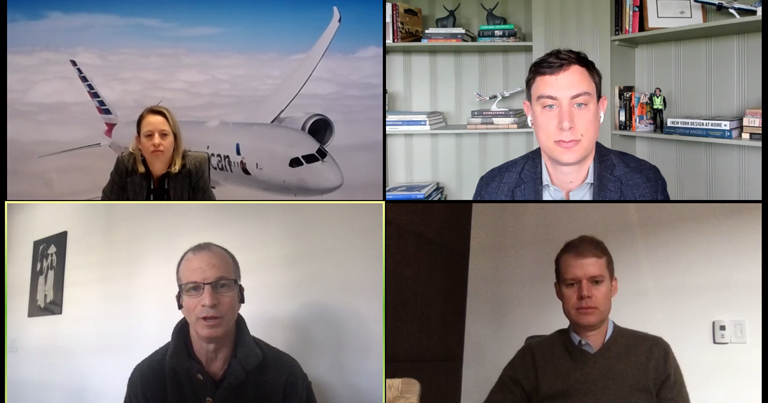 For Aeroméxico connectivity remains a long-term strategic driver, despite the COVID-19 pandemic. Speaking at the webinar, the airline's Vice President Andres Castañeda said: "One of the first things that we did in the beginning of the pandemic is we stopped the connectivity services, but we then restarted them as we understand that it is a key driver for our passengers, and they want to stay connected. Even if there is a different mix of customers, more towards leisure, there is a necessity to stay connected and that's what's most important for us at Aeroméxico."
While the COVID-19 pandemic has certainly accelerated digital technologies and the use of the internet at people's homes, the panellists pointed out that now more than ever before there is a need to provide inflight connectivity, which mimics the on the ground experience.
However, with airlines running low on cash due to the current crisis and cost-cutting a priority, questions have been raised whether investments in connectivity will continue ahead.
Clarissa Sebastian, Managing Director, Premium, Customer Experience at American Airlines, echoed the sentiment that Wi-Fi connectivity inflight remains a key differentiator for airlines. "American Airlines has made a tremendous amount of investment in Wi-Fi technology in the past few years pre-COVID-19. We started working with Viasat in 2019, and a lot of that investment is already there and we want to make sure that just because we're going through this really tough time, we're not letting that wane away."
She added: "There's definitely still a willingness and recognition to continue to invest and to continue to provide this for customers. I think we have become a lot more focused on what the customers really want and need and we're shifting away from providing things for the sake of things, and really drilling into what the brand's core values are."
Castañeda agrees that investment in connectivity must continue. "It really is a tough time for the industry. What we're doing is that our short-term metrics is to bring down the cash burn as much as we can and we have been successful on that. But at the same time, we're also focused on creating a strategy for the long-term.
"Connectivity is definitely one of the drivers and one of the things that are important to our customers. We're a full-service premium carrier in Mexico and that's something for us is clear that we need to invest in," he added.
Consistency vs speed to market
Delivering a consistent inflight connectivity experience across the whole fleet also came up during the webinar as a key challenge for airlines. Sebastian, for instance, explained that American Airlines is achieving this through its new inflight Wi-Fi portal, which provides a unified entertainment and connectivity experience. The portal enables customers to use their AAdvantage credentials and stored credit card information to purchase flight passes for internet access on aircraft equipped with Gogo and Viasat. If customers don't have an AAdvantage account and prefer not to sign up for one, they can continue to purchase individual flight passes as a guest.
"Consistency is the goal – we ultimately want to be able to provide a consistent experience to our customers with a same look and feel throughout our platform," she explained.
However, finding the right balance between consistency and the speed of which products enter the market is another challenge for many airlines. American, for example, recently started a trial offering free Facebook Messenger and Messenger Kids on most of its flights equipped with Viasat's high-speed Wi-Fi. Sebastian explained that this has been one of these projects in which the airline has put speed to market to the forefront. She explained: "In the past we would have worked through the entire cycle, in order to get it in every aircraft and really look at this trade-off between consistency and speed to market. So, in this case, we decided to get it out and ask our customers. We're getting a tonne of great feedback and we still have some time left on this trial, so we will continue to watch our customer's feedback. But so far, it's been really exciting."
For Aeromexico, which works with three different connectivity providers ­– namely Viasat, Panasonic Avionics and Gogo – ensuring a seamless inflight experience for its customers is also a priority. Castañeda said: "There's a lot of hard work that goes on behind the scenes. Something important to note is that nowadays you don't only work with your providers, we also partner with airlines like Delta for instance, where we have a joint venture to provide customers with a seamless experience in their transfer between Mexico and the US. We work with them so that if you have a connection and you're flying with both airlines to make sure we have a seamless connection. It's really about thinking about our customers and, if we're making a promise to them to make sure we're delivering on that."
The end of the seatback IFE?
 The panellists also focused on the future of the seatback inflight entertainment, which has been widely discussed in recent years, especially following the COVID-19 pandemic.
Both Castañeda and Sebastian agreed that customers do enjoy the seatback screens, however, a bring your own device (BYOD) capability is essential.
Don Buchman, VP/GM-Commercial Aviation, Viasat, pointed out that it's all about convenience and the quality of the content. "Is seatback dead? No, but how you use it and what's the engine behind it is changing," he explained. "What people do on the ground is pretty much what they want to be able to do up in the air."
Exciting times ahead
Despite the difficulties brought by the pandemic in the past 10 months, the panellists agreed that there are exciting times ahead for the airline industry. Sebastian said: "The pandemic brought an excitement to work on new things and the ability to change the focus on moving fast. Our customers are more patient with us if we can bring things to market quickly, as long as they can tell us what they like."
Castañeda added: "The past few months we saw that the internet was the big winner – so how is that going to change moving forward? It's a very exciting time to work with our partners, listen to our customers and understand how we can innovate and how these new behaviours can bring new opportunities in this space within the travel experience."