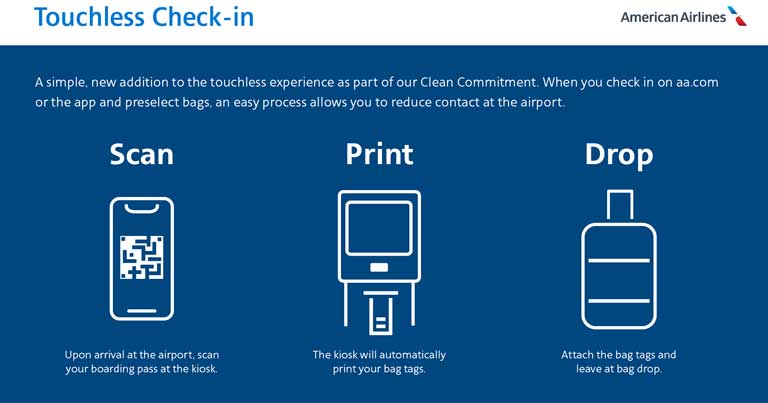 American Airlines is introducing new technology to ease the customer experience and enhance the well-being and safety of customers and staff.
The airline has launched a new touchless check-in experience for customers, allowing them to proceed to the gate without touching the kiosk screen, even if they are checking a bag.
Customers who would like to check their baggage and are travelling domestically on a single itinerary can indicate how many bags they plan to check on the American Airlines app or website.
When the customer arrives at the check-in kiosk, they can scan the boarding pass on their personal mobile device or one they printed out at home. After the boarding pass is scanned, the kiosk automatically prints the bag tags, all without the customer having to touch the kiosk. American Airlines says that it will be introducing the new technology at more than 230 airports.
The airline has also recently began the rollout of a new inflight Wi-Fi portal that provides a unified entertainment and connectivity experience. The portal has been designed to make the sign-on process smoother for customers when using Wi-Fi on board across the airline's domestic network.
The new portal enables customers to use their AAdvantage credentials and stored credit card information to purchase flight passes for internet access on aircraft equipped with Gogo and Viasat internet services. Alternatively, if customers don't have an AAdvantage account and prefer not to sign up for one, they can continue to purchase individual flight passes as a guest.
This phased launch is part of a larger strategy to make the connection to high-speed Wi-Fi and inflight entertainment easier. American also shared plans to introduce the American Airlines Wi-Fi Subscription Plan with more details on this transition to be announced in the future.
The circumstances surrounding COVID-19 are continuously evolving. Our friends at APEX have a dedicated COVID-19 page, which they'll be updating regularly to help keep you up-to-date on how the novel coronavirus is impacting the aviation industry. Visit the page for the very latest news >>