The key recommendations from the FTE APEX Business Model Transformation Think Tank – our most ambitious Think Tank to date – were unveiled during FTE APEX Virtual Expo last December. Now we have launched an industry-wide crowdsourcing effort to invite the brightest minds to put forward their ideas to help us make the Think Tank recommendations a reality.
The Think Tank explored and identified how airlines, airports and their partners can embrace new approaches and collaborate more closely to solve long-running industry challenges and frustrations that have been exacerbated by the COVID-19 crisis. Reducing cost bases, improving processes, and creating new revenue-generating opportunities throughout the end-to-end air travel experience were among the core areas of focus.
The Think Tank team, consisting of a selection of industry experts, considered what airports, airlines and their partners can do differently going forward to help drive a faster and stronger recovery for all. Together they shared a vision for redefining two key areas of the travel experience: the way passengers purchase and consume food & beverage (F&B) and providing passengers with a reliable and seamless end-to-end baggage experience.
We now invite industry stakeholders from around the world to get involved and come forward with suggestions on how to support these initiatives and drive the industry's business transformation forward. Submit your suggestions today to be a part of this ground-breaking project, which will be presented at FTE APEX Virtual Expo 2021, 25-26 May. A selection of entrants will be invited to join our next Think Tank conference call to share their ideas with the Think Tank team and play an important role in bringing this project to life.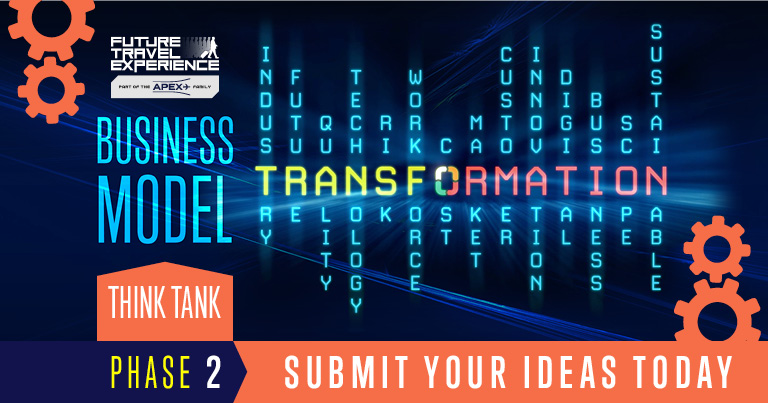 Submit your ideas in response to one of the following two Problem Statements:
Problem Statement 1: Redefining the baggage experience
How can the air transport industry create a more reliable and seamless end-to-end baggage journey that empowers passengers, reduces the reliance on decades-old processes, and/or creates a new joint revenue stream for airports, airlines and their partners?
Problem Statement 2: Redefining the F&B experience
How can the air transport industry transform the food & beverage (F&B) experience by embracing end-to-end connectivity and creative new partnerships to improve F&B options for passengers, optimise efficiency, increase revenues and/or reduce wastage?