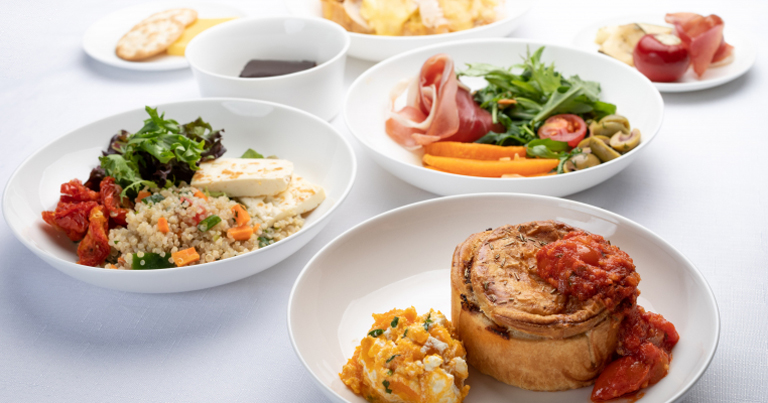 New onboard menus have been introduced on all Virgin Australia flights for Business Class passengers.
According to the airline, the new menus mark a new era for the relaunched Virgin Australia, with simple, modern, fresh and contemporary dishes, made using locally sourced Australian produce.
Dishes include a range of hot meals, healthy salads and Australian classics, served on tableware, including crockery, glassware and cutlery, providing a quality inflight experience and further reducing single-use packaging as part of the airline's continued commitment to sustainability.
The new menu will rotate on a bi-monthly basis and comes with all-inclusive premium Australian wine and beer, plus soft beverages and spirits.
The airline has also established new training course for its cabin crew, with new hospitality standards that focus on customer engagement allowing more time in the cabin with guests.
Virgin Australia is also introducing a new buy onboard menu, based on feedback from travellers on domestic flights, who would prefer to choose their own food and beverage in a buy onboard model, instead of receiving a predetermined snack.
Initially, the menu will feature the most popular snack and beverage items, including cheese and crackers and Australian wine, before a greater range of menu items are introduced later in the year when travel demand is expected to resume to near pre-COVID levels.
Following a reduction in the price of Business Class fares of up to 20% last November in comparison with pre-COVID-19 prices, Virgin Australia also announced today that the airline will undertake a further review of its Business and Economy Class fare brands.
The new fare brands are expected to deliver better value for travellers, provide more flexibility and choice when compared to travelling prior to COVID-19.
Virgin Australia Group CEO and Managing Director Jayne Hrdlicka, said: "The launch of our new Business Class food experience and a commitment to reduce airfares even further by the middle of this year, is a really great example of just how irresistible it is to fly with Virgin Australia.
"Today's customers are more conscious about what they consume than ever before. We like to choose what we eat and what we drink throughout the day – we are simply extending that choice onboard as well. By removing snacks that aren't valued by our guests we're able to structurally reduce airfares making it even cheaper to fly. We'll continue to offer complimentary tea, coffee and water on all flights and the opportunity for guests to purchase their favourite menu items at a reasonable price."