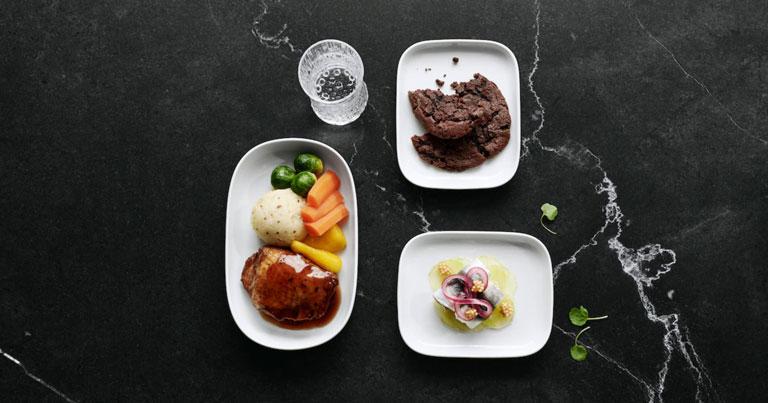 Finnair has refreshed its onboard food menus to provide customers with more choice, flexibility and sustainable options.
The new menus aim to reduce waste and weight onboard Finnair's flights, in line with its ambitions to become carbon neutral by 2045. The Finnish flag carrier has introduced wooden birch cutlery and paper cups, while return flights from long-haul destinations will feature locally made meals.
Business class passengers on intercontinental flights, will be served a small amuse bouche and a starter, followed by a main meal, dessert and cheese. They also have a choice of three main course options – Benella rainbow trout, a Japanese inspired chicken dish or a plant-based option which celebrates the tastes of India ­– followed by a lighter second service, snacks and refreshments – along with a beverage and wine selection.
Long-haul business class passengers can also opt for oat milk, as the airline's new dairy free alternative.
Those travelling in business class on European flights are offered a sandwich, fresh cold meal with bread, or a three-course-meal inspired by Nordic flavours, along with a selection of drinks.
Meanwhile, economy class customers on intercontinental flights will get a set menu accompanied by a complimentary glass of wine or beer. Travellers with dietary requirements are advised to notify the airline in advance of departure in order to ensure that an alternative complimentary meal is available.
Customers travelling in economy class on European flights are served a glass of Finnair's famous blueberry juice with new wooden birch cutlery and paper cups accompanying the in-flight service.
Maarit Keränen, Head of Inflight Food and Beverage Concept, Finnair, said: "We're really excited to reveal our refreshed inflight menu and we've found that a little twist of Japanese cuisine works well with the Scandinavian flavours.
"Sustainability is a key focus for us, which is why we've also introduced wooden cutlery onboard and streamlined our service offering to reduce the amount of waste onboard.
"We've already halved the amount of food waste in our Catering/Kitchen operations and have set ourselves a new goal to reduce food waste by a further 30%."