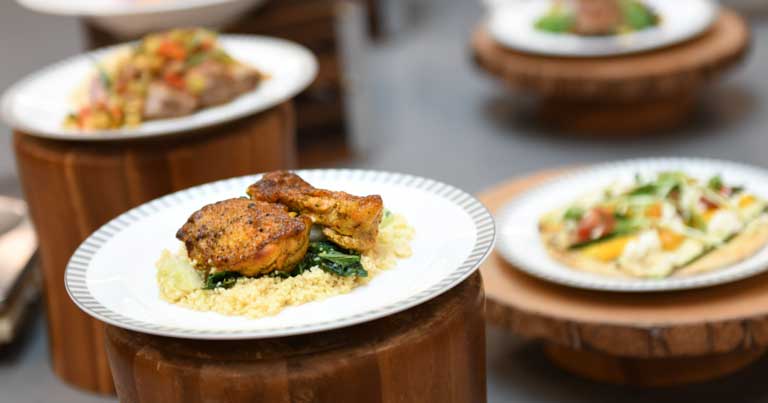 Singapore Airlines (SIA) has partnered with health and wellness spa resort Golden Door to enhance inflight wellbeing. The new partnership will bring a selection of health-focused meals, exercise, and wellbeing options to SIA customers on board its flights between Singapore and the US.
Golden Door experts including top chefs, nutritionists, and personal trainers have developed a broad range of menus, exercise and stretching programmes, as well as other content designed specifically for SIA customers. This will help travellers enjoy improved nutrition, sleep, relaxation, and energy levels on board the world's longest non-stop flights that can extend to nearly 19 hours.
The first menus and wellness content from the partnership will first be available on flight SQ37 ­– SIA's ultra-long-haul direct service from Los Angeles to Singapore, in January 2022. The programme will be progressively extended to SIA's non-stop services from San Francisco, New York, and Seattle to Singapore.
SIA's non-stop services from Los Angeles, New York, and San Francisco have also been designated as Vaccinated Travel Lane flights, allowing eligible customers to skip quarantine when entering Singapore.
Yeoh Phee Teik, Senior Vice President Customer Experience, Singapore Airlines, said: "Our long-standing commitment to wellness has led to us to work with Golden Door's highly specialised expertise, and create new options for health-oriented dining, exercise, and strategies for better sleep on long flights. Now, more than ever, our customers are focused on maximising wellness in every aspect of their lives. This partnership is instrumental in finding practical, effective ways to extend the principles and practice of well-being to air travel."
Betty Wong, Divisional Vice President of Inflight Services and Design, Singapore Airlines, added: "With more than 60 years as a favourite among the world's most discerning spa clients, Golden Door is recognised as one of the most pre-eminent brands in wellness. SIA and Golden Door have been regularly named as the leading international airline and the number one destination spa respectively in the world's top travel publications. It is fitting that we come together to find new ways to give our customers tools to further enhance their well-being and comfort on board our flights."