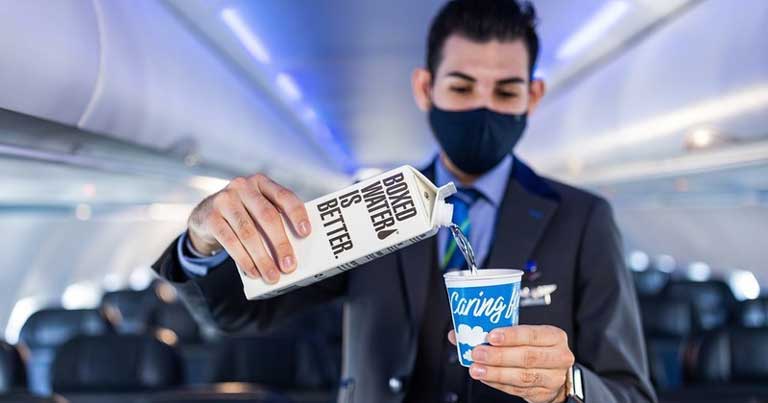 Alaska Airlines has replaced plastic water bottles served inflight with a new eco-friendly alternative. The airline is trading plastic water bottles for plant-based cartons and swapping out plastic cups with recyclable paper cups for water service.
The box-shaped carton, made by sustainability brand Boxed Water Is Better, is fully recyclable and sealed with a plant-based cap.
The change is estimated to save 1.8 million pounds of single-use plastics from flights over the next year – equivalent to the weight of 18 Boeing 737s.
Inflight water service is the most significant contributor of onboard plastic waste. Alaska reports that the switch to more sustainable solutions will effectively remove 22 million plastic cups and 32 million plastic bottles per year from Alaska flights.
"As a West Coast-based airline, we fly to some of the most beautiful places on earth. Protecting these habitats is critical for our collective future, and reducing plastic waste is a key step," said Diana Birkett Rakow, Vice President of Public Affairs and Sustainability for Alaska Airlines. "We're proud to partner with Boxed Water on our most impactful plastic-reduction initiative yet, on a continued journey to minimise inflight waste."
Alaska became the first airline to offer guests Boxed Water cartons inflight in early 2021 – introducing the renewable packaged water alternative in First Class and on Alaska's Horizon Air-operated flights. The trial has proven a success with guests and employees, with surveyed fliers preferring Boxed Water over plastic bottled water at a rate of two-to-one.
"We are grateful to Alaska Airlines for leading the airline industry with bold steps toward plastic waste reduction," noted Daryn Kuipers, CEO, Boxed Water. "Our ability to scale with Alaska from First Class to main cabin in just six months demonstrates both operational feasibility and the interest travellers have in more renewable inflight offerings."
"Only 9% of plastic is recycled nationwide – the rest ends up in landfills, burned or in our environment," said Todd Traynor-Corey, Managing Director of Guest Products for Alaska Airlines. "Although we have an industry-leading recycling programme, the reality is that we need to move to renewable options. Getting to this point hasn't been easy. We investigated several options with our supply chain – and this year we finally found a product our guests love and a partner whose mission-driven values mirror our own."