At a pivotal moment for industry recovery, it has never been more important to innovate in order to keep pace with traveller expectations and enrich the in-store airport retail experience. Airports and their retail partners are increasingly investing in unique experiences designed to turn passive passengers into engaged consumers, with prevalent use of digital elements to create immersive, interactive activations. Here, we highlight some of the most recent examples of experiential airport retail.
'Prada Behind the Scenes Interactive' – Heathrow T5​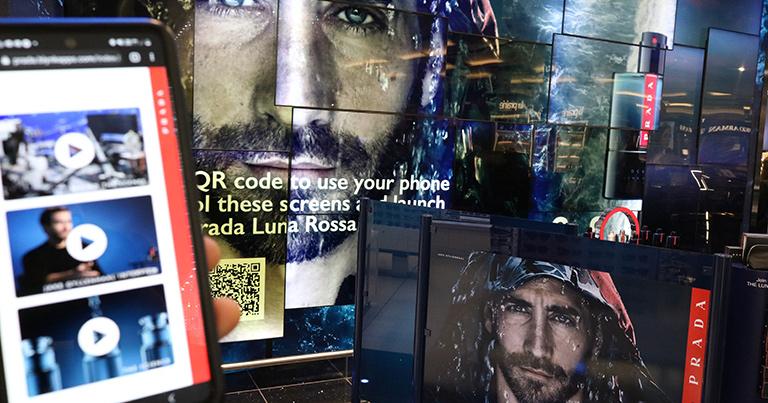 Blynk created an engaging, interactive opportunity to support the launch of Prada Luna Rossa Ocean in World Duty Free at London Heathrow Airport's Terminal 5. The behind the scenes experience allowed passengers to access additional content, interspersed with a call to action encouraging them to scan a QR code throughout the Prada Luna Rossa Ocean content.
"Once scanned, it took them to our app, placing them in control of the screens and letting them choose the content they wanted to see on it," explained Neil Muir, Managing Director, Blynk. "Passengers could select from three different behind the scenes videos to play on the store screen. It was a great project to be involved in, and we loved getting to help the brand make a real impact with their in-store digital by putting the passenger in control of the experience."
House of Suntory exclusive Lotte pop-up – Changi Airport T3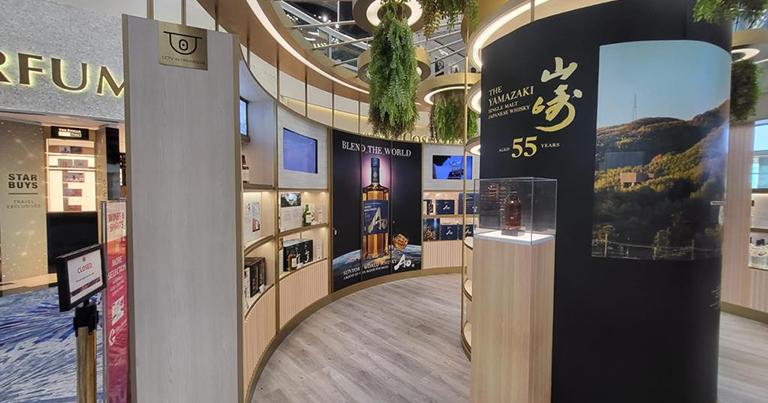 In February 2022, the House of Suntory partnered with Lotte Duty Free to launch a travel retail exclusive pop-up at Singapore Changi Airport's Terminal 3. The unique pop-up is designed to be a flagship destination for travellers to become immersed in the delicate art of Japanese whiskey and craftsmanship.
Divided into four segments, the House of Suntory whiskey pop-up allows travellers to become fully absorbed in a dedicated luxury whiskey gallery. The pop-up includes educational and digital elements to immerse shoppers in House of Suntory's portfolio of brands and deliver the ultimate premium experience.
"This pop-up at Singapore Changi Airport signifies our commitment to globalising the House of Suntory brand portfolio and it's a prime example of how a desire to connect with our customers is at the heart of everything we do," said Manuel González, Marketing Director Global Travel Retail, Beam Suntory. "We're thrilled to partner with Lotte Duty Free to launch this first-of-its kind pop-up in Terminal 3 at Changi Airport, which serves as the ultimate travel retail hub to provide this desirable offering."
GATEZERO experimental concept store – Zurich Airport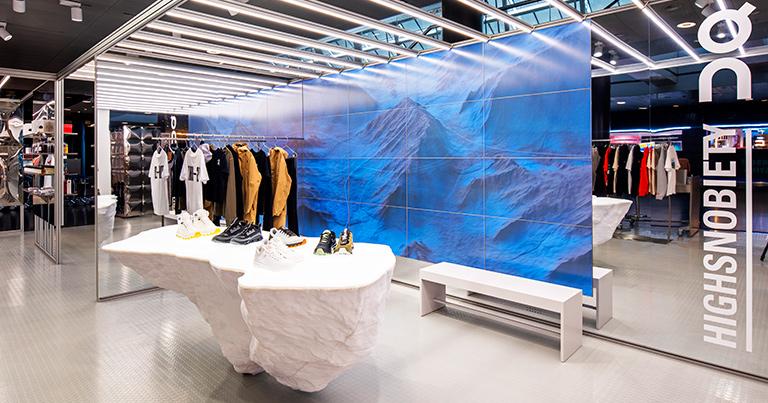 Zurich Airport and Highsnobiety have opened the GATEZERO concept store in the airport's Airside Center. It is described as "a progressive and experimental luxury retail concept that redefines travel retail".
The concept store offers a curated assortment of more than 15 international brands across product categories including ready-to-wear, shoes, watches, jewellery, and eyewear.
"We are very delighted about the partnership with Highsnobiety and the launch of GATEZERO," said Heidi Köpple, Head Commercial Centers, Flughafen Zürich AG. "Zurich Airport is setting new standards for a fresh target group of travellers and underlines its claim for innovative and unique concepts in travel retail. GATEZERO will arouse curiosity, surprise and delight our passengers. It will enhance the guest experience at Zurich Airport."
The concept store features ever-changing brand activations and experimental space upgrades. The open and raw aesthetic of the store puts the focus on the products and is designed to allow travellers to immerse themselves in the world of the carefully-selected brands.
"We usually show up in unexpected ways and places to test and push boundaries," said David Fischer, CEO and Founder, Highsnobiety. "With GATEZERO, we set our sights on the new generation of luxury consumers. Contemporary luxury is inspiring and inclusive, in terms of product selection, but also in terms of target group. Together with Zurich Airport, we want to create an innovative shopping experience that reflects these values."
PUIG experiential campaign – Heathrow T2
In a six-month activation that concluded at the end of 2021, PUIG launched an experiential campaign at London Heathrow Airport's Terminal 2 for Phantom by Paco Rabanne, which it describes as "the first connected" fragrance for men.
The fragrance is available in a 'connected' bottle that enables consumers to explore the 'Phantom universe' by tapping their phone on the bottle to access content. Heathrow collaborated with JCDecaux Airport and Edge on the installation, which focused on three experiential areas:
Engaging: The notes of Phantom could be experienced by touchless fragrance – by taking a ticket to discover the fragrance.
Entertainment: Passengers could take on the Phantom robot in a dance-off, recreating Phantom's dance moves to unlock an exclusive Phantom filter that could be shared on social media, and for the chance to receive a gift.
Connecting: Providing passengers with a vibrant hub to experience the brand while they recharge their devices.
"The activation is a demonstration of confidence in the future of travel retail and a great example of how we are evolving at Heathrow," said Fraser Brown, Retail and Property Director, Heathrow Airport, who is on the FTE World Airport Retailing Summit Advisory Board.
Cadbury Football Selfie – Birmingham Airport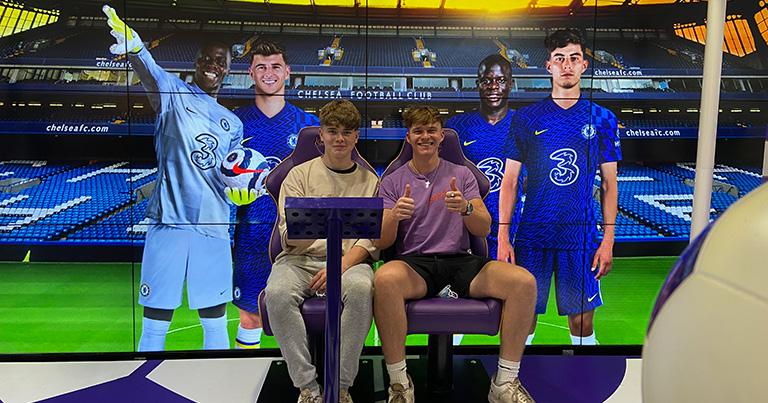 Working in partnership with Ratcliffe Fowler, Blynk created an experiential photo opportunity for passengers at Birmingham Airport. Blynk produced the apps and scheduled the content that allowed passengers to pose for a photo with their favourite players. The software let customers select from Arsenal, Chelsea, Manchester City, Manchester United, Tottenham Hotspur, or a Cadbury FC team. From here, they could personalise their photo by choosing their four favourite players to appear life-sized behind them on the video wall. The app then offered the option to email the photo to themselves instantly.
Importantly, the software also tracked interactions to provide valuable usage statistics, including most popular teams, players and times, helping to measure the campaign's success. It had 10,209 users, with 2,814 emails sent, and Manchester United being the most popular team.
FTE World Airport Retailing Summit to drive disruption in airport commercial approaches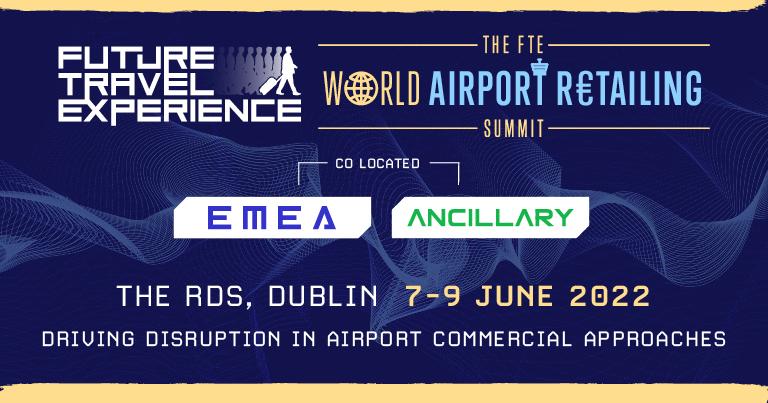 Following the pandemic the time is right to bring the world's airports, and their partners, together to share best practice, new ideas and knowledge on scaling disruptive new approaches that drive new levels of conversion with passengers through digital means. FTE is excited to stage the brand-new FTE World Airport Retailing Summit, which promises to be the most adventurous and energetic airport retail convention ever, and which will put technology at the heart of the airport retail proposition.
Taking place on 7-9 June 2022 in Dublin, this event is co-located with FTE Ancillary – the world's leading gathering of commercial airline executives, so for the first time ever we will bring together under one roof executives representing every type of industry stakeholder globally to help establish creative new ways of working together collaboratively to create more revenues for all to share in.
The summit has been developed in close collaboration with our new advisory board members from Heathrow Airport, Budapest Airport, Auckland Airport, iGA Istanbul Airport, Vantage Airport Group, MAGO and Vienna Airport, and among the confirmed speakers are Robert Carey, President, Wizz Air, and Ersin Inankul, Chief Digital & Commercial Officer, İGA İstanbul Airport. Visit our dedicated show website to find out more here.