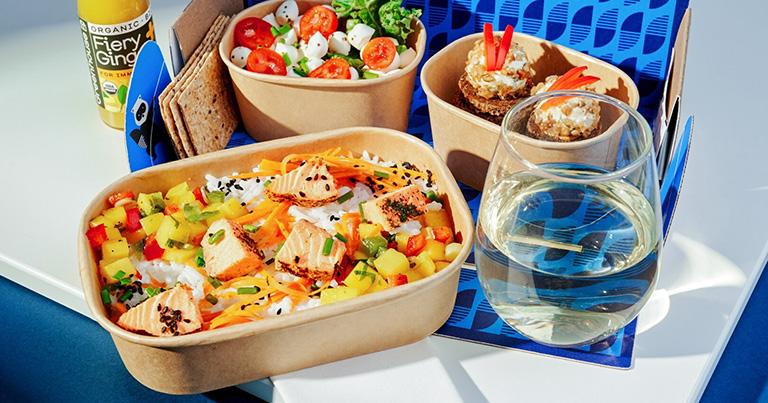 Porter Airlines has unveiled details of its updated premium inflight service offering, with an emphasis on partnering with high-quality Canadian brands.
The carrier is elevating economy air travel across its greatly-expanding network. Coinciding with the airline's strategy to grow in markets throughout North America using new Embraer E195-E2 aircraft, as well as its existing De Havilland Dash 8-400 fleet, travellers will experience a new level of service. The new aircraft and inflight amenities come into service on 1 February 2023.
Each partner was carefully selected for its locality, quality ingredients, brand alignment, and focus on sustainability.
"All of our food and beverage partners are Canadian, deeply passionate about their craft, and have strong relationships within their communities," said Kevin Jackson, Executive Vice President and Chief Commercial Officer, Porter Airlines. "Porter is aligning our brand with premium partners who emulate our values and the distinct service that we pride ourselves in delivering. With a focus on high-quality products, generous service and competitive prices, our passengers will experience economy air travel in a way that no other airline is offering."
Porter's existing signature inflight service – PorterClassic – featuring complimentary beer and wine served in glassware, along with a selection of premium snacks, will continue to be part of the journey on both the De Havilland Dash 8-400 and Embraer E195-E2 aircraft.
Sustainability is at the heart of the new menu design, with a priority on reducing and eventually eliminating single-use plastics onboard, providing biodegradable cups and cutlery, and eco-friendly packaging.
In addition to the food and beverage offering, all E195-E2 passengers will have access to a free distinct digital passenger experience with partner Viasat Inc.'s high-speed WiFi providing full access to web surfing and streaming services. West Entertainment's inflight entertainment content features current and classic movies, trending TV series, children's programming and documentaries that can be played on personal devices.