Last week saw the 2013 edition of the Aircraft Interiors Expo, hosted by the city of Hamburg. FTE was excited to be in attendance, and in addition to the huge array of stands and booths showcasing some of the latest innovations and technologies set to take to the skies in the not-too-distant future, there was also a wide array of fascinating talks from industry leaders. Here's some of the trends we've learned to be on the lookout for, courtesy of some of the most informed sources in the business.
1. Brand partnerships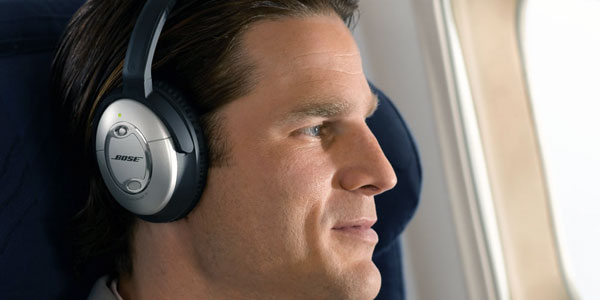 This first trend might well be the most noticeable, and it certainly makes a difference to the passenger. You don't have to be an expert in the field of aviation to recognise when a brand partnership has been adopted, and its desired effect is usually very simple – to create a memorable experience for the passenger, along with establishing a sense of luxury or uniqueness.
A long-standing example of this is audio equipment manufacturer Bose's relationship with American Airlines. As of 2005 the two American giants have had a partnership whereby pairs of Bose's noise-cancelling headphones are provided to every passenger in business and first class on long-haul flights.
The standard headphones provided to passengers in-flight are often a major gripe for customers – this initiative shows a great deal of customer awareness by American Airlines. Their partnership with Bose even extends to on the ground, with a scheme rewarding customers with air miles for every dollar spent on Bose products. So successful was American Airline's initiative that now JAL, Air India and Cathay Pacific all have near-identical partnerships with Bose established.
British Airways has recently announced a brand partnership of its own, in an attempt to create a unique in-flight experience through a niche partnership. Their deal with English tea marketers Twinings sees a unique blend of teabag take residence upon their flights in an attempt to deliver a more enjoyable cup of tea at 35,000 feet.
British Airways has recognised a problem that is significant for some passengers, yet reasonably simple to fix. In partnering with a trusted and popular brand, customers may well choose them over their rivals for something as seemingly irrelevant as a better cup of tea. Expect to see more deals like this occurring over the next twelve months as other airlines try to create their own unique selling points.
2. Improved connectivity – for the crew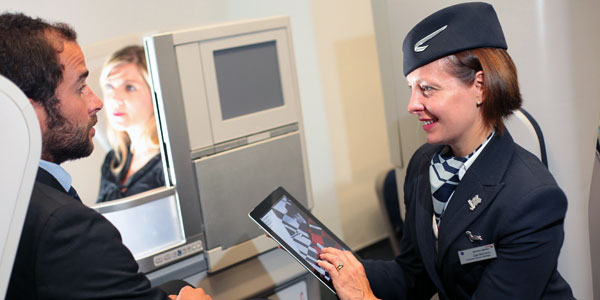 For what seems like a lifetime, airports and airlines have been desperately trying to find ways to improve passenger connectivity in-flight, with monetised vs. free WiFi issue a debate still yet to reach its conclusion. One issue airlines seem to be a lot less hesitant about is the connectivity of their cabin crew.
Flight attendants with American Airlines, British Airways and Emirates have all recently been outfitted with tablet computers. These devices greatly increase their ability to not only aid the passengers on board, but also improve their ability to work with their colleagues on the ground. In days gone by, once up in the air crewmembers were left isolated, but not any more.
In practice, flight crew now have the ability to notify passengers of any lost or delayed baggage before they reach the carousel, saving stress for the passengers and manpower on the ground (as fewer staff are no longer needed to address simple queries).
Crew are also better able to connect with the plane itself. With their tablets linked to the personal entertainment consoles installed in passengers' headrests, if a passenger wants to order a snack or beverage they need only enter it in to the console. The information is then forwarded to the staff who can provide the requested order without having to parade half the length of the plane with a cumbersome trolley. Passenger information stored within the crew's tablets also alert them to any dietary requirements, along with a whole host of other information filled out by the passenger pre-flight.
As the technology becomes more and more affordable it will begin to appear across a broader variety of airlines, so don't expect it to remain a luxury of the premium carriers for long.
3. Real-time customer service
Within the next five to six years it can be fully expected for real-time customer service to be an industry standard. With the rise of passenger smartphone use, in-flight connectivity and airline commitment to online presence, soon customers will be able to evaluate every aspect of their experience in real-time, thus enabling issues to be corrected on the spot.
KLM is the first airline to push the envelope, with their latest mobile app. The Dutch airline claims that they want the passenger to feel less detached from their journey experience. Supported at 13 major airports around the world, the app enables passengers to rate each individual aspect of their journey from start to finish via a simple thumbs-up or thumbs-down rating system, combined with an option to comment (which can then be published straight to Twitter). Roaming KLM teams equipped with iPads can then monitor the feedback in real time and address problems as quickly and efficiently as possible. Passengers need no longer feel like hamsters stuck in a wheel, with giant sprawling airports suddenly feeling a lot more hospitable.
KLM is about to begin a free in-flight WiFi trial, and will soon begin equipping their stewards and stewardesses with iPads too – all of which sets the scene nicely for a possible in-flight extension of the customer feedback app. Similarly, Virgin America is currently conceptualising an in-flight instant messaging client to enable passengers to interact with their cabin crew in real-time. With such developments ongoing, the passenger of the near future should be feeling a lot less helpless and a lot more satisfied.
4. Mementos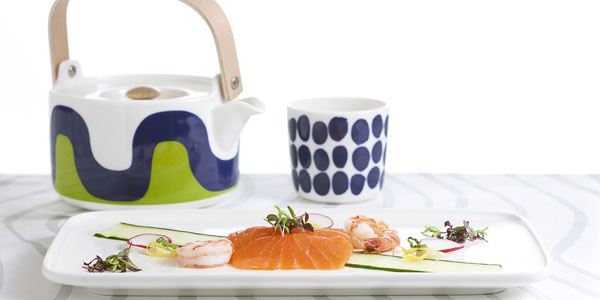 Envisage a customer leaving a shop – any shop. What is the one thing that you can say about their appearance, without a doubt? The answer is that they will be carrying a bag emblazoned with the name and logo of the shop they have just been in. It is wholly ubiquitous, and almost impossible to imagine a shopping experience without it.
Now envisage a passenger leaving the airport. What is certain about their appearance? Nothing, despite the fact that they have just spent what was most likely a fair amount of both money and time completely captive to an airline. When compared to an average high street shopping experience this makes no sense whatsoever.
Airlines have realised this, and are beginning to work on ways to make sure their flight experience stays with passengers long after they hit the tarmac. Something for passengers to take away with them could yield huge boosts to passenger loyalty, as well as doubling as a golden marketing opportunity.
Cathay Pacific is one of the early adopters of this strategy. Passengers travelling via first or business class are gifted a complimentary pair of pyjamas with classical Chinese styling in the airline's colours. Cathay has taken something culturally recognisable and made it its own. Not only that, but passengers are highly likely to take them with them once they get off the plane. A small and relatively cheap gesture often carries a long way with the passenger, particularly in a market as saturated as air travel.
It can be widely expected that more airlines will soon be trying to devise their own mementos for customers to take away. In fact, Finnair has recently based an entire brand redesign around the concept. The uniquely Finnish design style of 'Marimekko', which utilises earthen tones and bold block patterns, has been put in to place within the company wherever possible, from the exterior of their jets to in-flight crockery. Once their fun and interesting designs gain a degree of fame, Finnair is intending to offer the products seen in-flight for sale, such as a Marimekko tea set. This may well create both an entirely new revenue stream for the airline, but also leave a lasting brand impression with the passenger – which in turn leads to increased loyalty.
5. Personalising the cabin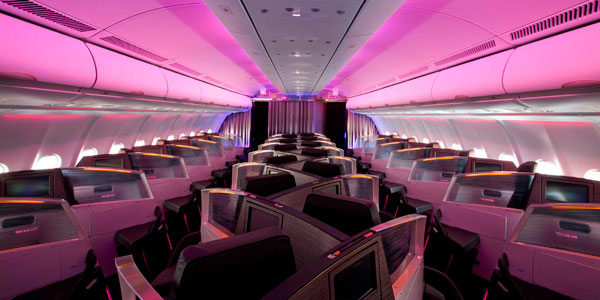 Five years ago, full-flat bed seats were the height of first and business class cabin luxury – it was the benchmark that every premium airline strived for. In 2013 however, that has become the standard, with nearly every long-haul carrier having the seats fitted in some capacity. Now airlines are tasked with finding a new way to raise their cabin experience to the next level.
Malaysia Airlines is one of the pioneers of the new trend of creating distinct cabin zones, of sorts. Some of its flights offer 'kids-free zones', for passengers desperate to get away from the clichéd yet inevitable trope of the crying baby on a long flight. Similarly, AirAsia has announced quiet zones – at no surcharge. When booking their seat, passengers have the option to choose one situated in a designated 'quiet zone', and the only price they pay for it is the standard booking fee.
Virgin Atlantic has expanded the personalised seating experience to commence on the ground. Passengers flying upper class have the option to book a 'snooze-zone' seat, which will locate them at the front of the first class cabin. After takeoff the cabin lights are immediately dimmed and no meal is offered by cabin staff to allow for maximum sleep time. Instead, passengers can choose to take their meal on the ground in the Virgin lounge prior to takeoff.
All of these personal touches are incredibly cost-effective for the airlines adopting them, yet add a real incentive for prospective customers. Ideas like this are a hugely positive sign for the future of air travel as an industry, as it shows a new future wherein airlines strive to win over passengers with creativity and luxury, whilst still staying profitable.
With special thanks to Raymond Kollau, Founder of AirlineTrends.com and featured speaker at Aircraft Interiors Expo 2013 in Hamburg for the information featured in this article.
For those interested in hearing more from Raymond, he will be running a workshop on trends and innovations in the airline passenger experience as a part of the Up in the Air conference at Future Travel Experience Global 2013, September 4-6 in Las Vegas, USA.