Rapid developments in consumer electronics, the acceleration of WiFi installations onboard aircraft and the large number of passengers carrying one or more digital devices is creating a momentum that sees many of today's inflight innovations focus on digital developments.
In this three-part series on how new technologies are improving the onboard passenger experience, airlinetrends.com founder Raymond Kollau takes a look at some of the major initiatives and innovations that are the result of this convergence. The first article discussed how inflight connectivity provides passengers and crew with real-time information up in the air. This second article highlights the latest in inflight entertainment and the final part will focus on onboard ancillary revenue generation.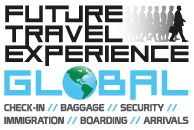 airlinetrends.com Founder Raymond Kollau is FTE Global 2013's Conference Ambassador for the first ever FTE 'Up in the Air' conference stream. As Master of Ceremonies, he will inaugurate the stream with a fast-paced and interactive Workshop on how airlines are responding to consumer trends with innovative products and service in order to differentiate the passenger experience, Wednesday 4 September, 14:00 – 17:00. The first FTE 'Up in the Air' conference stream promises to be a fascinating event, with scintillating addresses and dynamic interactive sessions on the theme, 'Reinventing the passenger experience through innovation, personalization and connectivity'. Organisations already confirmed to speak include Iberia, Qantas International, Mastercard, Guestlogix, SITA, TEAGUE, Panasonic Avionics, and Boeing.
Fast-forward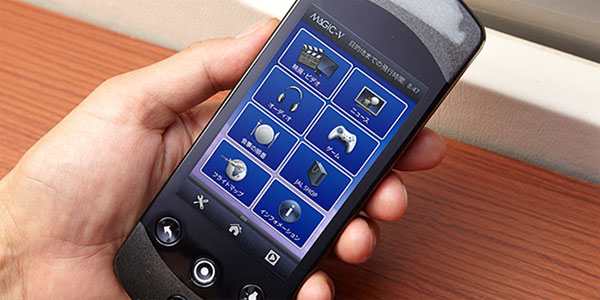 Rapid developments in consumer electronics have been fuelling consumer expectations towards the entertainment offered onboard. As Tony Tyler, former CEO of Cathay Pacific and Director General and CEO of IATA, observed a few years ago: "The bar is being set very high by Apple and others and our customers don't understand why we can't match it. Meanwhile, by the time an airline IT project comes to fruition, things have already moved on. Things have flipped. The consumer market is now driving innovation, rather than the business market."
However, major IFE suppliers are not resting on their laurels. For example, many of the latest IFEC systems offer touch-screens similar to those found on devices such as the Apple iPad and the Samsung Galaxy, allowing passengers to swipe across screens, scroll through text and instantly jump around the system, with a touch of a fingertip.
Furthermore, the latest systems by Panasonic and Thales are based on Google's Android mobile operating system, which, like smartphones and tablets, allows for the installation of apps. Low-cost carrier Norwegian has just become the first airline to install Panasonic's new Android-powered IFE system on its fleet of B787 Dreamliners. Norwegian's passengers can use select Android apps that are pre-loaded onto the system. According to Panasonic, "the open platform architecture facilitates faster, easier application development, integration, and deployment."
As a result of the technological developments, the IFEC market is becoming fragmented. According to APEX editor and IFEC specialist Mary Kirby: "The airline industry is divided on what the future holds for in-seat IFE in a world where tablet and smartphone use is exploding, and where wireless IFE and onboard connectivity is quickly gaining traction… How the IFE market will shift out in the coming years – i.e. there is no one-size-fits-all solution, even in the long-haul market. What is evident, however, is that airlines are asking questions about what IFE business models work for them rather than basing these decisions on what their competitors are doing or what they think their passengers want."
Here's a look at some of the major developments that are an indication of the direction inflight entertainment is heading.
Second Screen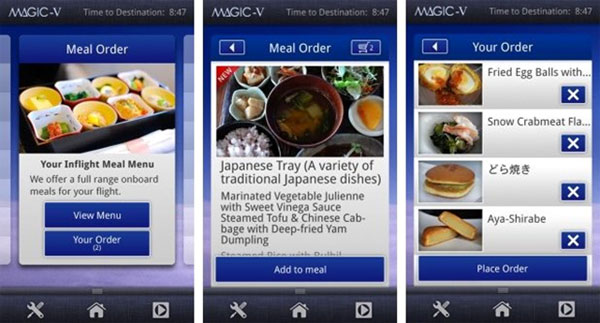 Touch-screen remote handsets are growing in popularity, which reflects the increasing number of consumers who multi-task while consuming media at home. For example, Emirates' latest Panasonic eX2 ICE system provides passengers in all classes with a touch-screen remote control handset, which allows them to use the device to do two things at once, such as follow the moving map system without having to stop the movie they are watching on the main screen. On its new B777-300ERs, Japan Airlines even lets passengers in Business Class order meals and drinks on demand by using the touch-panel IFE controller found in the seat.
Thales' 'TouchPMU' handheld is a menu-driven touch-screen device based on the Android operating system, which is billed by the company as a multi-tasking complement to the in-seat IFEC system. As an extension of the Thales IFEC system, passengers can watch a movie on the seatback screen while using the TouchPMU to check for example the current flight position or local weather. As a standalone media access device, the Android-based TouchPMU can also store a wide range of apps, making it easy for airlines to add new features. Qatar Airways is the first airline to feature the TouchPMU system on its Boeing 787s.
Flight Tracking 2.0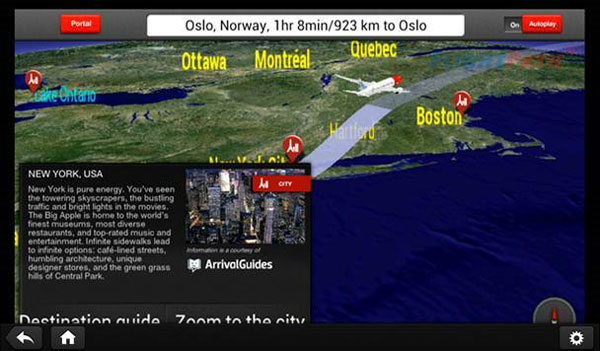 One of the most popular areas of the IFE system is the moving map. Compared with the two-dimensional maps that are still found on the IFE systems of many airlines, the latest maps now offer 3D imagery and the option to deviate from the flight path to look at specific land marks and zoom into ever greater detail – à la Google Earth. Dubbed 'geotainment', this location-triggered content feature displays geographical and historical information relevant to the location of an aircraft on, or around, its flight path. Says Tyler Sterkel, founder of geotainment company MondoWindow: "The geotainment trend is powered by many factors, including the ubiquity of location-aware personal devices, apps, and web mapping, which passengers are already accustomed to using for location-based services on the ground."
For example, besides displaying the aircraft's position and flight path, the moving map channel on Singapore Airlines' new KrisWorld system (which is based on Panasonic's eX3), shows a heads-up display mode similar to what the captain sees, as well as high-resolution satellite images of the terrain below, complete with geographical features and landmarks (with the ability to view more photos and read the Wikipedia info).
Norwegian's new Android-based IFE system features software from FlightPath3D on the moving map channel. Passengers can follow the flight path as their trip progresses and choose from several interactive 3D views or use free roaming mode to investigate the world they are flying over. Rich media elements include audio, video, text and image-based points of interest.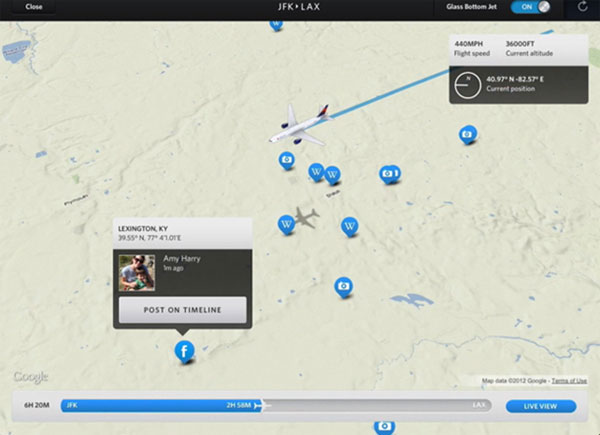 Delta, meanwhile, is the first airline to include geotainment features in its latest 'Fly Delta' iPad app, which includes a 'glass bottom jet' function. On flights in North America, passengers can use their own device to view the ground below via maps, such as detailed street map enriched with interesting information on various points of interest near the route. Passengers do have to be connected to the onboard WiFi network, though.
IFE Apps
As Hollywood studios are quite nervous about streaming content to passengers' own devices, in part, because they may be able to steal the content depending on the software on those devices, suppliers of wireless IFE systems such as Lufthansa Systems (BoardConnect) and Panasonic (eXW) have come up with IFE apps that contain encryption technology.
Passengers flying on airlines that are trialling the BoardConnect wireless IFE system (Condor, Lufthansa and Virgin Australia) have to download an app from the app store before their flight in order to be able to access the content.
Japanese low-cost carrier Peach, meanwhile, lets passengers download movies, TV shows, music, magazines, games and other content to their personal devices through the WiFi network at Osaka Kansai Airport's budget terminal. The service is called 'high!' entertainment and is available on domestic flights departing from Kansai. There are around 1,000 titles available comprising free and pay-to-download content. To access the 'high!" inflight entertainment content, passengers first have to download an Apple iOS or Google Android app.
Seat Design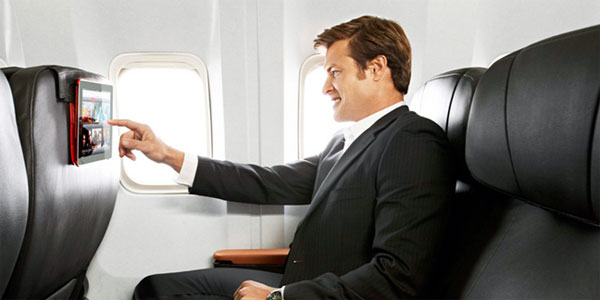 Besides incorporating power sockets and USB ports in aircraft seats (including Economy) to accommodate for today's tech-toting passenger, a number of airlines and interior suppliers are also looking at smart ways to integrate passengers' own devices within the design of the seat. Says Daniel Baron, Managing Director of Tokyo-based brand and cabin design firm LIFT Strategic Design: "The PED storage trend is definitely in full bloom, and will likely become a design requirement in the near future. Once in-flight connectivity becomes ubiquitous, the dedicated storage will as well. And it gives airlines an additional message for marketing communications, i.e. a dedicated place for the items that matter most during your flight."
Storage space for personal electronic devices is not only reserved for the more spacious seating arrangements in Business Class. For example, the Economy seats (manufactured by ZIM) on Japan Airlines' new B777-300s have been designed with a conveniently placed smartphone holder, which is also located near the USB port.
Qantas has found a simple solution to let passengers continue to watch movies or TV shows 'hands-free' on their iPads during meals. The new seats on the airline's refurbished 767s have been fitted with a special iPad holder built into the upholstery. Each of the Qantas-issued iPads – which all 254 passengers can find in the backseat pocket – comes with a flipcase that folds back and slides into a slot on the headrest.
About Raymond Kollau
Raymond Kollau is founder of industry and consumer trends research agency airlinetrends.com, which monitors the global aviation industry for commercial innovations launched by airlines and airports in response to changing consumer behaviour. He will be sharing his expertise at FTE Global 2013 as it is expanded to encompass the improvement of passenger experience 'Up in the Air'.