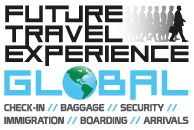 airlinetrends.com Founder Raymond Kollau is FTE Global 2013's Conference Ambassador for the first ever FTE 'Up in the Air' conference stream. As Master of Ceremonies, he will inaugurate the stream with a fast-paced and interactive Workshop on how airlines are responding to consumer trends with innovative products and service in order to differentiate the passenger experience, Wednesday 4 September, 14:00 – 17:00. The first FTE 'Up in the Air' conference stream promises to be a fascinating event, with scintillating addresses and dynamic interactive sessions on the theme, 'Reinventing the passenger experience through innovation, personalization and connectivity'. Organisations already confirmed to speak include Iberia, Qantas International, Mastercard, Guestlogix, SITA, TEAGUE, Panasonic Avionics, and Boeing.
The acceleration of WiFi installations onboard aircraft around the world, combined with the large number of passengers carrying one or more digital devices, is creating a momentum that sees many of today's inflight innovations focusing on digital developments.
In this three-part series on how new technologies are improving the onboard passenger experience, we will take a look at some of the major initiatives and innovations that are the result of this convergence.
This first article will focus on the implications for seat design, the provision of real-time information to passengers, and opportunities to improve onboard customer service. The second article will highlight the latest in inflight entertainment (both fixed and wireless), followed by onboard ancillary revenue generation and personalisation in the last part.
UPDATE: The second part of this series, IFE&C fast-forward: Second screens, geotainment and apps, has now been published.
Power ports and storage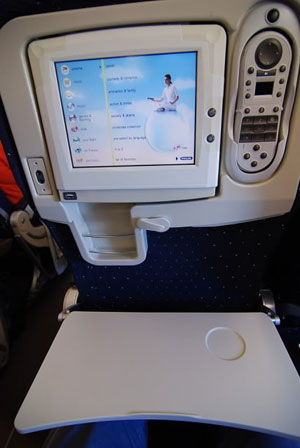 The first impact of today's tech-toting passenger is on cabin 'hardware'. Airlines around the world are responding to the large number of passengers carrying smartphones, notebooks, tablets and e-readers by equipping seats with power and USB ports. A number of airlines and interior suppliers are also looking at ways to integrate passengers' own devices with the design of the seat.
Besides creating storage space for personal electronic devices for the more spacious seating arrangements in Business Class, several seat manufacturers are also beginning to incorporate smartly designed spaces in Economy seats where passengers can store their mobile device.
For example, passengers travelling in Economy on Air France's A380 and select B777-300s can store their cell phone in a small belonging stowage – located just below the in-seat USB port – to allow for easy recharging of the device. Japan Airlines' new Economy seat, which are manufactured by ZIM Flugsitz and made their debut on the airline's B777-300s in January of this year, have been designed with a conveniently placed smartphone holder, also located near the USB port.
Meanwhile, start-up companies such as SmartTray and SkyCast have come up with simple yet smart tray table designs that feature a built-in groove, or two clips, for holding tablets, e-readers and other portable electronic devices upright. For example, Canadian budget airline WestJet rents out Android tablets that clip onto the back of the seat tray in a design called TrayVu.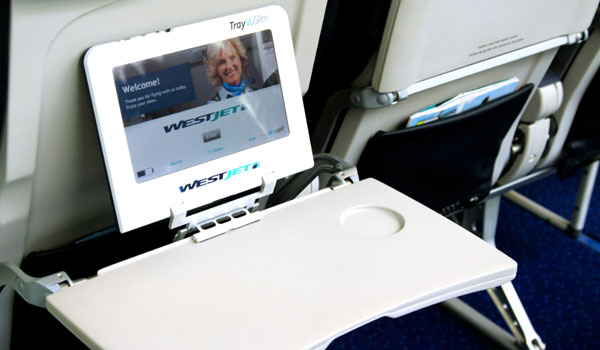 Tracking and tracing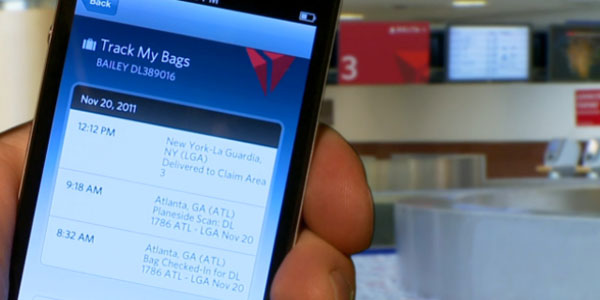 Online tracking and tracing of packages shipped via parcel delivery companies such as FedEx and DHL has been possible for years, and has even spread to other sectors such as pizza delivery.
In a move to make the baggage process more transparent for customers, Delta Air Lines' 'Track Checked Bags' service aims to give passengers some peace of mind. As Delta scans bag tags during each part of the journey, passengers can track their baggage in real-time as it makes its way through the Delta system.
On domestic flights Delta passengers can use Delta's smartphone app to track their checked baggage with the bag tag number that they received at the time of baggage check-in. Since Delta has equipped all its domestic aircraft with GoGo's inflight internet, passengers can check up in the air whether their bag has made it on their flight.
According to Delta, one in 20 passengers who check a bag, track their bag and as a result the airline has seen a significant improvement in performance and customer satisfaction. A similar service has just been launched by US Airways as well.
Luggage tracking just one of the early examples of how providing passengers with real-time information will increase their experience, so expect many more personalised notification services to follow.
For example, Virgin America – probably the most tech-savvy airline in the industry – last year shared a concept that would revolutionise its approach to customer service. Partnering with Salesforce.com's Chatter social messaging tool, the idea is to allow passengers to interact with support staff on the ground via the entertainment screens on the back of seats during the flight, to deal with "real-time problems that need real-time answers," according to the airline's CEO David Cush.
Customer service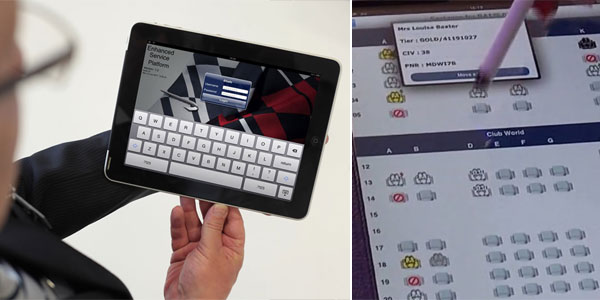 In the past year, airlines such as Emirates, British Airways, Iberia, KLM and EVA Air have equipped their pursers with tablets. This allows cabin crew to see previous trips that a passenger has taken with the carrier and, based on this, know their food, wine and seating preferences, or any issues a customer had during their previous travels.
One of the largest initiatives in this area comes from British Airways, which has provided 2,000 senior cabin crew across its long and short-haul network with an iPad featuring its 'Enhanced Services Platform'. Consisting of several apps that allow flight attendants to store and receive relevant passenger details in real-time, such as itineraries, meal preferences and other data items, the airline aims to offer its passengers a more tailored in-flight service.
In late 2012, BA also announced the rollout of its 'Know Me' customer recognition program. According to BA, it has spent almost a decade trying to corral all of its passenger data from 200 sources into one database, in order to generate a single customer view. The programme is able to send messages with information about specific customers to the iPads of customer service agents and senior cabin crew, or update check-in staff via the airline's computer system.
BA explained that a potential scenario of the service could be a flight on which the crew is aware that a passenger is flying Business Class for the first time. Staff would welcome the customer, show her how to use her seat and then note how she reacted. As part of the programme a 'delivery lab' has also been set up to analyse the way the airline communicates with customers, so that only the most relevant and interesting messages are sent to them.
Connected crew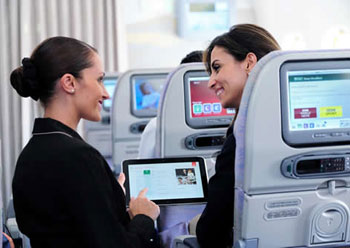 Obviously, the next step is to connect crew tablets to the internet as the availability of aircraft with onboard WiFi grows. This will close the customer service loop for airlines, as they will be able to connect with crew and passengers up in the air. For example, iPads used by pursers onboard British Airways' Business Class-only service between London City Airport and New York's JFK can already get live updates throughout the flight, thanks to the aircraft's inflight connectivity provided by OnAir.
It should only be a matter of time before airlines such as Emirates – which already offers connectivity on the majority of its fleet, and is equipping its pursers with HP Elitepad devices – will follow. As the airline's VP of Corporate Communications, Product, Publishing, Digital & Events Patrick Brannelly earlier stated in Fast Company: "Aircraft are becoming more and more connected. Tablets and smartphones give airlines an ability to re-look at every aspect of the business; they've opened things up in a way that just a few years ago wasn't conceivable. There's an awful lot of things that we can improve by employing connected technologies on aircraft."
Look out for part two of this three part series next month, which will focus on the latest developments in inflight entertainment. Subscribe to our newsletter and make sure you don't miss it!
About Raymond Kollau
Raymond Kollau is founder of industry and consumer trends research agency airlinetrends.com – which monitors the global aviation industry for commercial innovations launched by airlines and airports in response to changing consumer behaviour – will be sharing this expertise at FTE Global 2013 as it is expanded to encompass the improvement of passenger experience 'Up in the Air'.