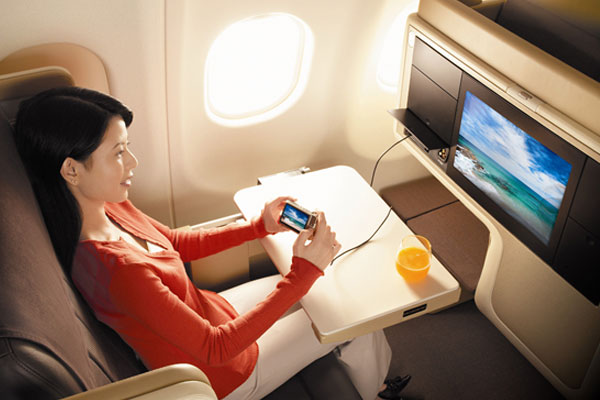 Singapore Airlines has launched its next-generation cabin products on its B777-300ER service between Singapore and London, the first of eight aircraft to be equipped with the next-generation in-flight entertainment (IFE) and connectivity services.
The airline has invested nearly $150 million in these new products, as well as more spacious and comfortable seats in First, Business and Economy classes.
The new KrisWorld IFE system – which is delivered on 24-inch (First Class), 18-inch (Business Class) and 11-inch (Economy Class) screens – features Panasonic Avionics' open platform technology that allows passengers to use the video touch-screen handset as a 'second screen'. Passengers can also use HDMI and USB interfaces to connect their personal devices and view their own personal content on the high-definition display screens.
Meanwhile, the onboard broadband Wi-Fi and mobile data is provided by Panasonic alongside Deutsche Telekom and AeroMobile.
Paul Margis, President and CEO of Panasonic Avionics Corporation, said: "By combining our latest IFE solutions with our Global Communications Services, Panasonic and Singapore Airlines have transformed the entertainment experience. Passengers will be captivated by in-flight entertainment on high-performance HD monitors, while they simultaneously stay connected, surf the web, text and email – all at 30,000 feet."