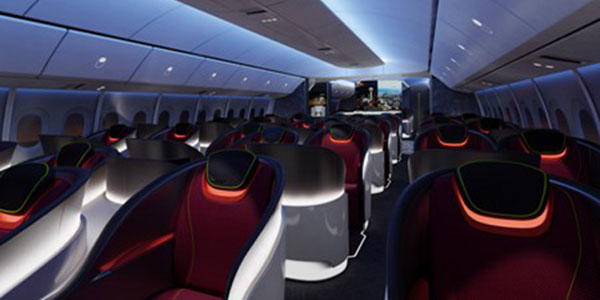 Boeing has released further details about what passengers can expect from the new 777X, which is set for its first delivery in 2020.
Dennis Eng, Director, 777X Interiors, explained that the new aircraft "will redefine the total passenger experience", while explaining that the cabin will build on the interior of today's 777 and make use of a number of features that have been well received on the 787 Dreamliner.
The eye-level windows will be more than 15% larger, and they will allow for more natural light in the cabin. The cabin humidity will be more comparable to the Dreamliner, and improved air filtration will help to boost passenger wellbeing.
LED lighting will also be used in the 777X cabin, and there will be less cabin noise. Airlines will also be offered more freedom to customise their cabin architectures by class – an adaptable suite of parts will facilitate more choice in terms of overhead ceiling and stow bin configurations.
Bob Feldmann, Vice President and General Manager, 777X Program, said: "We're already getting very positive feedback from our customers about the 777X's design concepts, and we think passengers' preference for the 777-300ER and 787 will continue with the 777X."
Boeing to speak at FTE Global 2014

At FTE Global 2014, which will take place in Las Vegas from 24-26 September 2014, John Craig, Chief Engineer, Cabin & Network Systems, The Boeing Company, will address delegates in the 'Up in the Air' conference.
In a session entitled 'What are the long-term future possibilities that can be leveraged onboard through connectivity and other new technologies', he will be joined on stage by senior figures from Turkish Airlines, Thales, GuestLogix and Fast Future Research.
» View the full FTE 'Up in the Air' conference agenda
» Register to attend FTE Global 2014