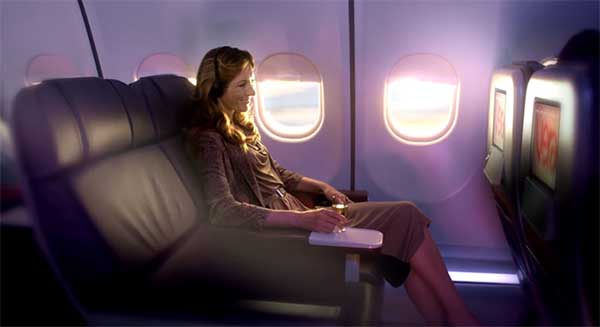 Virgin Atlantic's new Boeing 787 Dreamliner is now in service, and passengers onboard can connect to the Internet thanks to the installation of Panasonic's eXConnect Ku-band Wi-Fi service.
The carrier has worked closely with Panasonic and T-Mobile on the service, which allows passengers to connect to the Web using their personal electronic devices. Passengers will have to pay £14.99 for access to the service for the duration of their flight, although they can check-in on Facebook for free to share their location with friends. The airline has also said it is developing what it calls "#SkyhighSelfie spots" in the cabin, so passengers can take a "perfect selfie" and share their experience online.
Virgin Atantic's 787 Dreamliner also includes the carrier's new Vera Touch 2 in-flight entertainment (IFE) system, which is delivered via Panasonic's eX3 system. Passengers have access to more than 400 hours of content, and the system includes a new 3D Skymap from Betria Interactive. All seats also include a USB port allowing passengers to charge their devices.
"We recognise that technology is an extremely important part of a customer's journey, whether they are flying for business or pleasure, and this aircraft has given us a fantastic opportunity to look at what we can offer our customers onboard," said Dave Bulman, Virgin Atlantic's Director of Technology.
"We have been working really hard with our partners at Boeing and Panasonic to bring connectivity across all our cabins as well as updating our revolutionary touch screen in-flight entertainment."
The installation of the eXConnect solution on the new 787s follows Virgin Atlantic's recent confirmation that it will retrofit its existing fleet of aircraft with Gogo's 2Ku high-speed connectivity service when the service becomes available in mid-2015.