Since entering service a little over seven years ago, AirAsia X has, in the words of its CEO, gained a reputation for "defying convention", so when FTE met with Azran Osman Rani at FTE Asia on 3 December, we were keen to find out what the carrier has planned to further differentiate itself from the crowd in 2015. We also caught up with him again this week to confirm that these plans are still in the pipeline.
"We're always itchy to try new things and I think for us it's about finding the right balance between maintaining being the world's lowest unit cost, while offering products and services that enhance the overall passenger experience," he explained.
On the passenger experience side of the equation, a key thing to consider, he said, "is that different people want different things and have different propensities to pay for different things. That includes how much space they get onboard, the level of attention they get onboard and the customised way that they're served onboard."
The Empty Seat option, which offers passengers the chance to secure one or two empty seats next to their own seat for a nominal fee if they are not otherwise sold, provides a great example of how the long-haul, low cost carrier balances passenger-focused enhancements and monetisation, and equally highlights how the airline is willing to break the mould. As Osman Rani explained, it "creates a way of monetising three seats to potentially one person on an option basis without necessarily selling those seats in advance and losing the revenue potential of what selling three seats can give you".
He continued: "Because it's an option, we limit the number of options we sell onboard a flight – it may be, for example, only 10 or 12 options per flight because if you sell too many options that you cannot fulfil or deliver, or at least give a minimum 50% success rate, very soon that idea is going to die."
Exploring a Skycouch-style product in Economy Class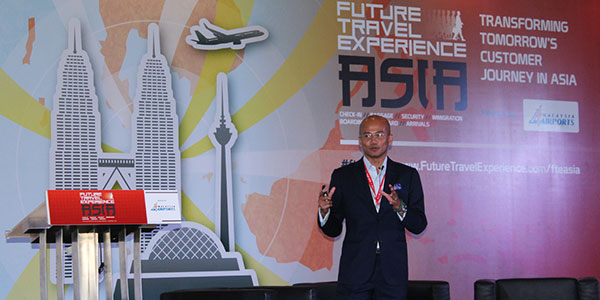 The Empty Seat option is, in fact, thriving and Osman Rani told FTE that a Skycouch-style seating option is now being explored to take low cost, economy passenger comfort to a new level. "The next step is can we enhance a simple three-seat configuration to make it even more comfortable to the owner of those three seats by giving it a bed-like experience?" he said.
In theory, it seems AirAsia X would lead the developmet of this potential product, as opposed to the carrier investing in Skycouch or any other existing product. "While the Skycouch model spurred the thinking about how do you modify the seats, I think there are drawbacks to the specific Skycouch model, certainly when it comes to how much weight you put on the system," Osman Rani stated.
"We think there are other solutions that give you a more comfortable experience leveraging on that empty space that would otherwise be for where your legs are, which you don't need when you're lying down flat without, sort of, that extra extension. It's been an idea that we're developing; we'll see how long it'll take us to get there."
AirAsia X putting 'a lot of emphasis' on in-flight connectivity
As one might expect, especially given the fact that sister carrier AirAsia recently introduced its own connectivity product, in-flight connectivity is another area of focus for Osman Rani and his colleagues. "It's definitely an area that we're putting a lot of emphasis on," he said. "I think there are ways of breaking this down between what people want, how much they want, and obviously to avoid a situation, an infamous situation, of someone having to pay over a thousand dollars just to surf the internet.
"Clearly, the key difference between an airline experience and an on the ground experience at a hotel is satellite transmission cost is still a very significant variable cost that we're going to have to deal with. But there are ways of packaging it because certain applications are not data intensive and maybe there are ways of making that unlimited because it's just low data usage, whereas (with) potentially high data usage, like movies and content, there may be other ways of delivering it that bypass using satellite technology. So I think we're still at the early stages in terms of packaging it. We are very focused on the technology to connect and I think you'll see a lot more developments in 2015 how we package and price it for consumers."
While the development of a "bed-like" seating option in economy class would certainly be in keeping with AirAsia X's reputation for defying convention, in-flight connectivity could well make an even bigger impression among travellers, who are increasingly demanding that they be connected at 30,000 feet, especially on long-haul flights.