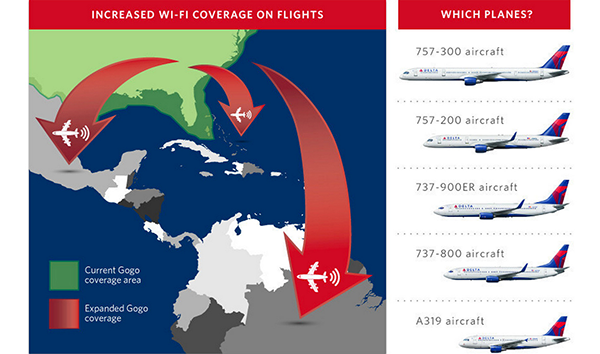 Delta Air Lines will install Gogo's 2Ku connectivity solution on 250 narrow-body aircraft as it upgrades its Wi-Fi service on long-haul domestic, Latin American and Caribbean routes. The carrier becomes the third to sign up to 2Ku, following in the footsteps of Aeromexico and Virgin Atlantic.
Gogo expects to begin 2Ku installations with Delta by 2016 and the satellite-based system will be installed on Boeing 757-300, 757-200, 737-900ER, 737-800 and Airbus A319 aircraft. It will also be offered on the new A321s when they enter service in 2016. Its installation will see onboard connectivity peak speeds increase to around 70 Mbps (megabits per second), with scope for this to increase further to around 100 Mbps in the future.
Tim Mapes, Senior Vice President – Marketing at Delta Air Lines, said: "Global connectivity equals global productivity and business travellers want greater bandwidth, faster speeds and broader network coverage. That's exactly what they will get when they fly Delta."
Michael Small, Gogo's President & CEO, added: "By selecting these new technologies for the fleet, Delta will be able to realise the opportunities that increased capacity will bring to their passengers, crew and airline operations. Our agreement to work together to develop applications and services that connect their aircraft and crew to the internet at all times will help build a more efficient airline over time."
Delta has also confirmed that its short-haul domestic fleet with air-to-ground (ATG) connectivity will be upgraded with Gogo's next-generation ATG solution. This will include Boeing 717-200, MD-88 and MD-90 aircraft. Meanwhile, by mid-2016 the carrier is aiming for its entire international fleet to be equipped with Wi-Fi.