As the first quarter of 2015 comes to a close, FTE takes a look at some of the trends that have emerged over the last three months and considers how they might impact the passenger experience during the remainder of 2015.
Tablet-based crew empowerment gaining widespread momentum (for LCCs and FSCs alike)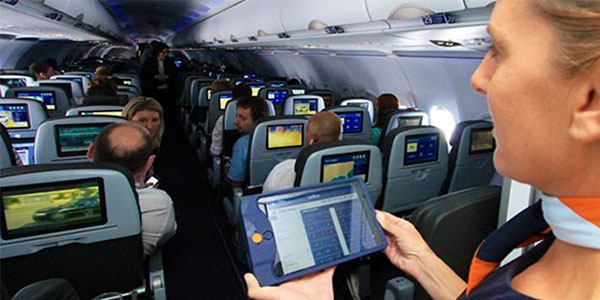 Equipping flight attendants with mobile devices is not a new trend per se – the likes of Allegiant and Delta Air Lines have set the trend over the last few years – but the past three months has seen the pace of adoption really pick up. By the end of April 2015, every JetBlue crew member will be equipped with an iPad Mini with a bespoke In-Flight Service Assistant app, while fellow low-cost carrier Transavia recently announced a team-up with MI Airline, which will see tablets rolled out to help give flight attendants more detailed insight into the passengers onboard, optimise staff productivity and act as an intuitive point of sale device. As Joanna Geraghty, Executive Vice President, Customer Experience, JetBlue Airways stated, " the connected cabin is the next big thing".
It's not just the LCCs investing in tablets, though. Full service carrier (FSC) Singapore Airlines has partnered with Tata Consultancy Services (TCS) on a tablet-based app that helps to automate and streamline in-flight processes for flight attendants, which will concurrently benefit the passenger experience. Further improving crew efficiency is currently at the centre of the project, but the two companies plan to develop the app to help crew offer a more personalised onboard experience for passengers.
Elsewhere in Asia, China Eastern is also investing in tablet-based apps to support crew members. The carrier has partnered with Microsoft to introduce a version of the "XiaoIce" personal assistant, which enables crew to gain insight into passenger preferences, while they can be contacted directly by passengers via the app during the flight (more information can be found here).
As more aircraft come online with onboard connectivity during the remainder of 2015, we expect to see many more carriers make public their investments in tablet-based solutions.
Airlines focused on creating a mood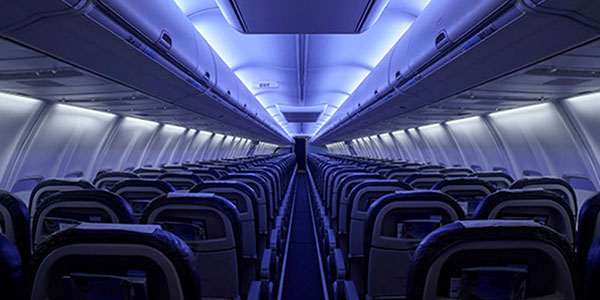 When it comes to airlines' lists of passenger experience priorities, onboard Wi-Fi is probably at the top at present, but as carriers continue to either roll out existing solutions or wait for the next-generation of products to come to market, they are making improvements to the onboard experience in other ways. The introduction of the A350 XWB, with its LED mood lighting, advanced pure air filtration system and large windows, is at the heart of this trend. Qatar Airways became the world's first carrier to operate the aircraft in January, and a further 39 carriers – from Aer Lingus and Air China, to Vietnam Airlines and Yemenia – are confirmed to follow suit, with 780 orders for the A350-800, -900 and -1000 already placed.
Suppliers are also helping to drive innovation in this space. As recently explained to FTE by STG Aerospace's Director of Sales & Marketing, Marcus Williams, "atmospheric" cabin lighting "is now a very important consideration from a passenger's point of view".
In the past week, another vendor, AIM Altitude, has unveiled an autonomous lighting control, which again is aimed at improving cabin ambience. The so-called Autonomous Lighting Dimmer has been developed for first and business class cabins and without connecting to the aircraft IFE system or the aircraft cabin mood lighting system, it allows lights to be dimmed to match the cabin environment. John Heath, Group Design and Technical Director at AIM Altitude said the device has been created in response to the fact that lighting "has now become an important way for airlines to provide differentiation and to set the atmosphere for their passengers".
Welcome investment away from the front of the aircraft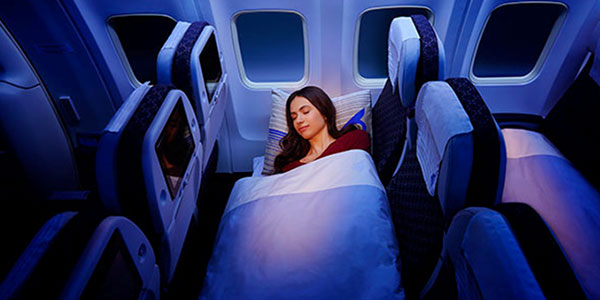 It's no secret that airlines make their money from the seats at the front of the aircraft, which means many continue to come in for criticism for a lack of investment in improving the experience at the back of the plane. While many carriers dress up the retrofit of slimline seats as a way of creating more space for economy customers, the reality is that they allow for more seats to be squeezed into the cabin, therefore limiting any passenger experience benefits.
Some carriers are, however, at least making an effort to make things better. This week, Air Astana's Economy Sleeper Class has entered operation on the Astana-Paris and Astana-Hong Kong routes, having been added to services from the Kazakh capital to London Heathrow and Frankfurt in February. OK, it's not exactly an improvement to the economy class experience as passengers have to pay more for the privilege of three seats converted into a lie-flat bed thanks to the addition of a mattress, duvet and pillows, but it does indicate a willingness to make improvements outside of the first and business class cabins. To put the price into perspective, on 7 April the cheapest fare from Astana to Frankfurt is around €440 one-way, while an Economy Sleeper ticket is more than double that at €990. However, a Business Class seat on the same flight would be €2,180. Much like the recent introduction of Premium Economy classes by the likes of Lufthansa and Singapore Airlines, the idea is to offer a more luxurious experience at a price-point more affordable than Business Class.
This premium economy-style lie-flat option is not unique. AirAsia X is said to be considering something similar, while Air New Zealand's Skycouch is offered by both the Kiwi flag carrier and China Airlines.
Of course, we would love to see more improvements in economy class proper, but slightly more "affordable" comfort is still a step in the right direction. Here at FTE, we wouldn't be surprised if a number of other carriers are keeping a close eye on Air Astana's new lie-flat product with a view to introducing something similar themselves.