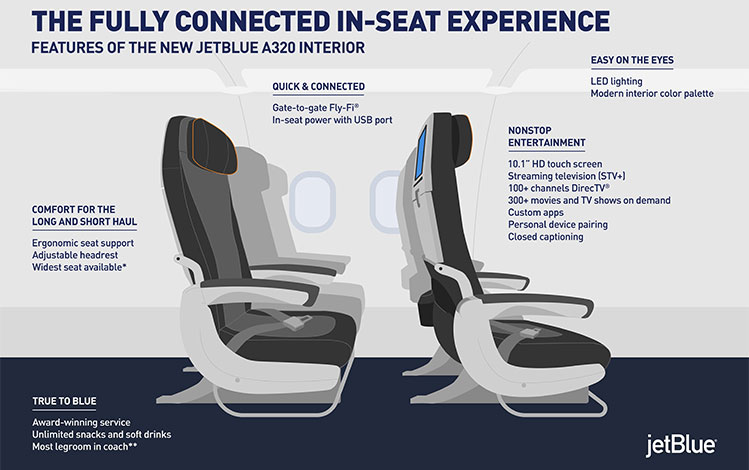 Earlier this year, FTE reported on JetBlue's plans to introduce a "fully connected in-seat experience" as part of a major A320 cabin restyling and now the carrier's Executive Vice President, Customer Experience, Joanna Geraghty, has shared more information about these plans.
In an interview with FTE, Geraghty explained that the airline plans to use NFC technology to ensure passengers can link their personal electronic devices with the seatback in-flight entertainment (IFE) screens.
"In the new design, the (IFE) system will be NFC-enabled so you'll be able to stream (from your device) onto the seatback screens," she explained.
Geraghty, who was last week named on the FTE Airline Passenger Experience Power List, explained that the new IFE system would empower passengers to recreate a home-style, dual-screen experience. "We think that customers aren't going to get rid of their televisions and we think that the new live TV-esque system that we're putting on all of our retrofit aircraft will continue to have significant capabilities around streaming live television onto the IFE screen.
"We want it to be like you're at home. As much as it's great to watch Netflix on your iPad or iPhone it's still not quite the same as watching it on your television. For customers who want to stream live on their phones and iPads, that's going to be a capability. For customers who want to experience what it's like to be at home and watch television on a TV screen, we're providing that as well. It's a multi-device approach."
(Note: Initial article updated, having stated that the IFE system would be Bluetooth-enabled.)