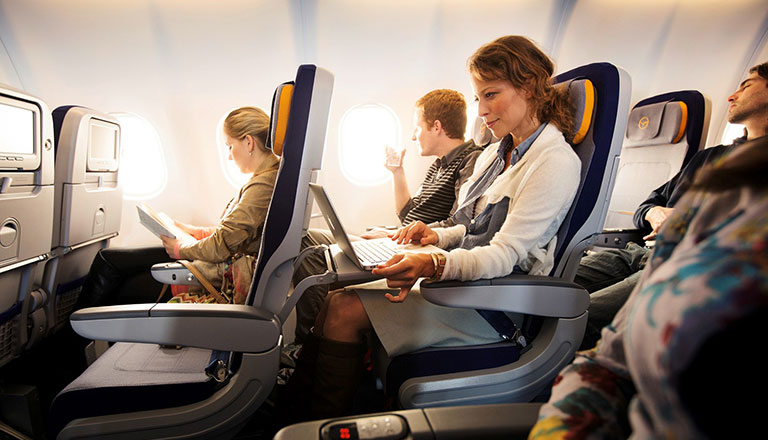 Lufthansa travellers on short and medium-haul flights will soon be able to access broadband Wi-Fi. A single A320 was equipped with a Ka-band antenna in June and it will now be tested ahead of the broadband service being made available to passengers in October. Lufthansa plans to have the entire A320 family fleet equipped with the technology by mid-2018.
Lufthansa Technik is the first MRO company in Europe to have received the Supplemental Type Certificate (STC) from EASA to install Honeywell's Ka-band antenna on the A319, A320 and A321 aircraft. The STC verifies that the modifications to the aircraft conform to the design specifications stipulated by EASA.
Lufthansa is partnering with Inmarsat to offer broadband connectivity via the Global Xpress network. Users will be able to undertake a range of surfing on their mobile devices from casual browsing to full video streaming. In the future, there are plans to incorporate SMS and data transfer services.
FlyingLab
Lufthansa has also undertaken its first so-called 'FlyingLab' flight. An A340-300 flying between Frankfurt and California became the first aircraft to take part in this initiative and passengers tested some pioneering new services onboard.
For the outbound journey, which was all about virtual reality, passengers could try devices from Samsung, such as the Samsung VR headset. This provided access to 360-degree videos during the flight.
On the return flight, which was all about wellbeing on night flights, travellers could try the Neuroon, which is a sleep mask with artificial intelligence to help the wearer adjust their sleep pattern, for example to avoid jetlag when they returned home.
Lufthansa has also tested live conference streaming as part of the FlyingLab. The carrier broadcast four talks to travellers on digital trends during the flight and they could watch by connecting to the onboard network.
Dr Torsten Wingenter, Head of Digital Innovations at Lufthansa, said: "We were able to implement the prototype for a live stream of an in-flight conference to the guests' end devices within a very short space of time. Such a system might also be viable on short-haul flights, in particular for internet streaming, for everyone who can't be on the flight themselves.
"We will make a decision on whether to pursue this idea during the course of the year, on the basis of our experiences with the first FlyingLab and the status of currently available technology."
The airline has said it will continue with the FlyingLab experiment and is gathering feedback from users.
Dr. Reinhold Huber, Vice President Passenger Experience Design & Ancillaries at Deutsche Lufthansa AG, said: "The aim of the FlyingLab is to try out new things quickly and easily. If we find an exciting product, we can thus discover quickly if it appeals to the target group. Lengthy tests can be counterproductive."