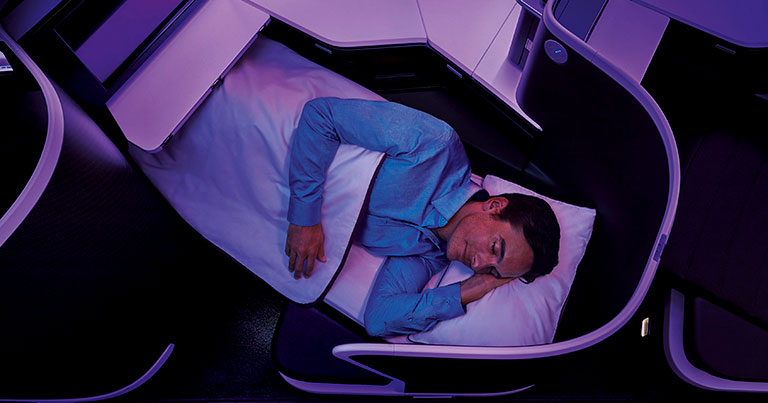 The designs of airlines' business and first class cabins continue to evolve as they strive to offer the best experience for their premium customers. New cabin layouts are offering improved privacy and comfort, while the introduction of new products are offering added functionality and convenience. Improvements to IFE experiences and onboard connectivity are also further enhancing the passenger experience.
Recently, Virgin Australia launched its new-look business class cabin for the Boeing 777-300ER. The standout features include the 37 individual and private suites, which convert into queen-sized beds, and the 18-inch IFE monitors. Ben Asmar, the airline's Head of Customer Experience and Business Transformation, who will address delegates at FTE Global 2016, explained: "We have had a fantastic customer reaction to our Business Class products, both on our transcontinental Airbus A330 routes and now our Boeing 777 routes as well. We are getting some brilliant feedback and commentary from customers, some saying that they wished the flights were longer because the cabins, suites and seats are so good.
The group behind the cabin design for the 777-300ER is tangerine. Matt Round, Chief Creative Officer, told FTE: "With cabin space at a premium, airlines are now looking at a three-dimensional use of the space in the cabin, whereas in the past the use of space was only ever considered in plan view LOPAs [layout of passenger accommodations]. For Virgin Australia, for instance, tangerine's design for the airline's new B777 aircraft integrates the front row of business class seating with the business class bar to save 29 inches of floor space. This maintains critical seat count whilst creating a spacious bar and lounge with a face-to-face service."
Virgin Australia is not the only carrier to have recently launched new premium suites; in fact United Airlines revealed its new premium 'United Polaris' product, which was designed by PriestmanGoode. Paul Priestman, the company's Chairman, described the importance of creating a seat that works for more than just the passenger: "You can have a beautifully designed seat, but it needs to be designed in a way that allows crew to deliver the best service, to allow maintenance to carry out repairs swiftly and efficiently. This is really where our expertise lies. Throughout each of our projects, we carry out significant research with passengers, crew and maintenance teams to understand what their individual needs are."
Changes in cabin design
Both PriestmanGoode and tangerine indicated that they were big players in the cabin design industry, having been at the forefront of the introduction of lie-flat seats. Priestman said: "In the late nineties, we designed the first lie-flat seat for Virgin Atlantic, and that kicked off a new era in the design of aircraft interiors."
Martin Darbyshire, tangerine's CEO, stated: "In 2000, British Airways introduced tangerine's 'Club World' seating design – the world's first fully lie-flat bed in business class – and transformed the airline industry."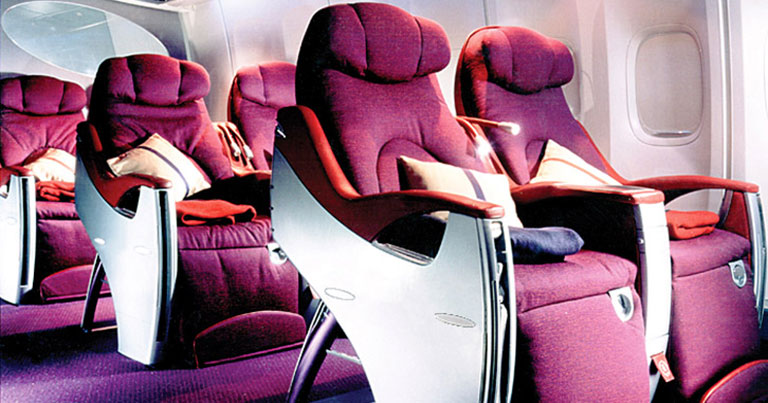 Both mentioned that this has become the standard for premium cabins now, and Priestman said the current challenge is in using new technologies to improve the customer experience. Meanwhile, Darbyshire said that over the last decade, there have been developments to "comfort, exclusivity, privacy, personalisation of space and service" whilst retaining the current cabin footprint. He added: "There have been massive improvements to the colour, material and finish of cabins and seating over the last five years.
"Airlines have become much more focused on their branding and CMF [colour, material, finish] has provided a relatively cheap way in which to differentiate an airline's service though the customisation of catalogue products. This demand has led to a greater range of materials, and of a higher quality, being certified for use in the cabin."
Future of cabin design
In terms of how these cabins could look in a decade's time, Virgin Australia's Asmar said that a number of features from first class, such as lie-flat seats, have already made their way down to business class and he expects that 'flow down effect' to continue to premium economy.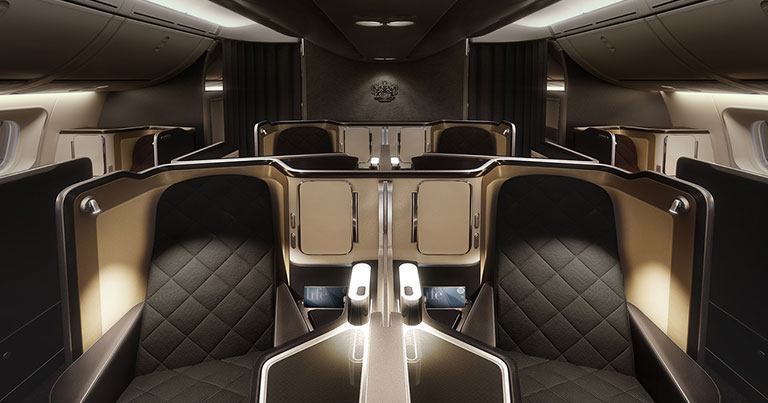 He added: "I expect that seat manufacturers will find new ways to increase density, without compromising on passenger space, comfort or privacy. This is expensive real estate and airlines will certainly want to make the most of it. So perhaps these cabins will become more private, with higher density suite-type products. I think if that is the case there will be more of an emphasis on airlines incorporating social areas into these cabins where passengers can mingle together, as this may become more difficult sitting in your seat."
An example of the increased privacy is seen with the recently announced Delta One business class suite, which will be available from 2017. These suites feature a sliding door, increasing passengers' perception of personal space.
Darbyshire said that due to technology advancements, the way passengers travel is changing and airlines will adapt to deal with that: "As air-to-ground connectivity becomes commonplace, passengers will start interacting with the world during their flights as they would on the ground; surfing the internet, making purchases and streaming content. The design of the seat and the cabin environment will therefore look to support these new activities and enhance these experiences."
Furthermore, Priestman described how aircraft in the future could make better use of cabin space to offer an improved experience for passengers: "I think one big change we'll start to see is how we can make use of non-revenue areas, spaces that cannot be used for passenger seats for various reasons (height restrictions or no windows, for instance), such as parts of the luggage hold. Being able to turn these spaces into social areas or experience spaces, whether it's a VR [virtual reality] cinema or sleep pods, for instance, not only presents an opportunity to create amazing experiences that could be made available to all passengers, but will also allow airlines to create additional revenue." 
As airlines look to adapt to passenger needs, innovations in first and business class cabin design will continue. There have already been major improvements over the past decade, not least with lie-flat beds becoming commonplace. Offering privacy now appears to be taking a more prominent role and this looks set to continue, while exciting developments around making use of other areas of the aircraft could not only improve the passenger experience further, but also offer airlines new revenue streams.