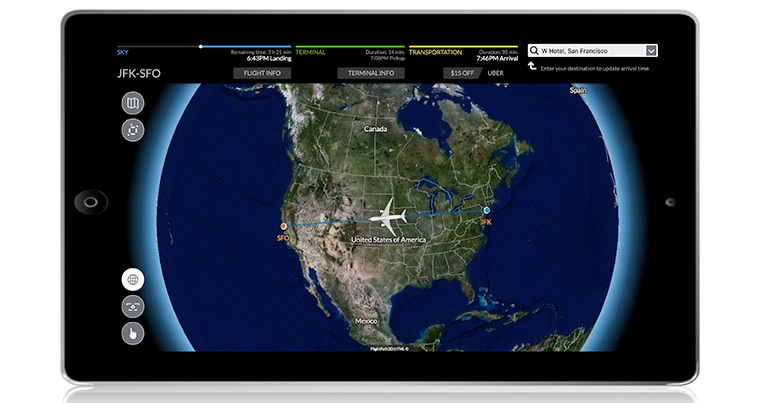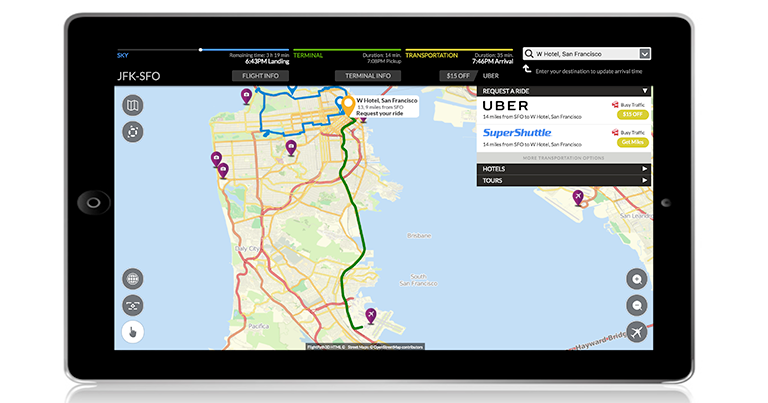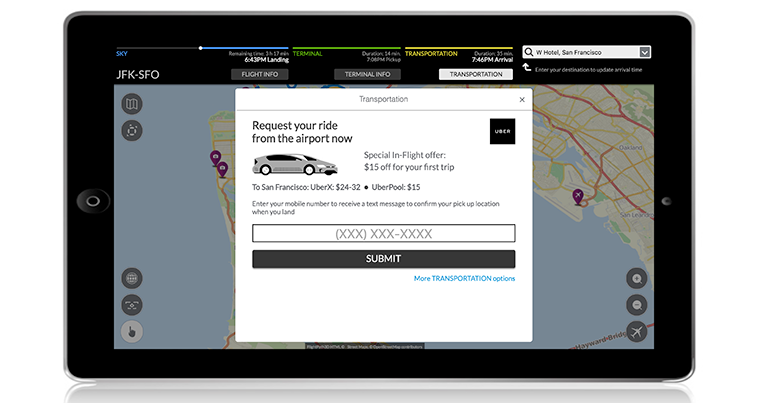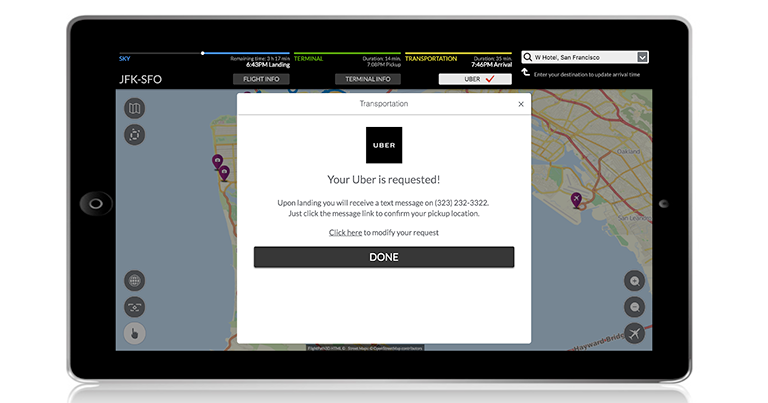 Known for its highly interactive, 3D moving maps – which offer eye-catching features including a "glass plane" view that makes use of augmented reality technology – FlightPath 3D showed FTE how it can now help airlines tap into "aircraft-to-door" ancillary revenue opportunities with its new 'In-flight Travel Planner', which is supported by multiple patents.
As Duncan Jackson, President of FlightPath3D, demonstrated to FTE at APEX EXPO in Singapore, passengers can enter their final address (hotel, home, etc.) into the moving map in order to access myriad personalised features. For instance, rather than simply displaying the estimated time of arrival at the destination airport, the In-flight Travel Planner can draw upon historical or real-time traffic data to provide an accurate time of arrival at the passenger's final destination. Partnerships with the likes of Uber and SuperShuttle also allow passengers to view and book ground transportation options while they are flying to help make the arrivals experience more seamless. After booking their ride in-flight, passengers receive an SMS upon landing to confirm their booking and pick-up location.
Jackson also highlighted how the next generation map takes destination guides to a new level. The concept FTE previewed included a virtual open-top bus tour of San Francisco, highlighting points of interest, which are complemented by information from the tour company, along with images and audio descriptions. If a passenger likes the look of the tour, they can book their ticket in-flight and make payment upon landing. For the airline, this provides another opportunity to generate ancillary revenue at 30,000 feet. As Jackson suggested, destination based activities, such as tours, could be added for any city, enabling airlines to provide passengers with tailored and relevant offers.
"Once a passenger is on the plane, they've gone to the destination and for many this is the first time they've thought about what they'd like to do at the destination," Jackson explained. "When they're on the plane, the passenger has got time to think about the destination and we're providing them with an interactive experience that is personalised to their own journey."
In-flight and on-ground entertainment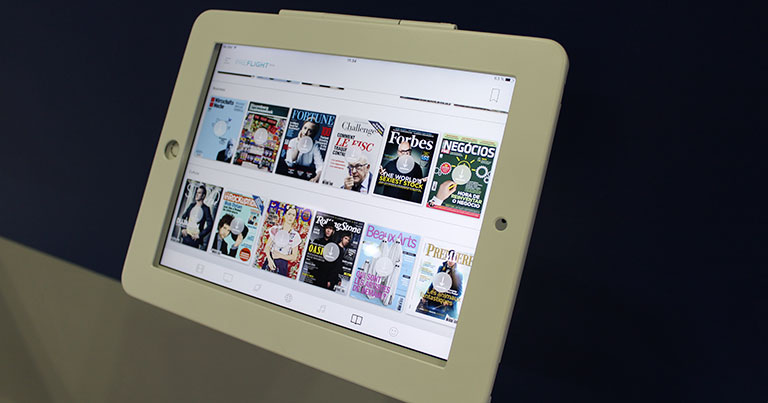 Interactive Mobility already counts Air France and Aéroports de Paris among its customers and one of its goals is to recreate a "Netflix-style" experience for passengers who might otherwise have limited access to in-flight entertainment.
As FTE discovered in Singapore, the company focuses on the wider travel experience, offering entertainment options both in-flight and on the ground. The app, for instance, allows passengers to download content before they travel for consumption in-flight, while the media kiosk offers an entertainment solution for passengers waiting in lounges and gate areas. Post-flight, passengers can use the service to access content such as destination guides.
As Camille Cruchaudet, Marketing Project Manager, explained to FTE, the Interactive Mobility solutions offers airlines and airports another welcome ancillary revenue generation opportunity, as it is up to them whether to give content away for free or to charge passengers for access.
Lufthansa Systems focuses on audio and ancillaries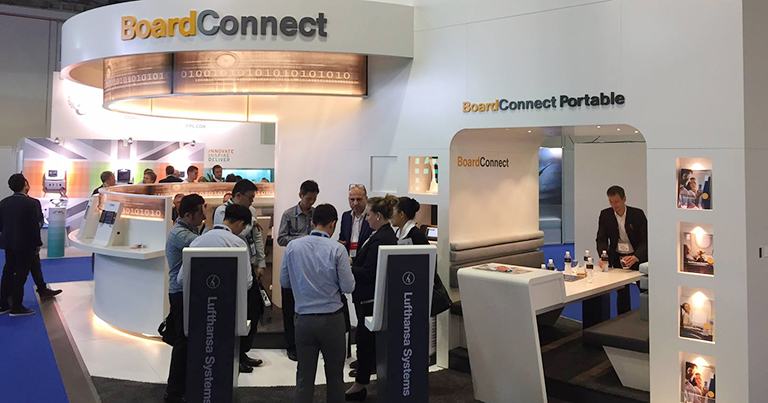 Audio quality is perhaps the most overlooked element of the in-flight entertainment experience, but Lufthansa Systems has taken steps to address this with the launch of the Virtual Sound module. As FTE experienced in Singapore, the new module provides cinema-like sound, regardless of the type of headphones being used.
As Norbert Müller, Senior Vice President BoardConnect at Lufthansa Systems, explained, the company is also expanding its BoardConnect partner network, enabling airlines to choose from a wide range of well-known partners in the areas of entertainment, infotainment and ancillary revenues. This flexibility, Müller stated, is possible thanks to BoardConnect's open software architecture.
For instance, Lufthansa Systems is partnering with Napster in the area of music content and G.U.E. Tech on HTML5 games. In addition, the new GoGobot infotainment application provides individual destination-based recommendations based on a passenger's preferences. Other Lufthansa Systems partners include PXCom and RIM, bringing expertise in the areas of destination information and on-board sales.
3D apps: the key to a more exciting IFE experience?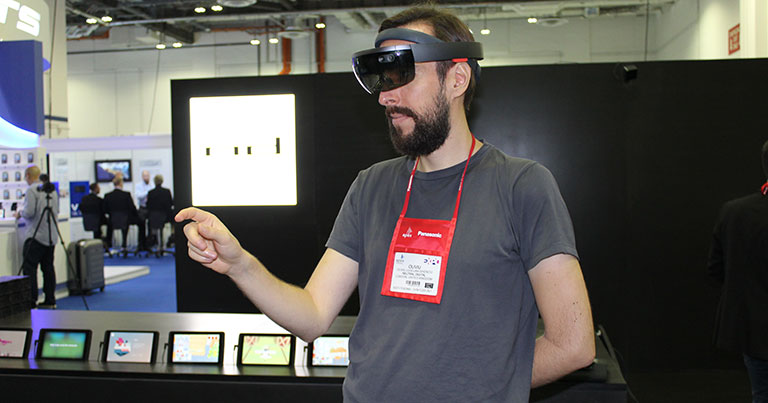 Neutral Digital has an ambitious aim – "we're here to revolutionise IFE," according to company Partner Christian Grou – and in order achieve its goal, the company is offering something very different. Grou and his colleagues are keen to avoid offering "flat and boring" content and instead are focusing on 3D apps. "We've set out to improve the experience of IFE…passengers, especially on long-haul, want a more exciting experience," Grou said.
Among the apps the company has developed are the Fleet Explorer, which lets passengers explore an airline's aircraft fleet in 3D; the Cabin Explorer, which allows users to take a 3D tour of aircraft cabins; and a range of interactive games, such as Paint My Plane and Airport Dash. Each of the apps can be tailored to the exact needs of the airline in question.
The company also specialises in virtual and augmented reality, providing another layer of opportunity for airlines wishing to create unique experiences.
A modular approach to customer experience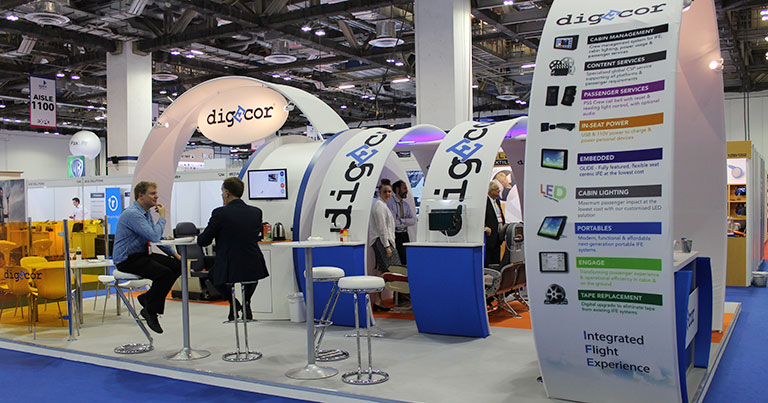 While digEcor was rightly celebrating the news that it has been selected, in conjunction with IFPL, by Mirus Aircraft Seating to provide in-seat USB power for the new Hawk lightweight seat (for which AirAsia was recently announced as the launch customer), FTE caught up with the company's Chief Executive, David Withers. digEcor boasts a vast portfolio – ranging from portable IFE solutions and in-seat power to lighting and cabin management systems – and Withers explained that the company's motivation is to find the right technology to help improve the passenger experience. This, in turn, often results in the development of modular, bespoke solutions for airlines.
"Airlines differentiate with their onboard product and pretty much every airline is focusing on passenger experience now," Withers stated. While he said he doesn't expect to see a decrease in the number of aircraft being delivered without seatback IFE installed, Withers explained that the continued adoption of onboard Wi-Fi is allowing more airlines to explore portable IFE, which feeds the need for in-seat power.
With its broad selection of solutions, digEcor is clearly well positioned to satisfy airlines' differing needs and the next stage of the journey is likely to focus on the addition of software and applications, to complement the impressive hardware portfolio.
Mark your diary for FTE Asia EXPO 2017 – 7-8 November 2017, Marina Bay Sands, Singapore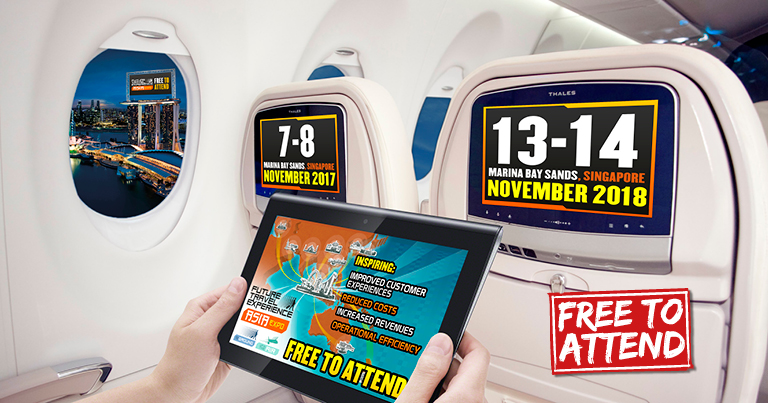 Future Travel Experience Asia EXPO 2017 – which will host Asia's largest exhibition of in-flight and airport products and services – will take place at the Marina Bay Sands in Singapore from 7-8 November 2017. We are delighted to announce that the Airline Passenger Experience Association (APEX) is the Headline Partner and Panasonic Avionics Corporation is the Lead Sponsor. Contact us to find out more about exhibition and sponsorship opportunities.