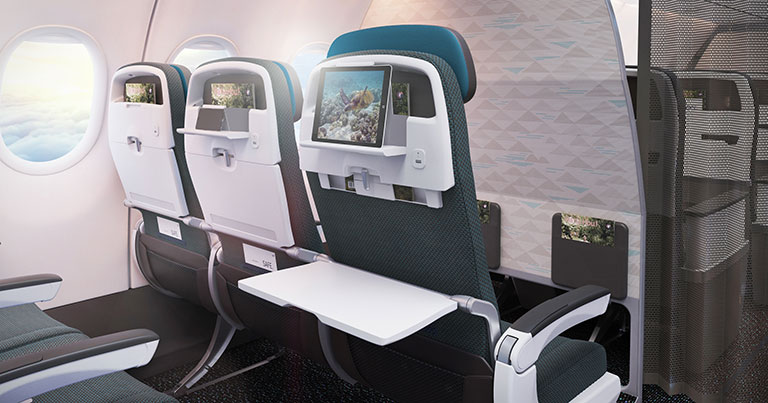 When it comes to customer experience, Hawaiian Airlines provides a great example of how an airline can differentiate itself from the crowd. From cabin design and onboard service to the interactions with staff at the airport, every element of the experience is designed with the intention of reflecting the best of the iconic destination.
Last month's unveiling of the cabin designs for its new A321neo fleet was a big moment for the carrier. Having already redesigned its Boeing 717 and Airbus A330 cabins, the unveiling of the A321neo interior completed the evolution of the "Earth, Sea and Sky" design philosophy.
On the new A321neos, passengers have the choice of three cabin products – Premium, Extra Comfort and Economy – each of which have been carefully designed alongside JPA Design. According to the airline, the new cabins "evoke the natural splendour of Hawaii through colour and form, bringing the outdoors in and extending "island time" from the moment a guest steps onboard". This has been achieved through a number of features, ranging from the use of textiles and other materials that pay homage to traditional Hawaiian crafts to the language used in signage. Even the LED mood-lighting system has been programmed to evoke Hawaii's sunrises and sunsets, and to enhance passengers' mood during the flight.
As Avi Mannis, the airline's Senior Vice President of Marketing, explained, Hawaiian and JPA had the rare luxury of time to ensure they got the cabin design exactly right. "We did have a lot of time on this, which was helpful," he told FTE. "When you do things in a compressed timeframe, you always end up compromising on stuff. There were opportunities, because we gave ourselves a reasonable amount of time to get this done and to push for what we wanted.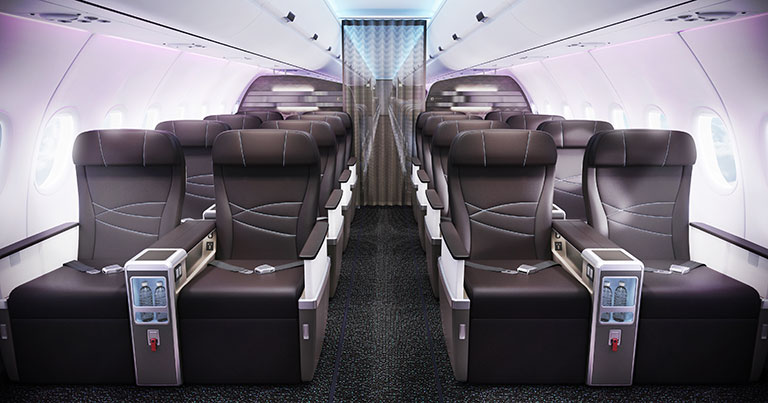 Tim Manson, JPA's Design Director, added: "The timing of the project was healthy. We have many scenarios where customers are approaching milestone meetings without a design idea and they're kind of on the back foot from the offset. In this instance, we had time to work through decisions and work through the materials and finishes, and have those dialogues and discussions that are needed to make sure you achieve the right finishes on board."
As well as a cabin that reflects Hawaii as a destination, the A321neos feature wireless in-flight entertainment (IFE), which can be accessed via an app, rather than embedded screens. The fact that passengers will be watching content on their own devices has been addressed in the seat design. The tray tables in the Premium cabin and the first row of Extra Comfort seats feature personal electronic device (PED) holders. PED holders are also built into the backrests of all other seats in the aircraft.
"Having no seatback IFE was a choice driven by a specific segment of the market, which was consumers from the West Coast to Hawaii and back," Mannis told FTE. "We see a high take rate of people bringing their own devices. Seatback IFE obviously weighs a lot. So, on an aircraft like this doing that mission, that was weight that we could reinvest in other aspects of the guest experience. So, we're going to have streaming content in the cabin and guests can use their own devices. In the Premium cabin we'll give guests devices that are pre-loaded with content."
Investing in people
In keeping with the rest of its fleet, a big emphasis has also been placed on crew service onboard the A321neos. Mannis explained that passengers will be able to enjoy island-inspired complimentary meals and made-in-Hawaii snacks. The ultimate aim is to ensure all aspects of the onboard service reflect the islands' culture, people and "Aloha Spirit".
"I think the most important thing is the interaction that people have with cabin crew," Mannis said. "You need to have entertainment options, you need to have the right kind of things for the segment of the market that you're addressing, but ultimately the idea of the cabin and the service design should be to let people shine in their interactions with the guest."
Having already made a significant investment in its onboard experience, Hawaiian Airlines is now exploring how it can make further improvements on the ground. "We've done a lot of work on our lounges – I think the airport experience is one of the next areas that we'll be focused on and we have a lot of investment going on to enhance the guest experience," Mannis said.
"There's a lot of work going on. Some around self-service and mobile in particular, and how we can use it to enhance the guest experience. There's also a lot of expectation around investment in our core facility, which is Honolulu Airport, and there's a modernisation plan there that we hope is going to improve the guest experience at our hub airport."
In terms of the airport experience, JPA's Manson has this advice for the world's airports: "I think they could be a little bit more humane at times; they can be a little bit abrupt. I think just smoothing through push points, just really observing where the difficulties are for passengers and making it a little bit easier in general (would help)."
Delivering personalisation
Working out how to deliver meaningful personalisation is also on Mannis' to-do list. He explained that Hawaiian puts a lot of thought into personalising the digital experience and is considering how to bridge the pre-flight and in-flight experiences. However, the key to personalisation, he said, is people. "The original personalisation was people being thoughtful and nice to you," he stated. "Old-school personalisation," he continued, "is infinitely more impactful than a world full of impersonal digital interactions."
"Personalisation is about human interaction," Manson added. "Hawaiian is a very good example of going further in that respect."
The launch of the A321neo cabin designs may well have grabbed many headlines of late, but Hawaiian Airlines' customer experience strategy extends far deeper than what you see onboard the aircraft. Driven by its desire to ensure the travel experience does justice to Hawaii as a destination, people and product each play crucial roles. Mannis stated that he doesn't believe in doing things "just because your competitors have done them". Instead, the carrier is dedicated to creating a uniquely Hawaiian experience, both in-flight and on the ground.