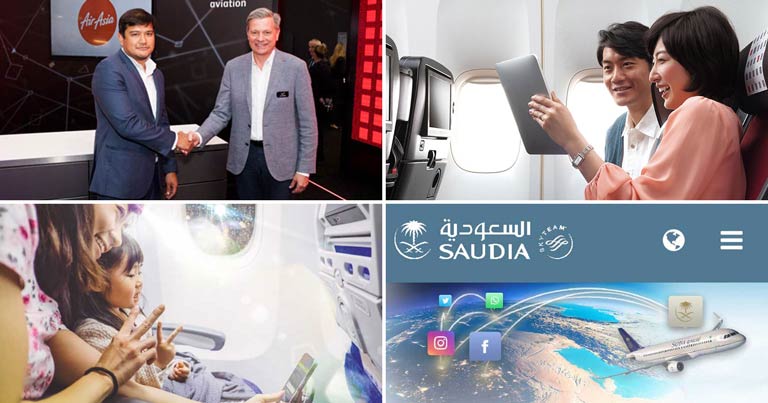 The increase in the number of aircraft equipped with in-flight connectivity is a trend that spans various regions but it is aptly highlighted by the rapid growth of onboard Wi-Fi across Asia. According to a report published by Valour Consultancy, the number of connected aircraft in the Asia-Pacific region will rise to more than 5,000 in 2025 from just 333 in 2015, with much of this growth coming from airlines on the Asian continent.
This prediction is backed up by the fact that in recent weeks low cost and full service airlines from the Middle East to the Far East have been exploring, and investing in, on-board connectivity services at an unprecedented rate.
Just last month AirAsia signed a contract for the GX Aviation high-speed broadband service. The deal covers more than 120 aircraft and the service will be available from the first half of 2018. Singapore Airlines, which already works with more than one connectivity supplier, has just equipped a B777-300ER with a latest-generation in-flight broadband service, which will soon be installed on other aircraft in its fleet. Elsewhere, Qatar Airways' fleet will soon be equipped with high-speed connectivity, while fellow Gulf-based carrier Saudia just last month revealed plans to enhance its in-flight Wi-Fi product.
Unsurprisingly, China is proving to be a market of significant interest to the in-flight connectivity suppliers. Among these is Panasonic Avionics, which in recent years has worked with China Telecom Satellite to expand connectivity services over the country. Also, the likes of China Eastern Airlines, Air China, China Southern Airlines and Hainan Airlines have already trialled or implemented various connectivity services, highlighting the appetite for onboard Wi-Fi among the country's airlines.
Of course, in-flight Wi-Fi is not entirely new to the region – in fact, seven years ago Singapore Airlines grabbed the headlines with its announcement of a planned fleet-wide Wi-Fi rollout. Many carriers have offered at least some form of connectivity at 35,000 feet for a number of years but it is the drastic improvement in the quality of onboard connectivity services on the market that is now delivering real passenger experience benefits, and will continue to do so in the coming years.
Ancillary revenue opportunities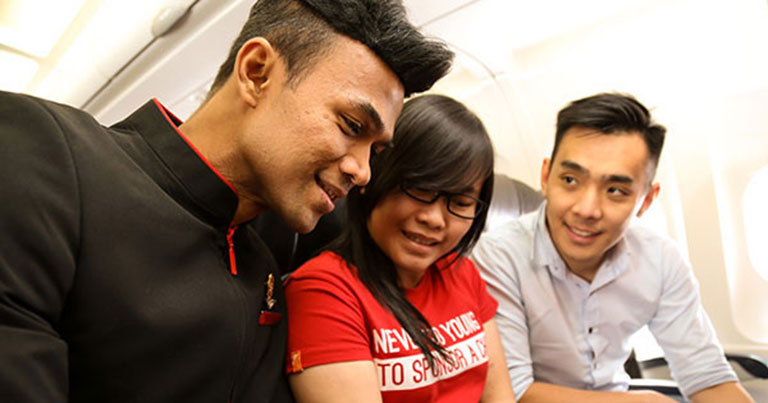 This upsurge in onboard connectivity adoption is about far more than providing passengers with access to the internet. For example, the connected cabin provides crew empowerment and wireless in-flight entertainment options, and another of the many associated benefits is the creation of new ancillary revenue streams for airlines.
AirAsia Group CEO Tony Fernandes recently highlighted this fact. "Coupled with our ROKKI entertainment and e-commerce platform featuring free movies, music, articles and games as well as shopping, AirAsia guests will soon be able to enjoy one of the richest digital in-flight experiences in Asia, while also enhancing our knowledge of our guests with very rich data," he said. In short, by equipping its aircraft with high-speed connectivity, AirAsia will be able to build more detailed passenger profiles and offer a digital e-commerce platform to a captive audience of 60 million-plus consumers a year.
The full scope of these ancillary revenue opportunities is highlighted in a report recently published by London School of Economics and Political Science (LSE) in association with Inmarsat, which forecasts that in-flight connectivity will be worth $30 billion to airlines by 2035. It suggests that the world's carriers will generate $15.9 billion from broadband access charges, $6.8 billion from broadband-enabled e-commerce, $6 billion from broadband-enabled advertising, and $1.4 billion from broadband-enabled premium content.
Interestingly, it also says that the greatest opportunity for broadband-enabled ancillary services is in Asia-Pacific. Driven by passenger growth and availability of services, airlines in this region will benefit from $10.3 billion of in-flight ancillary revenues by 2035, the report states.
In-flight retail partnerships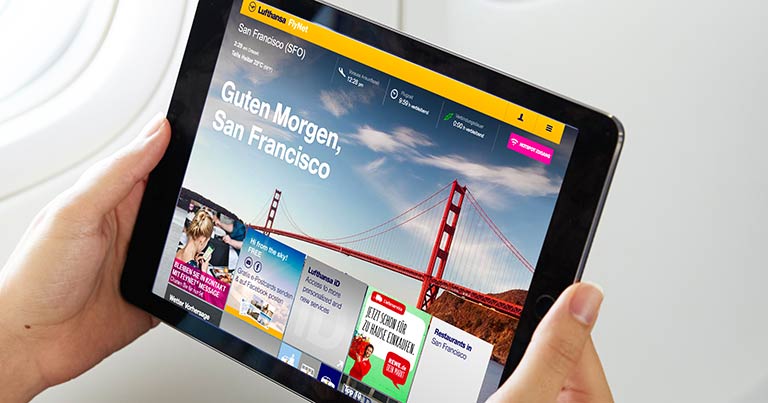 Some airlines are already emerging as leaders when it comes to monetising connectivity. Air China, for instance, has partnered with online retailer JD.com to offer an in-flight shopping and home delivery service. Outside of Asia, a handful of carriers are also blazing a trail when it comes to tapping in to the revenue generation opportunities presented by connectivity.
Finnair has its on-board Nordic Sky Wi-Fi Portal, which passengers can use to buy anything from designer sunglasses to destination tours using their own tablet or smartphone. Also, Lufthansa has just announced a pilot project with supermarket REWE, which allows passengers to buy groceries using the carrier's on-board Wi-Fi service. The groceries are then delivered to the passenger's home address at a time of their choosing, meaning they don't have to worry about returning home to an empty fridge. As airlines continue to embrace in-flight connectivity, the opportunities to develop new partnerships and, in turn, fresh revenue streams, will increase.
Like their counterparts in Europe and North America, airlines across Asia now have an unprecedented opportunity to use in-flight connectivity to not only improve the passenger experience but also boost ancillary revenues. The technology to facilitate these improvements exists today, now it's over to the airlines to exploit its full potential.
Learn all about the latest in-flight connectivity and digital ancillary technologies and trends at the free to attend Future Travel Experience Asia EXPO 2017, 7-8 November, Singapore.