A few years ago, Future Travel Experience (FTE) published the FTE 2025 Onboard Think Tank and as we get closer to that year, we are now revisiting our vision and stepping a further 10 years ahead to explore the trends and technologies that could define the passenger experience in the long run. In fact, at FTE EMEA and FTE Ancillary (19-20 June, Istanbul), the FTE/Fast Future Air Transport 2035 Crowsourced Think Tank will be exclusively unveiled by Rohit Talwar, a renowned futurist.
At Aircraft Interiors Expo in Hamburg earlier this month, FTE took the opportunity to speak to some of the leaders in this field – including aircraft OEMs, cabin interiors specialists and seat manufacturers – to find out more about their visions for the future aircraft cabin. Here's what they said:
Smart passenger segmentation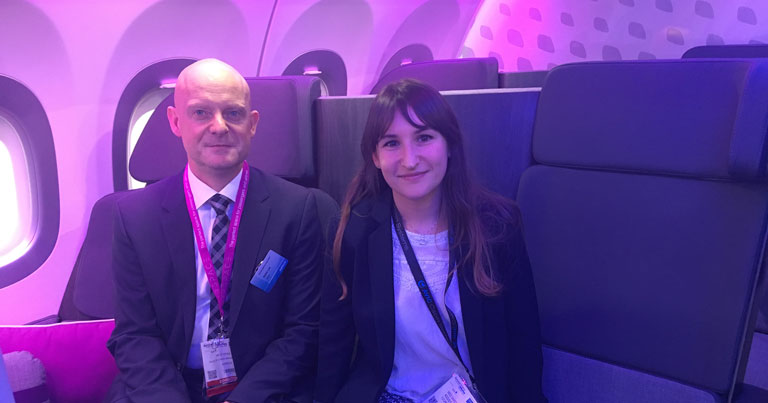 Offering a personalised passenger experience has become a primary focus for airlines. However, without the right segmentation of passengers, it will be a challenge to satisfy individual customer needs.
Under its 2030 Vision, Airbus has defined what it refers to as a "smart segmentation" of passengers. Showcasing the concept cabin at AIX, Stefan List, Senior Manager Product Marketing Cabin Programme, told FTE: "This is what we call the step in between before our long-term 2050 Vision. Following discussions with airlines, tech companies and startups, we have focused on the three main passenger segments – the elderly, the digital traveller, and families – and then we have applied the technology to those segments to enrich their experience and show how it would impact their travel."
Among some of the key concepts Airbus is currently looking at are cabin flexibility for flexible seating and sleeping configuration; an inflight lounge with transformable modules; digitally-enabled crew operations; automated personalised services; personalised passenger environment with augmented reality; passenger wellbeing and atmosphere with unique welcome and streamlined boarding; digital baggage management; surface lighting; and virtual outside view.
The shift towards specific passenger needs, as opposed to class, is a common vision within the industry. Rachel Barnett, Head of Marketing, Acro Aircraft Seating, foresees that "Ultimately, airlines will need to introduce more dynamic cabins to cater for multiple passenger profiles".
Collins Aerospace also envisions a more social approach to the cabin through its M-Flex Duet galley solution. Mary Lombardo, Innovation and Technology Leader – Interiors, Collins Aerospace, explained: "For those that want a more social interaction and networking we see "passenger to passenger" interfaces evolving through the creation of social zones with amenities, services and spaces that encourage increased interactions. Our M-Flex™ Duet galley solution is one example of how we are innovating to leverage the most under-utilised area of the cabin into a potential social area during flight."
Innovation in Economy Class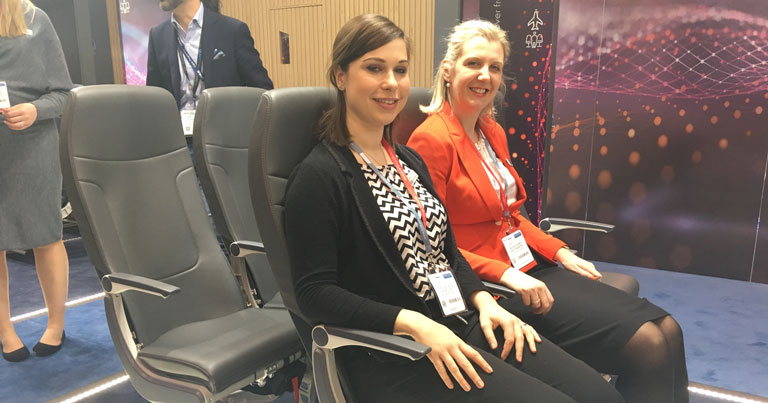 The personalisation of space will also filter into economy class, predicts Barnett. "We are seeing strong segmentation by airlines in economy cabins with premium economy, economy plus, classic economy and high-density economy on offer. This is driving more design innovation in the economy class product area. With new aircraft types such as B787-9 and A350-1000, ultra-long-haul travel will change passengers' requirements, the demands on seat functionality and passenger comfort. By physically and digitally manipulating aspects of the seat and the surfaces, passengers will gain a sense of ownership that makes them feel at home. We will see more individuality expressed in the seat design and the materials used. Materials will be used to improve passenger wellbeing, improve hygiene levels and adapt to temperatures."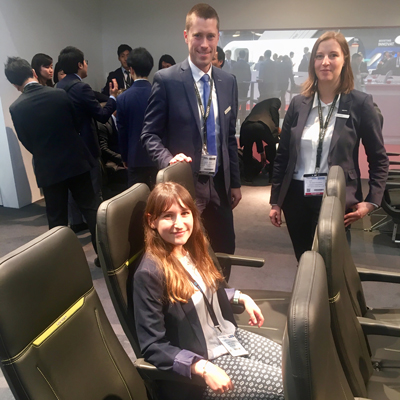 Indeed, utilisation of lightweight and strong composite materials for seatbacks will become the new standard. Acro, for instance, has taken an innovative step on its Series 6 Economy Class seat that replaces the aluminium seatback frame, redesigning it as a composite skeleton.
Emphasising developments in business class, Chris Buckner, Director of Product Management, Recaro, added: "Material improvements seem to have the most potential, not just in weight savings but also in potentially enabling more creative uses of space. Business class could really benefit from this and we will likely see that trend continue, especially as there are only so many innovations companies can do with lie-flat layouts. These material updates will also allow customers to do more with trim and finish and customisation, which is very important to airlines."
Accessibility and ease of travel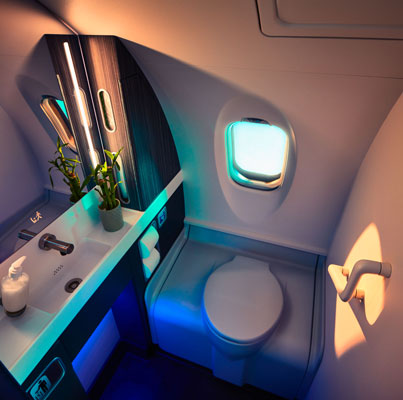 As Bombardier's CRJ Atmosphere cabin recently entered into service with Delta Air Lines and American Airlines, Patrick Baudis, Vice President, Marketing at Bombardier Commercial Aircraft, addressed the need to make travel more accessible and pleasant for all. "Travel is still a stressful experience for passengers, so that needs to change," he acknowledged.
Together with interiors partner Safran, Bombardier has designed a wheelchair-accessible forward lavatory for the CRJ Atmosphere cabin, while also making the ceiling three inches higher. The new lavatory layout is an option but so far no airline has opted for this feature. However, Baudis is hopeful that airlines will recognise and prioritise the need for accessibility on board.
Looking to the future, Baudis shared: "We need to think about how we can eliminate the stress, how we can make the plane more accessible, before more legislation is introduced."
Connected cabin
Boeing also provided a sneak peek into the future with its SmartCabin programme. Daniel Bittner, Connected Digital Systems Innovation Manager at Boeing, told FTE that the overall objective is for the cabin to take care of itself and the passenger. "We are looking at digital experiences in new ways. We want to make air travel as part of the destination and add that value."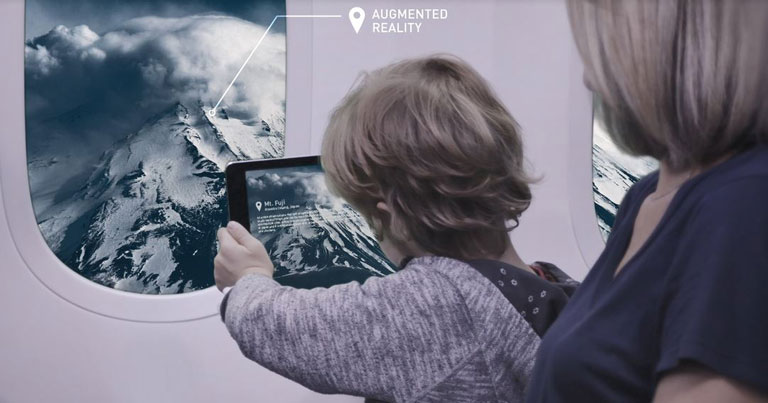 Some of the potential features include voice-activated cabin control; in-flight entertainment and information applications for passengers; predictive maintenance tools for ground crews; as well as LED displays that can change the whole cabin to fit the airline branding. "We are developing an ecosystem of all the interior platforms that are connected together with the passenger devices to enable revenue and drive efficiency," he says.
Recaro's Buckner also agrees: "We believe that a seamless passenger experience will be enabled by intelligent technology. The future is to provide a connected, customised experience during the entire customer journey and, of course, the seat is a big part in the concept of the connected cabin. In a larger sense it is all about connectivity."
Balancing passenger experience and privacy
At the core of the connected cabin concept lies data, and this brings certain challenges such as privacy concerns. Addressing this, P.J. Wilcynski, Payloads Engineering Chief Architect at Boeing Commercial Airplanes, stated: "There has to be an open debate and understanding regarding the implications between sharing personal information for a truly personal passenger experience and privacy."
Calling for industry collaboration, Collins Aerospace's Lombardo added: "The main challenge to making a seamless experience is the fact that there are so many separate and often disparate systems that will need to be redesigned to work together. It is this high degree of system integration and required collaboration that is the main challenge. In addition, with safety and security being of paramount importance to this industry, technological advancements in biometrics, mobile credentialing and post-quantum cybersecurity technologies will also need to advance to meet these needs."
While predicting long-term trends is never easy, the fact that many players share a common vision for the future of the aircraft cabin is a cause for optimism. This marks an important first step towards achieving a truly passenger-centric onboard experience.