The COVID-19 pandemic has placed health, safety and sanitisation at the forefront of the entire customer experience. As travellers continue to return to the skies, here we take a look at some of the recent initiatives that airlines and their partners have launched to keep passengers and crew safe inflight.
Delta rolls out rapid COVID-19 testing for crew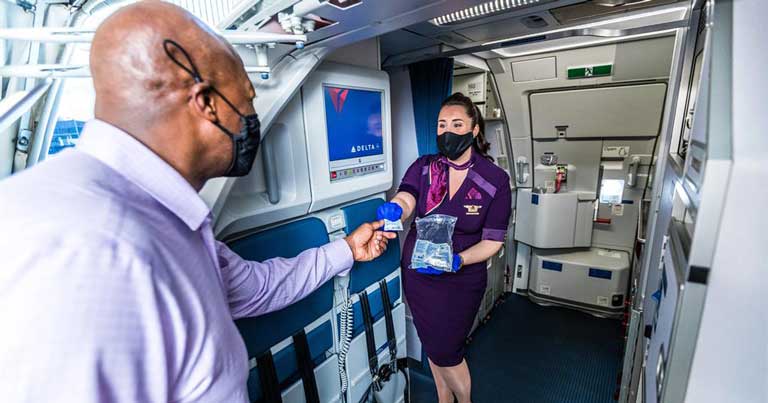 Delta Air Lines has partnered with healthcare company CVS Health to accelerate employee COVID-19 testing with a rapid-response option for flight crew. With this move, Delta hopes to build confidence about travelling among crew and customers alike.
The CVS Health Return Ready testing will be overseen by a CVS Health clinician at Delta hub crew lounges. According to Delta, it takes less than 15 minutes to diagnose whether the active COVID-19 virus is detected.
Joanne Smith, Executive Vice President and Chief People Officer, Delta, said: "Just like there's no single method to reducing the transmission of the virus, there's no one solution to testing our global workforce that is always on the move. That's why we're excited to be partnering with CVS Health and their clinicians to offer an additional convenient and reliable option to our people."
The rapid-response nasal-swab test is the newest testing option Delta is providing employees so a baseline understanding of the infection can be established across Delta.
"It's not feasible right now for everyone to take a test every time they walk out the door," Smith said. "That's why our baseline testing is so important, and we're grateful to have partners who share our values and our vision to make testing easy and accessible to all Delta employees. We intend to use what we learn from this round of testing to make sure our re-testing programme is one that continues to instil confidence among our people and with consumers about travelling with Delta."
United's CleanPlus programme
In May, United Airlines launched its CleanPlus programme to deliver what it describes as an industry-leading standard of cleanliness and safety in partnership with surface disinfection brand Clorox and medical centre Cleveland Clinic.
The initiative aims to inform and guide United's cleaning, safety and social distancing protocols that include touchless kiosks in select locations for baggage check-in, sneeze guards, mandatory face coverings for crew and customers, and giving customers options when flights are more full.
Clorox products are now being used at United's hub airports and medical experts from the Cleveland Clinic will advise on new technologies, training development and quality assurance programming.
Among some of the latest initiatives that United has launched onboard aircraft include enhanced cabin sanitisation with electrostatic spraying before every flight; requiring all employees and customers on board to wear a mask or face covering; and supplying individually wrapped hand sanitiser wipes to customers as they board.
Iberia introduces innovative aircraft cleaning solutions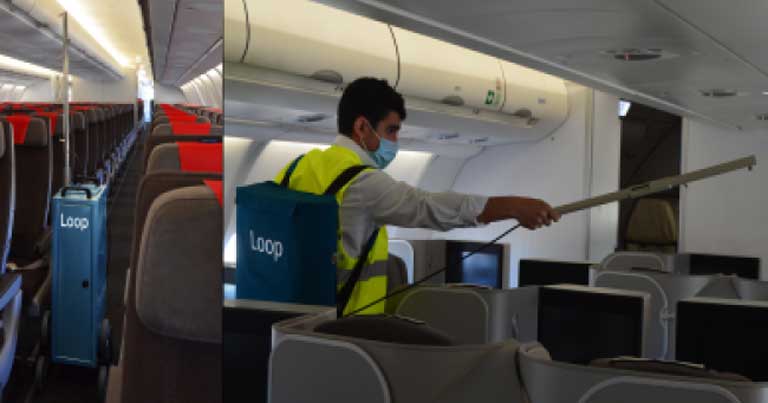 Iberia has adopted a number of innovative and sustainable solutions for aircraft disinfection to enhance hygiene on board and prevent the spread of COVID-19.
For sanitisation of its short- and medium-haul fleet, Iberia is working with its service provider Multiservicios Aeroportuarios (MASA) to deploy new electrostatic pistols that shoot a fine powder, disinfecting even the most inaccessible parts of armrests, headrests, folding trays, toilets and other cabin areas.
For the daily aircraft deep clean, the airline has partnered with Spanish startup AirlineLoop, which has designed an easy-to-use and energy-efficient aircraft cabin disinfection system. All exposed surfaces are sprayed with a disinfecting liquid that dries almost instantly.
According to the airline, the new cleaning and sanitising procedures comply with the international standards set by EASA and IATA, and are certified by Airbus and Boeing. The cleaning techniques use a variety of pulverisable biocides and are being deployed as a supplement to the pulverisers routinely used by Multiservicios Aeroportuarios to clean Iberia Group aircraft at Madrid Airport.
Iberia has also switched to cleaning cloths and mops that are made with 100% bamboo fibre, which are tougher, more elastic, and recyclable. They also block the proliferation of bacteria and microorganisms, as well as bad smells.
JetBlue explores UV cleaning system for aircraft interiors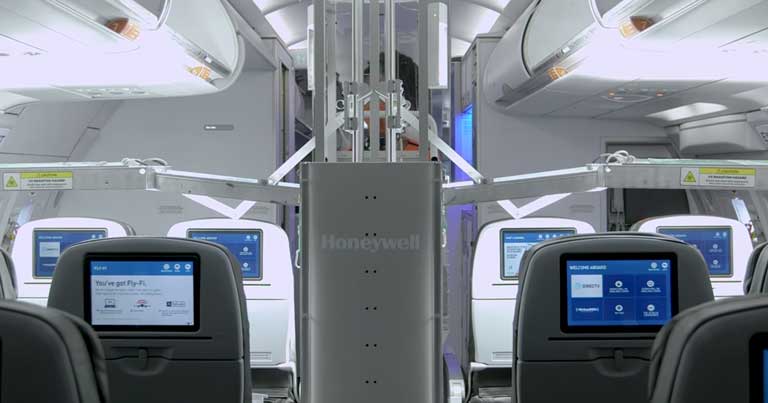 Another carrier that has adopted innovative technology for aircraft cabin cleaning is JetBlue. Last month, the airline launched a trial of an ultraviolet cabin cleaning system to keep passengers safe from viruses while flying.
The UV Cabin System, supplied by Honeywell, is a portable ultraviolet-c (UVC) light device that can cover an entire mid-sized airline cabin in less than 10 minutes. During the trial, JetBlue will be gauging the system's efficacy, while continuing other cleaning methods.
The airline has deployed eight of the devices, which have been put into service as part of its 'Safety from the Ground Up' programme at two of its airports – John F. Kennedy International and Fort Lauderdale-Hollywood International. These two locations have started a 90-day pilot programme for JetBlue to evaluate the Honeywell solution.
Joanna Geraghty, President and Chief Operating Officer, JetBlue, commented: "With the safety of our crew members and customers our first priority, JetBlue's Safety from the Ground Up initiative is maintaining a layered approach to safety by ensuring healthy crew members, providing flexibility, adding space, reducing touchpoints, and keeping surfaces clean and sanitised. As we look to add additional layers of protection by utilising cutting-edge technology, we have identified the Honeywell UV Cabin System as a potential game changer when it comes to efficiently assisting in our efforts to sanitise surfaces onboard."
The Honeywell UV Cabin System is roughly the size of an aircraft beverage cart and can easily be transferred on and off the aircraft to maximise fleet efficiency. The extendable arms deliver treatments to both sides of an aisle at once, minimising aircraft downtime between flights.
Etihad's inflight ambassadors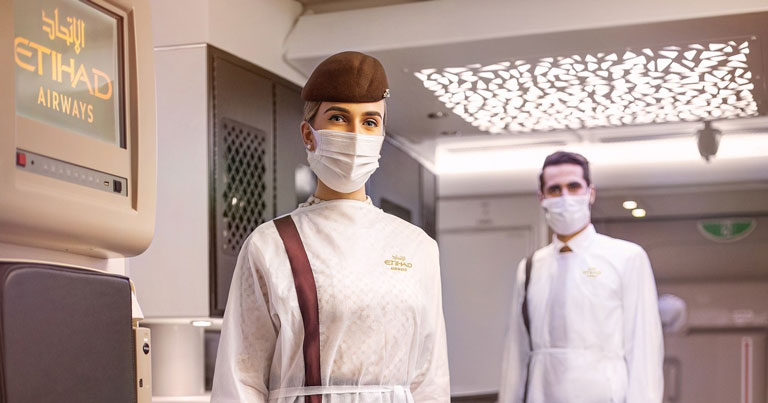 In June, Etihad became the first airline to introduce specially trained Wellness Ambassadors to provide essential travel health information and care to passengers in the airport terminal and inflight. The initiative formed part of the carrier's 'Etihad Wellness' health and hygiene programme.
The Wellness Ambassadors can be contacted directly 24/7 to offer reassurance to customers by sharing advice on travel wellbeing and details of the health and sanitisation measures being implemented throughout their journey. The dedicated multi-lingual team will be available on email and web chat.
All Wellness Ambassadors will undergo special training at the airline's training facilities in Abu Dhabi, and online.
Tony Douglas, Group Chief Executive Officer, Etihad Aviation Group, said: "Providing for our guests, and their wellbeing, is one of Etihad's core values, and we have a responsibility to protect them, to keep them fully informed, and to provide even greater levels of genuine warmth and personal care. We must guarantee they can travel assured in the knowledge that we have every aspect of their journey with us covered, while still providing a top-quality travel experience. The Wellness Ambassadors will play an important role in delivering this. For us it is not simply about dealing with a new normal – this level of genuine and innovative customer care has always been part of Etihad's DNA since our inception."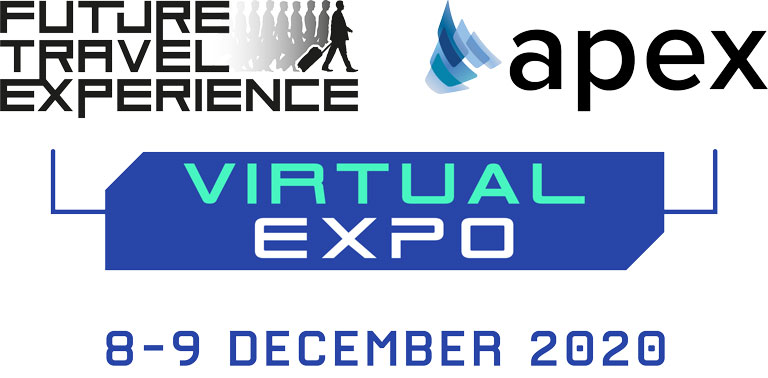 'Biosecurity' and 'Protecting & Empowering the Workforce' will be among the key areas of focus at the free-to-attend FTE APEX Virtual Expo, the air transport industry's first major digital trade show, which will take place on 8 and 9 December 2020. Attendees will be able to browse the virtual exhibition hall and visit booths, attend live video calls and product demos, watch real-time and on-demand conference content, and network with fellow attendees in the digital Networking Lounge. The event will be open 24/7 to support all regions and time zones. Find out more here.