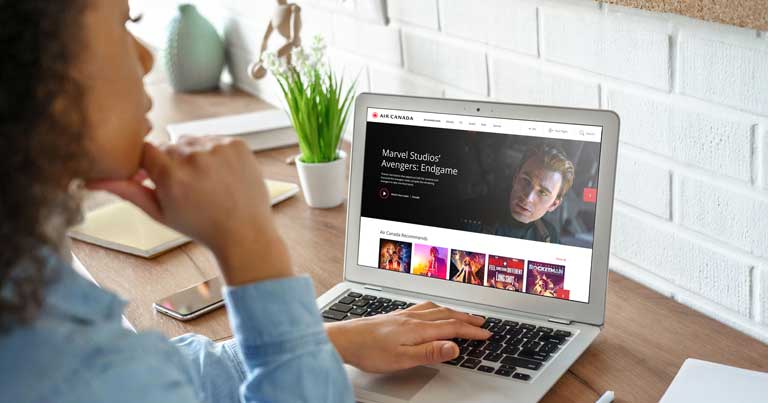 Air Canada has announced a rebrand of its inflight entertainment (IFE) website, which now offers passengers a preview of the movies, TV shows, audio, kids content and games that will be available to them on their next flight with the airline.
The new website is powered by entertainment and media agency Spafax's Profile platform and is linked from the airline's homepage to increase engagement. Passengers can also watch movie trailers and recommend or share content on social media.
Hali Hamilton, Manager, Entertainment & Partnerships, Air Canada, commented: "As customers get excited about travel again, we are proud to offer them new, engaging ways to plan their journey. There's nothing like the anticipation of an upcoming trip and now, with our new IFE website delivered by Spafax, our passengers can also plan what to watch onboard and we can build on that excitement with our customers."
Air Canada has also integrated the Profile platform to its mobile app, allowing passengers to easily see the content available for their flight without the need to enter the flight filter manually.
Norman Haughton, Director, IFEC Product and Analytics at Air Canada, added: "Though our inflight product strategy has pivoted since the onset of COVID-19, we remain committed to providing our customers with an industry-leading passenger experience. The launch of our new IFE website, powered by Spafax Profile is a testament to that commitment and also speaks to Spafax's stability as our partner and content service provider."
Spafax's Chief Executive Officer Niall McBain also commented: "Though the air transport sector has never gone through a crisis like we are experiencing due to COVID-19, we are determined to help our clients make a stronger return to the market with a focus on innovation. Air Canada is already leading the way as the first airline to make entertainment available for streaming at home and we're thrilled to add to the excitement around their IFE offering with the launch of Profile."