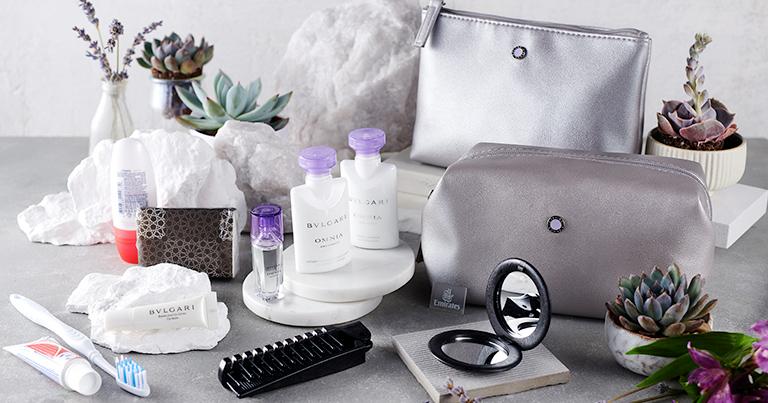 Emirates has unveiled a new collection of Bulgari amenity kits for the Autumn/Winter season in First and Business Class. The range features new colour palettes and new fragrances, along with a keepsake mirror, and myriad amenities for passenger comfort – onboard select routes and long-haul flights.
In keeping with Emirates "commitment to providing an exceptional customer experience onboard", the First and Business Class kit bags feature new trending pantones and designs, along with Bulgari fragrances in bottles designed exclusively for Emirates. The new range presents eight different collectible bags across First and Business Class, in a classic tan and black fabric, contemporary silver with lilac, or understated black with lilac highlights.
The Business Class range offers two bag shapes, a pouch and classic toiletry bag silhouette, both made from vegan leather in a metallic silver shade with lilac accents. Each kit features several Bulgari products. Two contemporary classic black fabric bags in varying shapes with tan vegan leather accents are designed to appeal to those who prefer a masculine style.
In First Class, the range features four individual collectible bags, two in black vegan leather with lilac accents, and two in a high-quality black fabric, some with tan vegan leather accents – both containing an array of personalised luxury products.
Economy and Premium Economy passengers can also look forward to new collectible amenity kits, to be launched towards the end of the year.