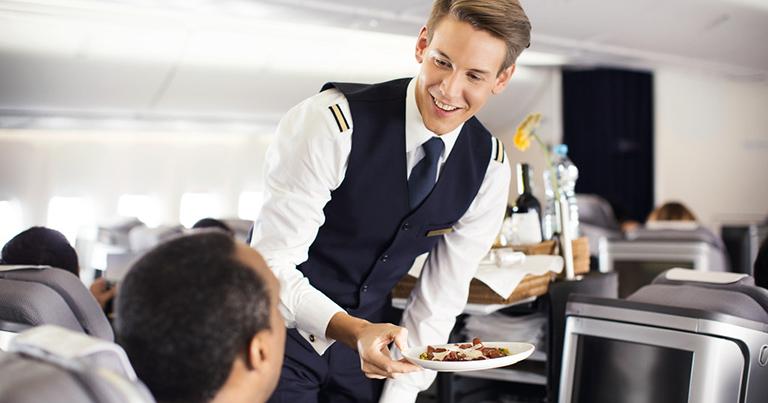 Lufthansa's inflight service is being expanded and will offer more choice, entertainment and sustainability in the future. Starting in mid-August, Business Class passengers on long-haul flights from Germany can choose from a wider selection of main dishes as early as one month and up to 24 hours before departure. A total of six different regional and seasonal menus will be available for pre-selection. This makes for a relaxed flight and at the same time helps optimise food use and further reduce waste.
The airline is also offering an expanded range of hot beverages in its 'Onboard Delights Service' on European flights. A new, sustainable reusable cup made of recyclable plastic will be used, replacing the previous disposable cup with a plastic lid. In addition to instant coffee, specialties such as latte macchiato, three tea variants and hot chocolate will be available for purchase in the new cup going forward. The passenger airlines of the Lufthansa Group have set themselves the goal of completely eliminating single-use plastic and single-use aluminium onboard by 2025.
Another new feature onboard Lufthansa long-haul flights is an expanded entertainment offering for children and teens. In the future, the airline's 'e-journals' media library will offer young passengers an expanded age-appropriate reading selection in the 'Children's Media Box'. This includes a wide range of journals and magazines in various languages that can be downloaded free of charge. The inflight entertainment programme for children has also been expanded for the summer months.
Attendees at FTE Global (Los Angeles, 19-21 September 2023) will hear more on how Lufthansa is leveraging the Metaverse with Mixed Reality to champion new product offerings. Dr. Björn Becker, Head of Future Intercontinental Experience Program, Lufthansa, will deliver a case study alongside Bastian Schütz, Product & Business Development, Meta Reality Labs, in the Metaverse, NFT & Crypto Symposium. There will also be dedicated space in the exhibition at FTE Global where attendees can take a VR headset, enter Lufthansa's Metaverse event location or the Mixed Reality full-scale model of the cabin, and experience Allegris for themselves.
Register for FTE Global 2023 >>
See the FTE Global 2023 schedule at a glance >>