At the heart of an enjoyable flight is often top quality in-flight entertainment (IFE) and in recent years, Emirates has proved to be hard to beat. However, just because you are leading the way, does not justify complacency and led by Patrick Brannelly, the airline's Vice President, Product, Publishing, Digital and Events, Emirates continues to innovate in order to offer the best possible experience for every one of its passengers.
Central to Emirates' success in the IFE realm is the 'ice' entertainment system – a key contributing factor to the airline recently winning the 'Best Up in the Air Experience' accolade at FTE Global 2013 – and now Brannelly and his colleagues are aiming to take entertainment and connectivity to the next level.
While Emirates currently offers connectivity via OnAir WiFi on its A380s and select B777s, Brannelly explained to FTE that he hopes to see high-quality, free connectivity rolled out across the board in the medium term.
"I hope it will be within five years," he said. "People want to be connected, they want to stay connected and they don't want to think about having to connect," he said. "You're seeing that oddly enough in some of the low-cost hotels you just connect – you don't have to set up, you don't have to sign in, you just connect. That's really what people are going to be expecting. There are technological barriers to that and there are also a lot of commercial barriers to the partners that bring connectivity to aircraft with the way their business models are set up, but I think you can almost guarantee in the future this 'cost per megabyte' is going to go away because nobody understands it."
In-flight Wi-Fi: free, high quality or both?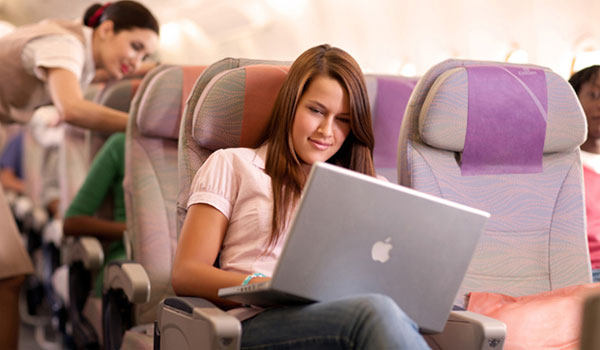 At the moment, Emirates offers connectivity for as little as $2.75 – "about the price of a cup of coffee" in the words of Brannelly – but technology needs to advance in order to make this already "heavily subsidised" service available for free.
"Connectivity to an aircraft flying at 40,000 feet at 500mph through satellites flying in space is an expensive infrastructure, so it's not a profit centre today," he explained.
While the connectivity charge is hardly a major source of income for Emirates – uptake among passengers is around 5% at present – implementing this charge is important to preserve the quality of the service. Brannelly said: "If you give it away for free, an awful lot more people will connect and then the service degrades because of the limitations on the infrastructure. You're already seeing that in some hotels where you can get Internet for free that is pretty poor, but if you want to pay the $20 charge, they will guarantee you a good bit of bandwidth."
Rolling out live TV in-flight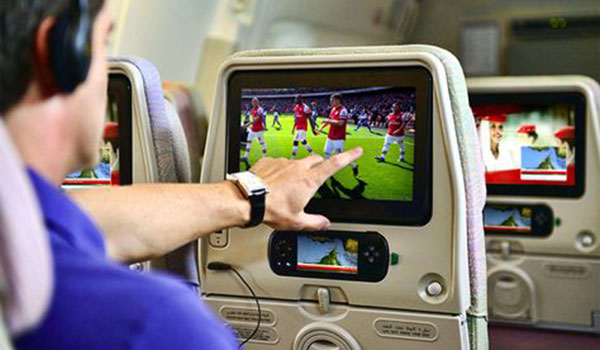 In terms of the more traditional entertainment offering, the next thing on Emirates' agenda is to make live television onboard more widely available. At present, some of the airline's B777s include four live channels – Sport 24, BBC World News, BBC Arabic and euronews – but Brannelly told FTE that it could be a more expansive and more common feature in the near future.
"It is a technological challenge, as our planes go all over the world," he said. "Live television in America has been around for more than 10 years with airlines like JetBlue and Virgin America, but it's a much simpler solution delivering it over a very fixed footprint.
"When you go international over waters it's a more complex proposition. We're looking at that. We've got a couple of aircraft equipped now and we're looking at that in great detail to see how that's performing."
Seatback IFE vs Personal devices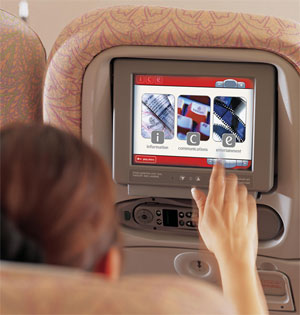 While adding better connectivity, live television and more features to the seatback IFE system will inevitably help to enhance the passenger experience, does Emirates feel that the trend of passengers bringing their own devices onboard with them is something that they actively need to address? According to Brannelly, the answer is 'no', because seatback IFE offers the ultimate entertainment experience, especially on long-haul flights.
He said: "It's a fact of life people are bringing devices onto planes and sometimes multiple devices. In terms of pushing content to those devices, people have quite a lot of their own content already. Pushing it on the aircraft to those devices is not without technical challenges and complexity, which is why we at Emirates have invested so much in big screens in front of the passenger.
"Even in Economy Class, there's almost a 13-inch monitor, which is pretty ginormous in terms of viewing angles – you don't really want to go much bigger than that. That is the most comfortable viewing experience. At the end of the day, simplicity is the key. Getting on to the plane and having great content on a big screen in front of you – a lot of content you didn't know you wanted to see – is simple. It's hard to beat simple."
"You've got to get everything right"
The dedication of Brannelly and his employer to improve the in-flight passenger experience through entertainment and connectivity is evident, but he did also offer some words of advice to anyone tempted to think that IFE and connectivity alone hold the key to success.
"It's important to remember that when you're running an airline you've got to get everything right," he said. "The crew have to be fantastic, the food has to be fantastic, the wines have to be fantastic, the in-flight entertainment has to be fantastic, the limousine service, the lounges, the airport environment. There are just so many things that are important to get right in the customer journey and the customer experience overall that to be great in one of them and lacking in the others just doesn't work."
Clearly, there is lots for an airline to consider, but for those wondering exactly where to start, looking at Emirates as an example of best practice wouldn't be a bad approach.