Aer Lingus has released a preview of what transatlantic passengers can expect in its all-new Business Class cabin on its A330s from March 2015.
Among the key features are seats from Thompson Aero Seating, which convert into two-metre-long lie flat beds and include a massage function, 16-inch in-flight entertainment (IFE) monitors, and personal charging points and USB plugs for every passenger.
Passengers travelling with their electronic device will also be able to store their laptops in a dedicated personal stowage area, while a seatback mini tablet holder will provide additional storage space. Complimentary onboard Wi-Fi will also be offered in the Business Class cabin.
The on-demand food and beverage service will offer a "fusion of the best of traditional and modern Irish" cuisine, and the specially selected wines will help to create a "truly top restaurant experience" onboard.
Aer Lingus will take delivery of a total of 189 Thompson 'Vantage' seats for seven of its A330s towards the end of this year, before launching the new premium product in March 2015.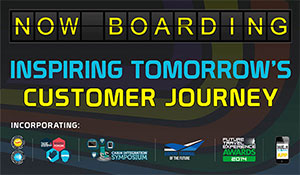 Learn all about enhancing premium passenger experiences at FTE Global 2014
FTE Global 2014, which will take place in Las Vegas from 24-26 September, will include a dedicated Enhancing Premium Passenger Experiences Forum, in which a number of senior industry figures will share what they are doing to enhance the travel experience for their high-value customers.
Part 1 of the Forum will focus on 'Enhancing premium passenger experiences in-flight', and will be chaired by Raymond Kollau, Founder of AirlineTrends.com, while Part 2 will focus on 'Enhancing premium passengers experiences on the ground to maintain loyalty and attract new customers', and will be chaired by Thomas Penner, VP Terminal and Passenger Services, Munich Airport and Chairman of the World Airport VIP Forum.
» More information on the Enhancing Premium Passenger Experiences Forum