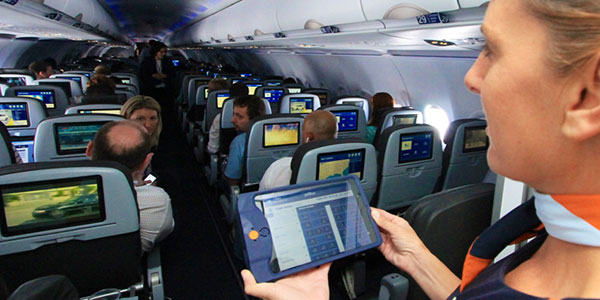 JetBlue Airways will equip all of its flight attendants with iPad Minis and introduce the In-Flight Service Assistant (IfSA) application to help further improve and personalise the onboard passenger experience, and drive in-flight ancillary sales.
Flight attendants onboard JetBlue's Mint flights, the new premium service offering that is currently available between New York and Los Angeles and will soon be rolled out on flights to San Francisco, will be the first to use the iPad Minis and the new app. By April 2015, JetBlue aims to have every crew member equipped with an iPad Mini. The move is the latest element of the carrier's plan to create a fully connected cabin, having also introduced iPads to be used at pilots' electronic flight bags back in November 2013.
The purpose-built IfSA application and crew portal gives flight attendants access to an electronic manifest that shows them which passengers onboard have made special requests, and who is a TrueBlue or Mosaic member. The iPads can be used as point-of-sale devices, and also include a translation app, so questions and answers can be translated into any language to overcome any language barriers between a customer and the cabin crew.
Joanna Geraghty, Executive Vice President, Customer Experience, JetBlue Airways, commented: "It's clear the connected cabin is the next big thing, and with the introduction of iPad Minis, our in-flight crew members will be able to know more about our customers onboard and will have a better sense of real time opportunities and challenges on the ground as we look for ways to enhance our customers' experience with that information. With this new tool, the possibilities are endless."
By the end of 2015, the airline aims to be able to provide all crew members with access to customers' flight and onboard purchase history to help personalise the in-flight experience. Other core business applications that will provide crew members with easy access to manuals, forms and other resources will also be released in the coming months.
Rachel McCarthy, JetBlue's Vice President Inflight Experience, added: "We are very excited to provide our in-flight crew members with the enhanced tools that they will need to continue delivering the award-winning JetBlue Experience.
"By giving our crew members tablets to use onboard, we can increase our product offerings and marketing capabilities. My hope is that our in-flight crew members will also have their flight attendant manuals on the tablet, which will allow them to have everything in one place. Additionally, with this new device, our in-flight crew members could potentially video conference for medical emergencies or technical difficulties and become even more effective in their roles as safety professionals."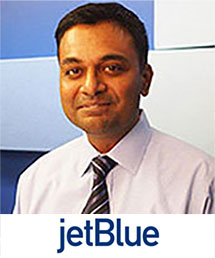 JetBlue CIO to share in-depth passenger experience vision at FTE Global 2014
In the 'Up in the Air' conference at FTE Global 2014, which will take place from 24-26 September in Las Vegas, Eash Sundaram, Executive Vice President & Chief Information Officer, JetBlue Airways, will deliver a keynote address entitled: 'How JetBlue is using new technology and innovation to create the best possible travel experience and deliver on its commitment of 'inspiring humanity''.
Among the many other organisations also confirmed to share their passenger experience visions at FTE Global 2014 are Disney Destinations, Microsoft, Delta Air Lines, American Air Lines, British Airways, Turkish Airlines, Boeing, Airbus, Thales, Norwegian Air Shuttle, Virgin Atlantic, Vuzix and many more.
» View the full FTE 'Up in the Air' conference agenda