When it comes to passenger experience, there can be no doubting the fact that Cathay Pacific is among the leaders. One of just seven 5-star airlines and the current holder of the coveted SkyTrax 'Airline of the Year' title, the Hong Kong-based carrier certainly seems to know how to keep its customers happy.
So, what's the secret? In truth, it cannot be easily pinpointed, as in the five year's since the carrier was last recognised as the best in the world, a variety of significant investments have been made right across the business, and many with a particular emphasis on improving the passenger experience, according to Toby Smith, Cathay Pacific's General Manager Product.
Over the last four years alone, the entire fleet of aircraft has received a cabin upgrade, and numerous lounges across the network have been refurbished. The existing fleet alone highlights the scale of the investment that has been made in a relatively short space of time. The most eye-catching feature is the new Business Class product. Each seat, which converts into a fully flat bed, includes an iPhone and iPod compatible 15.5-inch screen (powered by Panasonic Avionics Corporation), a flat bed seat, ample personal storage space, a privacy screen and even a central cocktail table for those travelling with a companion.
At the other end of the aircraft, Economy passengers are still very well looked after. The Economy Class seat offers a six-inch recline, access to the StudioCX entertainment system on a personal nine-inch monitor, to which passengers can connect their Apple devices to stream their own content, as well as a USB port to charge personal devices and additional storage space.
Passengers also have an "in-between" option, Premium Economy, which bridges the gap in terms of passenger choice. Smith explained: "We believe in market segmentation where it makes sense. With the introduction of our award-winning new Business Class, the gap between Economy and Business has widened ever further. We believe that this created room for a Premium Economy cabin that appeals to a wide cross-section of people who are willing to pay more for a more private cabin, better seat and various service enhancements."
Among these enhancements are wider seats with an eight-inch recline, a 10.6-inch IFE monitor with noise cancelling headphones and a wider tray table. For those flying long-haul, a high-quality amenity kit is also offered.
An 'exclusive suite in the air'
Also worth a mention is Cathay Pacific's refreshed First Class product. Labelled by the airline as an "exclusive suite in the air", passengers in this cabin can control their seat and lights using an LCD touchscreen controller, have high-quality duvets and pillows, a thicker mattress, luxury amenity kits, fine dining and all of the entertainment options as offered in Business Class.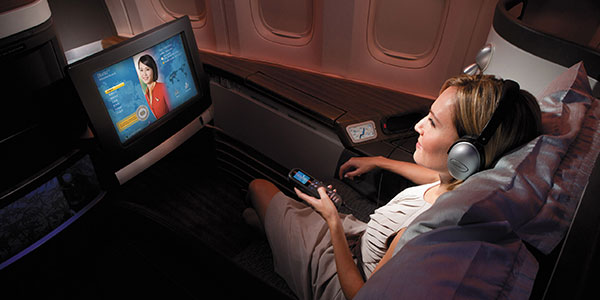 Looking to the future, the carrier also has some 90 new aircraft on order at an aggregate price of around HK$220 billion (US$28 bn), including 48 A350s, the first of which is scheduled to arrive in early 2016. While Cathay Pacific is keeping the finer details of its A350 offer under wraps for the time being, Smith told FTE: "With the arrival of the A350, we will have the next generation of seats and in-flight entertainment products".
When quizzed on in-flight connectivity, Smith added: "Our provider, Panasonic Avionics Corporation, has been working for some time to secure the regulatory approvals needed to operate onboard Wi-Fi capability for Cathay Pacific, with issues still to be resolved in some of the airspace on our route network. Once this approval has been granted and we're able to provide the service globally we will start the rollout in earnest."
The true value of people power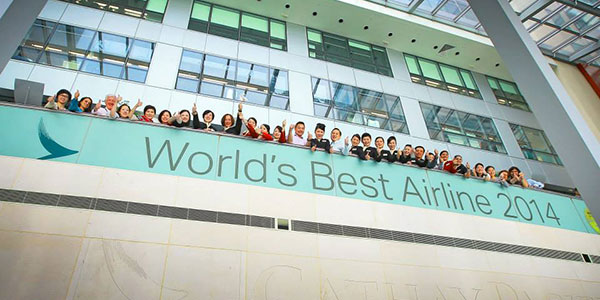 New technology and inventive design are clearly key to Cathay Pacific's world-class in-flight offer, but the airline was also keen to convey to FTE the value of perhaps its most important asset: its staff. "Our frontline cabin crew are made up of passionate people who genuinely love what they do," explained Dominic Perret, General Manager In-flight Services. "During the recruitment stage, we look for people who have a strong customer service philosophy. It is this quality that carries them through their career and motivates them to deliver service straight from the heart to our passengers each time they fly."
Recruiting the right people is only part of the work, though, and Perret stated "a robust support network and internal customer service management philosophy" is also in place.
"We do this by ensuring consistency in delivering the world's best service through holding forums to engage our service leaders and frontline staff, and that fosters open communication and feedback at all levels." Hard copy newsletters, and electronic and multimedia communications are also commonly issued, while cabin crew can also use an app to give instant feedback on any aspect of their working life at Cathay Pacific.
Perret added: "We believe that employees are more motivated and engaged when they feel that their opinion is being heard. Therefore, we try as much as possible to include our crew in the development of new procedures and policies. Consultation is a key part of this process and small project groups are often formed when new large-scale initiatives are being planned."
New technology, passionate staff and long-term commitment key to success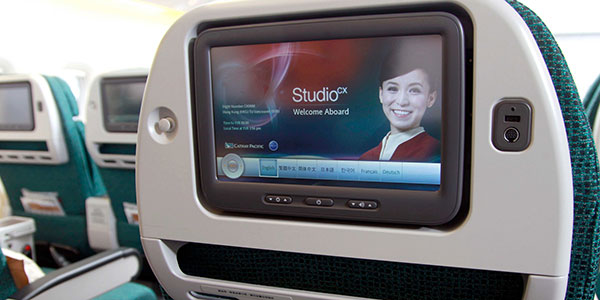 So, going back to the initial question – what does it take to be the world's best airline? – the answer, at least in terms of the in-flight offer, seems to be that it takes a multi-faceted approach, significant investment in both technology and people, and an unrelenting dedication to be the best.
At the start of our interview, Smith said that Cathay Pacific is devoted to "cementing its position as one of the world's most highly regarded premium international carriers", and given the latest SkyTrax rankings, this goal is unquestionably being achieved.
The beauty of this industry, though, is that it never stands still, so as Cathay Pacific aims to build on its enviable reputation, other major airlines will be doing everything possible to steal away the title of "world's best".
Stay tuned to FTE for Part 2 of the 'Cathay Pacific: What it takes to be the world's best airline' feature. Focusing on what the carrier is doing to improve the passenger experience on the ground, the second instalment will be published later this month.
Learn all about passenger experience enhancement at FTE Global 2014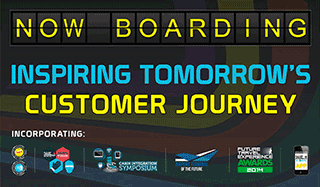 At FTE Global 2014, which will take place at the Mandalay Bay Resort Las Vegas from 24-26 September 2014, a number of the world's most innovative airlines will share their passenger experience visions in the 'Up in the Air' conference.
Delegates will be able to hear from senior speakers from the likes of JetBlue, Lufthansa, Delta Air Lines, American Airlines, British Airways, Turkish Airlines, Norwegian, Virgin Atlantic and many more.
» View the full 'Up in the Air' conference agenda