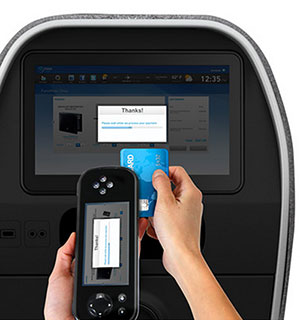 Panasonic Avionics has announced that it will introduce EMV-compliant Near Field Communication (NFC) technology in its in-flight entertainment (IFE) systems. The announcement comes a week after Apple launched its NFC-compliant iPhone 6 and Apple Watch.
Panasonic Avionics will introduce NFC from summer 2015, and the move is expected to bring about a number of benefits for passengers and crew. For example, NFC-enabled smartphones and cards will be able to be used for high value transactions and purchases onboard, and synchronisation of personal data to create personal experiences.
Airlines will also be able to recognise passengers' frequent flyer statuses via NFC, giving access to benefits such as free Wi-Fi for Gold members, and crew will be able to check in and out for duty using NFC. NFC-enabled devices will also be able to be paired with the embedded IFEC system, allowing carriers to push information to passengers during their flight.
Paul Margis, CEO of Panasonic Avionics, said: "This new technology will allow passengers around the world to personalise their travel experience and intensify their relationship with their airline in incredibly valuable ways.
"We have seen the demand from airlines and their passengers, and after two years of research and development, we are proud to continue our innovation leadership by delivering this latest technology solution to our customers."