UK leisure carrier Thomson Airways has unveiled its ambitious strategy to "revolutionise holiday travel" with the latest aircraft, unique onboard features and e-enabled flight attendants, which will allow the airline to more seamlessly connect the in-flight and ground experiences.
The five-year vision is based around an upgraded fleet, which will see two further 787 Dreamliners and 47 new Boeing 737 MAX aircraft delivered by 2020, and a multi-million pound refresh across the carrier's existing 737s and 757s.
Family Booths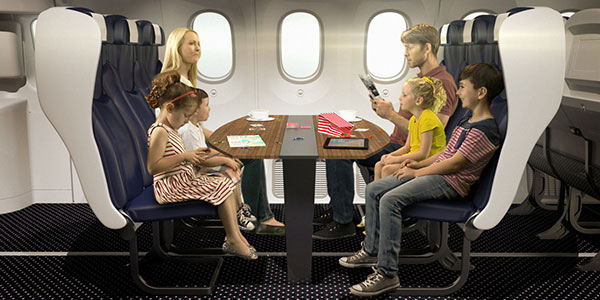 The most eye-catching of the new features is the 'Family Booth', which will be included on the new 737 MAX. Comparable to the type of seating more common on trains, the booths will allow families to sit around a table facing one another, with either two or three people on each side of the table. The booths will be available for families travelling to First Choice Holiday Village or Thomson Family Resorts.
The 737 MAX will also include 'Duo-seating', in which three seats become two, with a table in between the two passengers, and with in-seat chargers and mood lighting offered.
Duo-seating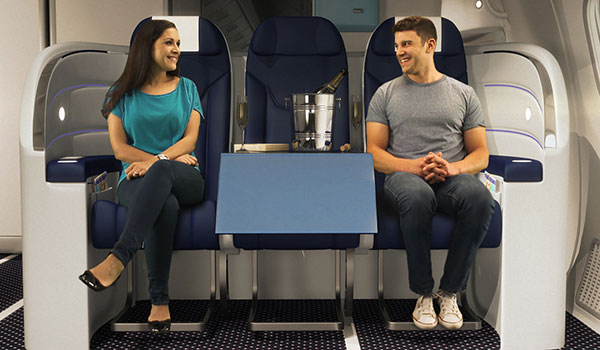 David Burling, Managing Director of TUI UK & Ireland, said: "Our airline business has traditionally been categorised in the charter sector which is often perceived as the poor relation to scheduled and, in reality, bears little resemblance to the Thomson Airways experience today.
"Our overall goal is to make travel experiences special and, as the flight marks both the start and end of the holiday, we see it as an integral part of the whole holiday experience. That is why we want to want to define and lead a new category of flying – the holiday airline category. This describes an airline designed for the specific needs of the holidaymaker and fully connected to the holiday experience in the destination."
An onboard social space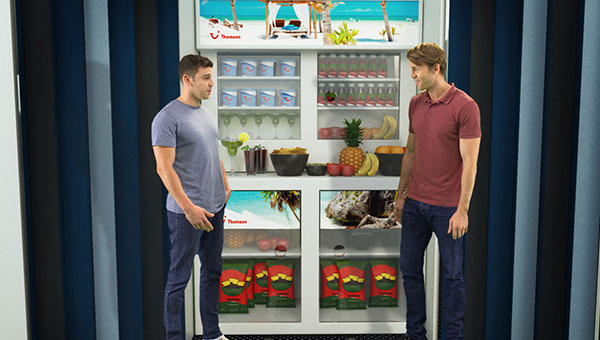 A range of new service innovations will also be rolled out as part of Thomson Airways' five-year plan. Crew will carry iPads to help them personalise the passenger experience onboard, and allowing them to answer passengers' questions about their destination, and send information to the resort team on the ground.
The in-flight entertainment system will also be upgraded and plans are in place to allow travellers to book room upgrades, check-in to their room and book resort activities via the embedded screen. Each flight will also include a crew member trained to help keep children entertained, as well as a dedicated 'HolidayMaker' on short and medium haul flights – a member of the resort team who can offer advice and recommendations to travellers. In addition, a 'Beach Snack Bar' will be added to the aircraft, offering a space for passengers to socialise.