The Future Travel Experience team was in Hamburg last week at Aircraft Interiors Expo to take a close-up look at a variety of solutions that will impact the cabin experience in the months ahead. Given our unique future-oriented focus on enhancing the end-to-end passenger experience, it was refreshing to hear a number of the major vendors talking candidly about the importance of breaking down silos and focusing on the bigger picture – a theme that will be prevalent at both Future Travel Experience Global 2015 in Las Vegas (9th-11th September) and FTE Asia EXPO 2015 in Singapore (17th-19th November), the latter of which will be Asia's biggest ever passenger experience expo and will include a dedicated IFEC Zone in which the biggest IFE and connectivity players will be showcasing their very latest solutions. Here we highlight some of the most eye-catching IFE solutions from our time in Hamburg.
Economy class luxury? 'Jazz' concept shows what's possible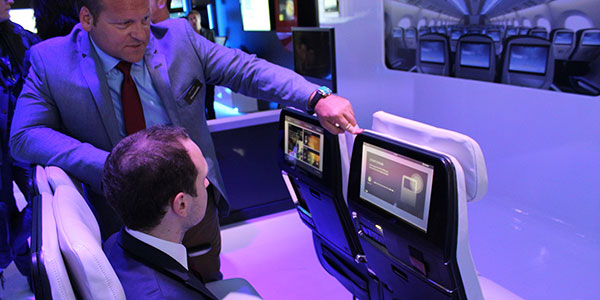 FTE jumped at the chance to experience the new 'Jazz' integrated IFE/seat concept, which is the result of close collaboration between Panasonic Avionics and B/E Aerospace. As Neil James, Panasonic Avionics' Executive Director Corporate Sales and Product Management, explained, Jazz represents the first time an IFE vendor and a seat vendor have come together in such a way to create an integrated IFE/seat concept from scratch – and the result is remarkable.
The 4K home theatre-style screen, customisable mood lighting, inductive charging for smartphones and "phablets", NFC compatibility that allows personal devices to be synchronised with the IFE system, lightweight magnesium armrests and a six-axis controller which is ideal for gaming are just a few of the many features that make the concept stand out in this crowded marketplace. In addition, the seat legs house the electrical cables, creating extra legroom and footspace – another bonus for passengers. Even better is the fact that this concept represents what is possible in economy class – a cabin that is far too often overlooked by airlines, whose main investments are usually targeted at the revenue-making cabins at the front end of the aircraft.
James explained to FTE that Jazz provides an example of what can be achieved when "we all innovate in the same cycle" and welcomed the industry's gradual shift in mindset towards embracing innovation. "People are starting to say 'We don't have a customer for this yet, but we've got a great idea', and we're thinking 'yes, finally!'"
If Jazz really does represent the future of economy class, we can't wait to fly at the back of the plane in the future!
Low-cost, embedded IFE for single-aisle aircraft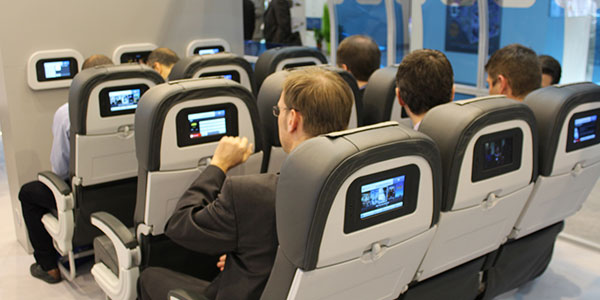 Elsewhere in the expo, Lumexis, who will be exhibiting at FTE Asia EXPO 2015 in Singapore in November, had FTE admiring another new IFE solution, which the vendor describes as an "ultra-low cost in-seat IFE system". The iPAX system is a wireless streaming embedded system that costs just $1,495 and weighs just 8.9 ounces per seat. As Lou Sharkey, President & Chief Operating Officer, and Jon Norris, Vice President of Sales explained to FTE, the solution is ideal for single-aisle aircraft that traditionally offer overhead IFE monitors.
After test-running the 1080p HD monitor and a variety of features including the movies, moving map, shopping and a 2.1A USB charging port, we couldn't help but ask if there's a risk that some carriers might be put off by the six-inch screen size. "The seats here (on the Lumexis booth) are pitched at 30 inches and the feedback has been the screen is more than big enough, so considering some low cost carriers have seats pitched at 28 inches, there's no question that it's big enough," Sharkey said. "Also, this is designed to replace the overhead monitors, which are often far away from passengers and don't offer any on-demand options, so which one would you prefer?" I don't think we're alone in thinking that the personal, embedded IFE monitor certainly sounds appealing!
Find out more about Lumexis' iPAX system, and other leading IFE solutions, at FTE Asia EXPO 2015!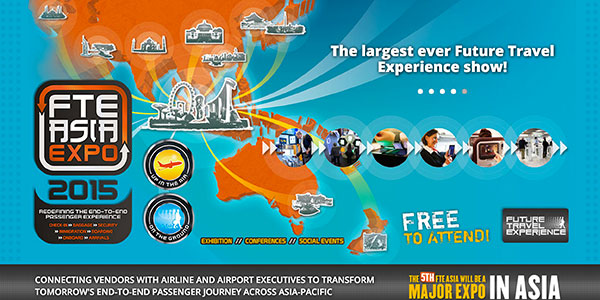 Immersive entertainment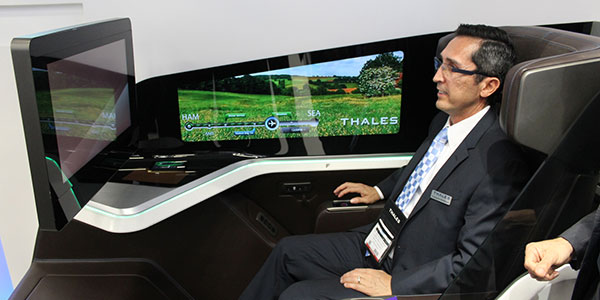 On the Thales booth, FTE had the chance to take a look at the latest version of the company's immersive seat, which now features a digital side screen and digital panels on the armrests, speakers built into the headrest (which emit audio that can only be heard by the person sitting in the seat), and NFC-based synchronisation, which allows the user to sync their device with the IFE system. All of these features are in addition to the 4K displays, which feature gesture control and eye tracking, which we first experienced 12 months ago.
If the Panasonic Avionics and B/E Aerospace 'Jazz' concept highlights what is possible in economy class, this provides an exciting insight into what can be achieved at the front of the aircraft.
Safe and secure tablet mounting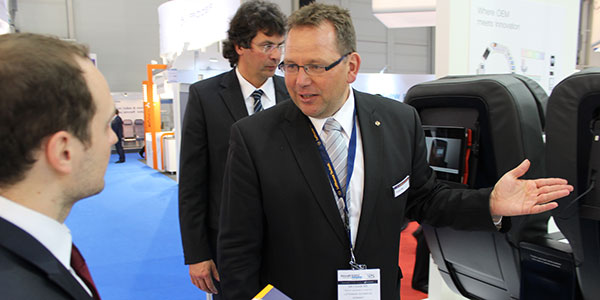 Among a vast array of products on the Lufthansa Technik stand – including the new premium "chair" concept and the curved GuideU emergency floor path marking – was a new IFE solution that has been developed with Qantas and essentially replaces embedded screens with a securely mounted tablet. As Frank Niss, Foresight Management & Consulting, PD Original Equipment Innovation, explained, the solution was being presented having just successfully completed Head Injury Criteria (HIC) approval testing, which is required for all IFE systems.
Qantas offers iPads pre-loaded with content to passengers, but passengers have to hold the device during taxi, take-off and landing to comply with regulations, so this new solution allows tablets to be fitted to the back of a seat in a secure holder, with a protective cover over the screen of the device. The new tablet holder will initially be installed in Business class on Qantas' Boeing 717s.
Lufthansa Systems encourages end-to-end entertainment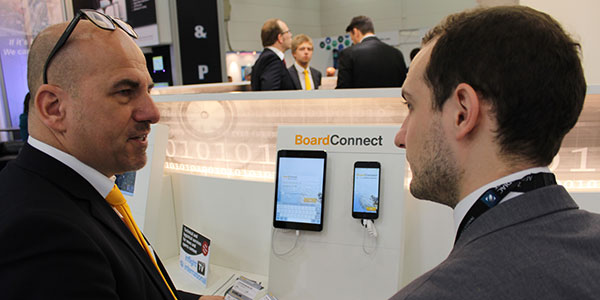 Meanwhile, another element of the Lufthansa Family, Lufthansa Systems, was showcasing its BoardConnect solution, including the On Ground Portal service, which allows passengers to create playlists and preview movie trailers ahead of their flight, so they can plan how to spend their time onboard. The wireless IFE app allows users to watch movies, purchase duty free items, read newspapers, view moving maps and access destination information, and Dr Eckart Wallis, Lufthansa Systems' Director Product Management, highlighted a range of other features and explained how carriers can use BoardConnect to generate revenue.
"The likes of TripAdvisor, Uber, train companies…they all offer free APIs, so you can integrate each of them," he said. "So if you're an airline and a passenger books a trip via TripAdvisor on BoardConnect, there could be an opportunity for the airline to receive a percentage of the value of that booking."
In keeping with the industry's increasing "end-to-end" focus, Wallis also offered his thoughts on how we can overcome one of the most frustrating IFE-related problems: the flight ending before you've reached the end of a film. UltraViolet is a solution powered by some of the world's biggest entertainment and technology companies, and allows users to register their movie purchases in a personal, cloud-based account and then watch these movies on compatible registered devices. Referring to this, Wallis suggested: "If you miss the end of a movie in-flight, maybe you could be offered the chance to purchase it through UltraViolet and then you can watch it on your device after you've left the aircraft. It could be a possibility to overcome the (Hollywood Studios) licensing problem."
BAE Systems' IntelliCabin IFE lands launch customer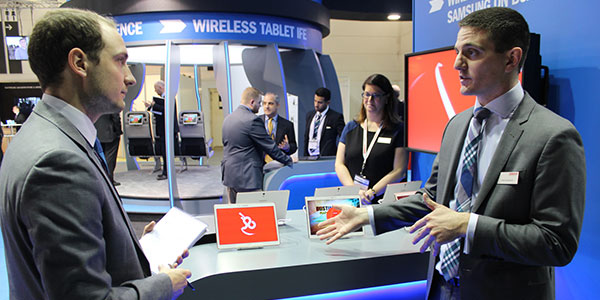 After BAE Systems announced that Vistara had signed up as the launch customer for its IntelliCabin IFE system, we were keen to pay them a visit to find out more about the product. The deal with Vistara includes wireless streaming of preloaded content to passengers' personal electronic devices across all three classes, as well as fully integrated Samsung Galaxy Tab S tablets for Business Class customers.
Our first question was why has BAE Systems chosen the Samsung Galaxy Tab S over other tablets? According to Jared Shoemaker, Director – Cabin Programs, Commercial Aircraft Solutions, the device is so appealing because it can be configured to meet the company's exact needs – users can't leave the app and use the device for other purposes; the home button directs to the homepage of the app, not the device's usual home screen; the speakers have been disabled so the tablets can only be used with headphones; the list goes on. As Shoemaker said: "We simply couldn't have this level of control on iPads." He also explained that by the end of the year, early window content should be available on the airline-owned tablets.
'Simple' innovation adds further appeal to Skycast's TrayVu8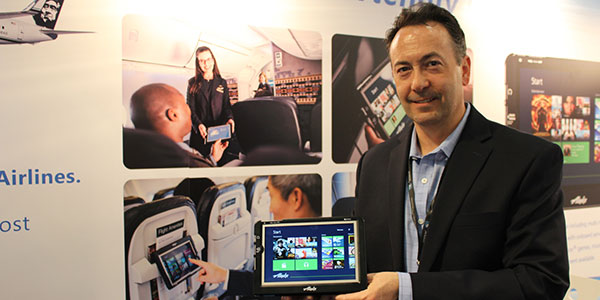 Last but by no means least in our list of the most eye-catching IFE solutions from Hamburg is Skycast Solutions, which showed FTE its Windows Portable IFE Device and the impressively simple yet effective "TabCaddyClip", which is a secure, clip-on tablet holder that can be easily attached to meal trays.
As Bill Boyer, Skycast's Founder & CEO, and Greg Latimer, the company's President, explained, the Windows-based TrayVu8 IFE solution has already received a huge seal of approval thanks to a 7,000-unit order from Alaska Airlines. This project is the result of a close collaboration with official partner Microsoft, and allows Alaska's passengers to view movies, play games, read magazines and newspapers and listen to music on the airline-owned devices, while the carrier has a new source of ancillary revenue as the devices can be rented out. "The Microsoft system is much more robust, which is why we've gone exclusively with Windows," Latimer said. He also explained that Skycast Solutions has been working on a deal with another airline, and the company is hopeful of announcing a new 3,000-unit order shortly.
As for the TabCaddyClip, not only does is make it nice and easy for passengers to securely attach the tablet to their tray, it also provides another welcome source of ancillary revenue as airlines can sell the clips to passengers or invite companies to place advertisements on the dedicated sticker space. As Boyer said: "Sometimes the best solution is the simplest solution."
More from FTE at AIX:
» Aircraft e-enablement, the connectivity ecosystem and Ka versus Ku
» Latest onboard retail solutions highlight end-to-end possibilities 
» Passenger comfort high on the agenda, but could passengers be set for a big squeeze?