It was no surprise that passenger comfort was high up on the agenda at Aircraft Interiors Expo in Hamburg, but while enhancements to premium seats and onboard lighting solutions were warmly welcomed by the FTE team, it was equally clear that achieving the balance between improving comfort in economy class while increasing revenues is proving as tough as ever for airlines.
Here at FTE, driving positive change in the passenger experience space is a priority, which is why we are bringing together a Think Tank of leading industry experts to define the onboard experience of 2025 and answer the question: "What could the passenger experience onboard narrow-body aircraft look like by 2025, and what is needed to increase the speed at which industry progress in improving the passenger experience up in the air is achieved?"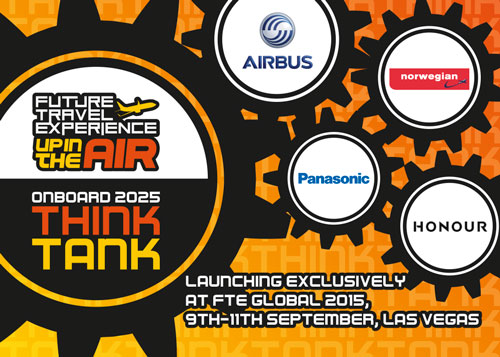 We are delighted to announce that Mike Crump, Product & Innovation Director at Honour Branding, will be the Captain of this FTE Up in the Air Think Tank, and Ingo Gäthje, Head of Cabin Design Office, Airbus; Bjorn Erik Barman-Jenssen, Senior Vice President Ground Operations, In-flight Services & Cargo, Norwegian Air Shuttle; and Neil James, Executive Director of Corporate Sales & Product Management, Panasonic Avionics Corporation are also confirmed as Think Tank members. The Think Tank's vision and recommendations for the industry will be exclusively revealed at Future Travel Experience Global 2015, which will take place in Las Vegas from 9th-11th September.
You may have to wait another few months to find out what this industry-leading Think Tank proposes, but below you can find our thoughts on the current state of passenger comfort having visited a number of vendors at Aircraft Interiors Expo in Hamburg.
Airbus makes a case for "budget economy" as 11-abreast A380 raises passenger experience questions
In its annual briefing at Aircraft Interiors Expo, Airbus focused on changing passenger demographics and the increased refinement of classes – long gone are the days of first, business and economy classes, we were told, and even premium economy doesn't satisfy all passenger demands. In fact, there is now a genuine demand for a fifth cabin ­– "budget economy" – on long-haul flights, as Ingo Wuggetzer, Vice President of Cabin Marketing, Innovation & Design explained. This claim coincided with the aircraft manufacturer displaying its 11-abreast A380 seating layout, which can help airlines squeeze an extra passenger into each row on the main deck.
The demand for budget economy, Wuggetzer said, comes from price-driven travellers and is the result of the rise of low-cost, long haul tourism and demand from migrant workers and regional markets. "I believe 3 billion economy passengers now have a better choice," he said.
If airlines embrace the 3-5-3 configured 11-abreast seating option, a high number of passengers will find themselves in the middle seat of five, making the centre seat less desirable for most. Airbus says it has achieved a feat by ensuring all of the seats still offer an 18-inch width – the minimum width the company called for on economy long haul flights back in 2013. Each of the window seats overhangs the side wall, however, which does impact legroom and foot space, even if the 18-inch width is retained.
Of course, Airbus has to respond to the demands of airlines and if there is a genuine demand from passengers for a budget economy, it makes sense to meet it. What we don't want to see, however, is airlines ignoring the importance of the passenger experience in their revenue-generating bid to squeeze more passengers into the aircraft. As Wuggetzer told us, passenger comfort remains a priority for Airbus and he says "more choice" for passengers is hardly a bad thing.
Boeing reveals futuristic cabin vision – but more bin space is needed first!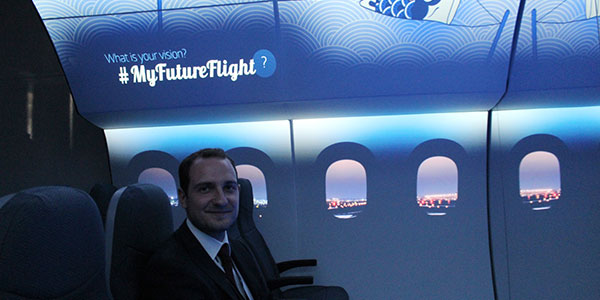 Meanwhile, on the Boeing stand, the roomier Space Bins were being pushed, but it was the mock-up of an aircraft interior of the future that really grabbed our attention. The imaginative vision included digital walls featuring a variety of imagery and branding, creating an immersive environment that certainly felt like it could be from 2050, not 2015. While Boeing was highlighting a tool that could theoretically enable this next-generation cabin experience, it's worth noting that this is very much a concept and not something that the company is intending to put into production.
While the cabin vision was impressive, the reality is that the Space Bins provide a solution to airlines' more pressing need to fit more cabin bags into the overhead lockers. Alaska Airlines will be the first carrier to get the new Space Bins, which the airline says will offer up to 48% more space on its 737-900ERs, compared to its existing overhead lockers.
Jamco's premium comfort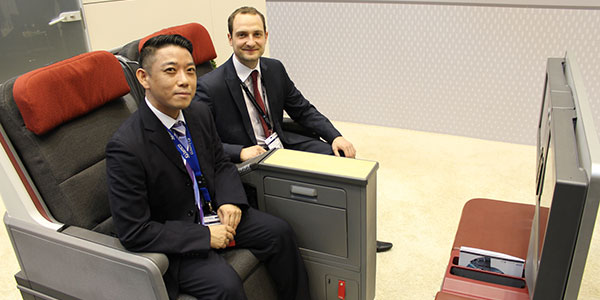 After a long day in the exhibition, the FTE team was glad to pay a visit to the Jamco stand, where we had the chance to try out the company's premium seat, which converts into a fully flat bed and is compatible with Panasonic Avionics' eX3 and Thales' TopSeries AVANT IFE systems, as Jamco's Robert Nakamoto explained. Not only does it look great, it also offers high-end comfort, so it's no surprise that we'll see the product in the skies with a new airline customer in the coming months.
'It's not just about ambience, it's about passenger wellbeing'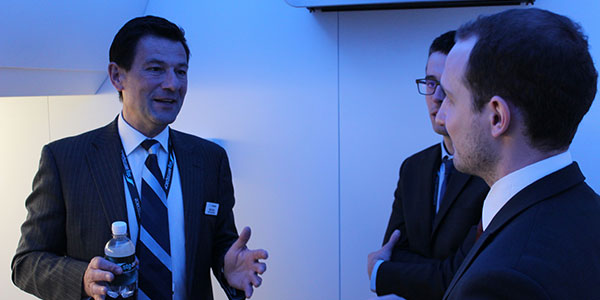 Cabin lighting is more important, and most likely higher up airlines' lists of priorities, than ever before, so when FTE paid a visit to the STG Aerospace booth, we sat down with the company's CEO, Nigel Duncan, to explore what has inspired this spike in interest and investment. Using Bubb's 'Discomfort Pyramid' (2008) as a reference point, he told us that "smell" is the thing that has the biggest impact on passenger experience, with "light" the second most important factor. So, if lighting is bad, the customer experience is negatively affected. "Lighting is perhaps far more important than a lot of people realise," Duncan said. "In the past, OEMs have done a good job with lighting in first and business class, but not necessarily in economy. 94% of passengers are in economy, so we're showing that a lot more can be done."
Duncan also gave us a live demo of the liTeMood plug-and-play, programmable, LED mood lighting system, which is being installed on 23 of Thomson Airways' aircraft, and he revealed that all-business class transatlantic carrier DreamJet's 757-200 will be retrofitted with the safTglo SuperSeal UltraLite emergency floorpath marking system as well as the liTeMood system.
Having told us that cabin lighting "is not just about ambience, it's about wellbeing", it was interesting to hear Duncan talk of the role lighting can play in creating a more relaxing "retail environment" – "airlines want to create an experience like a restaurant". If STG Aerospace can prove the correlation between cabin lighting and passenger spend, airlines will surely be queuing up to retrofit the lighting system to their fleets!
More from FTE at AIX:
» IFE vendors deliver cross-cabin innovations – embedded, wireless and a combination of both
» Aircraft e-enablement, the connectivity ecosystem and Ka versus Ku
» Latest onboard retail solutions highlight end-to-end possibilities